SAUDIA passengers should expect to experience "an inflight service that far exceeds what has been available until now" when the carrier rolls out Stellar Blu's new inflight connectivity terminal to support Inmarsat Global Xpress (GX) service on 35 forthcoming Airbus narrowbody deliveries, London-based Inmarsat tells Runway Girl Network. The IFC solution will enter commercial service from early 2023, with Inmarsat serving as the aero ISP.
The national carrier of Saudi Arabia is a long-time customer of SITA's L-band satellite-based Internet service. In partnership with SITA, it later opted for the Taqnia Space Ka/Ku broadband hybrid terminal for in-operation A320s, and began doing the same for its Boeing 777s before the COVID-19 pandemic. But in November 2021, SAUDIA became the first airline in the world to select a next generation GX terminal called Falcon 300 from Stellar Blu (formerly GDC Technics).
The Falcon 300 terminal, which will transmit data over GX, features Stellar Blu's unique modem manager, with exclusive components by Kontron and next-generation modem by iDirect, together with a Ka-band flat panel VICTS antenna from ThinKom Solutions. It will be retrofitted to 20 Airbus A321neos as well as 15 of the A321XLR variant, after they are delivered to SAUDIA.
While Inmarsat boasts a robust roster of value added reseller (VAR) partners for GX, it has also taken a more direct approach with certain airline customers, serving as the Internet service provider. And indeed, for the SAUDIA program, the aero ISP will be Inmarsat, confirms Inmarsat SVP inflight connectivity William Huot-Marchand to Runway Girl Network.
"We see this as the start of an exciting relationship with SAUDIA and a great opportunity to extend coverage and availability of GX within the Kingdom of Saudi Arabia," he says.
Asked by RGN how the PaxEx (passenger experience) available on Stellar Blu/GX-fitted SAUDIA aircraft will compare to aircraft equipped with the hybrid UON solution offered by Taqnia Space and SITA, Huot-Marchand says: "Inmarsat and Stellar Blu will provide SAUDIA with higher speeds, better consistency of service, and our advanced new OneFi passenger experience platform, allowing the national carrier's passengers to experience an inflight service that far exceeds what has been available until now."
Revealed last year, OneFi brings a host of onboard services together within a single portal interface, which passengers can access using their own personal devices.
Though the timeline for launching the new nextgen GX solution has moved slightly to the right — it is now scheduled for early 2023 versus late 2022 — Inmarsat says the new Stellar Blu terminal is in fact ready for deployment following the successful conclusion of a flight trial campaign "where its performance was tested across more than 320 simultaneous online user sessions and sustained throughput of over 200 Mbps."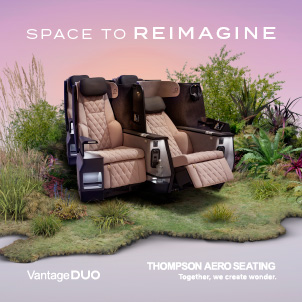 The Falcon 300 terminal "has received full type approval for use over Inmarsat's Global Xpress (GX) satellite network", notes the satellite operator and aero ISP, and has been designed to enable passengers to stream high-definition videos, download documents, browse the Internet, shop online, and enjoy social media from the comfort of their seat.
Because the product is not linefit offerable at Airbus, Stellar Blu will be installing the Falcon 300 terminal on SAUDIA's new Airbus narrowbodies, post-delivery.
The lightweight terminal is compatible with all existing and upcoming satellites from Inmarsat's GX network, according to Inmarsat. Asked if this statement contemplates future Viasat satellites once the Calsbad, California-based satellite operator's acquisition of Inmarsat is complete, Huot-Marchand says: "The terminal is fully compatible with all existing and upcoming GX satellites, including 7, 8, 9 and 10a/10b." (A vertically integrated provider of IFC, Viasat previously indicated it is looking to meld the direct aero model with Inmarsat's VAR ecosystem.)
Tracy Trent, who serves as president of Stellar Blu, said the firm looks forward to seeing its Falcon 300 terminal onboard SAUDIA's Airbus A321neo and Airbus A321XLR aircraft, "followed by many more airline fleets in the years to come."
Related Articles:
Photo of SAUDIA's logo, snapped at the carrier's Washington Dulles check-in counter, credited to Mary Kirby