Inmarsat is positioning GDC Technics' new inflight connectivity terminal – with ThinKom's Ka VICTS phased-array antenna – as not just an integral part of its GX+ North America regional IFC collaboration with Hughes Network Systems, but a global solution for GX Aviation transmissions.
As such, VICTS – as part of the GDC terminal – is poised to directly compete with Honeywell JetWave. (Note that Honeywell's original exclusive rights to distribute the onboard hardware for users to connect to GX appear to have been renegotiated when Honeywell was named a GX value added reseller for the commercial airline space.)
"In addition to [Honeywell] JetWave, we have also been working with ThinKom and GDC to develop a next-generation terminal that is lightweight, low drag and boasts one of the highest reliability rates in the market. When combined with the latest next generation modems, it consistently delivers far higher speeds than other solutions on the market, even over the world's busiest airspaces," said Inmarsat Aviation SVP, inflight business Niels Steenstrup.
"Our next-generation ThinKom-based GDC terminal is compatible with all of our existing and planned GX satellites. Plus, with less moving parts it has lower maintenance costs and an overall lower cost of ownership."
Honeywell vice president and general manager, aerospace and connectivity services John Peterson also confirmed the new paradigm. "Inmarsat has approved the GDC terminal on Inmarsat GX providing two solutions to the market," he said.
Breathtaking momentum
Over the last decade, ThinKom has enjoyed breathtaking momentum in the IFC patch. It has long supplied the unique mechanically steered 'Ku3030' VICTS phased-array antennas used in Gogo's popular 2Ku-branded IFC solution. Not bound by any exclusivity for the Ka-band version of its VICTS antenna, ThinKom began offering the Ka2517-branded hardware to the market.
In July 2020, Dallas-based GDC Technics announced that its first Falcon 300 terminal – with the ThinKom Ka2517 antenna, and Kontron's premium Wi-Fi and media server elements, transmitting via Hughes' Ka-band satellites – had been fitted to a Hillwood Airways Boeing 737-700. The ThinKom hardware also last year broke cover on a Spirit Airlines A320 in support of the Thales/SES IFC program. By the fall, Inmarsat had joined forces with Hughes to provide the high-capacity GX+ North America inflight connectivity solution to airlines.
GX+ North America is billed as seamlessly integrating the capacity of the Hughes JUPITER High Throughput Satellite constellation across North America with the extensive worldwide coverage and resilience of Inmarsat's GX HTS satellite network. In addition to utilizing ThinKom's Ka-band antenna, it uses Kontron's server, and "smart dual aero modem technology" that intelligently chooses the optimal satellite path with no service interruption or delay for passengers.
Now, Inmarsat is discussing its wider plans for the GDC terminal with ThinKom VICTS antenna. Slimline in profile, VICTS is bridging the gap until electronically steerable antennas are viable options for the commercial aircraft space both in terms of cost and reliability. Joining a growing chorus of industry stakeholders who believe that ESAs are not yet ready for primetime in aero, Inmarsat's Steenstrup told RGN:
In the long term, ESA antennas are expected to become the standard for the industry, however the date by which a cost effective, highly functional ESA solution will be available continues to move to the right. We continuously work with antenna providers, including of ESA solutions, to test these solutions on the Inmarsat networks.

In the near term, Inmarsat is focused on proven technologies such as the ThinKom based GDC terminal. This includes the ThinKom 2517 Ka VICTS phased-array antenna, which has very high throughput, very high reliability and works with existing and future constellations, including Inmarsat's upcoming HEO satellites that will provide polar coverage for far northern latitude flights.
The London-headquartered satellite operator also revealed to Runway Girl Network that its GX partners are evaluating the inclusion of a ThinKom antenna in their own next-generation GX inflight connectivity offerings.
Inmarsat boasts a 'who's who' of value added resellers for GX, including inflight entertainment giant Panasonic Avionics, whose specific arrangement with the satellite operator sees the two firms collaborating on the development of a next generation GX terminal.
Panasonic Avionics VP of connectivity solutions Jeff Sare told RGN that the two firms have continued to develop a GX Ka terminal. "Not so much an antenna in and of itself, but an overall GX terminal. That's still currently in my business plan, [we're] still driving forward with it."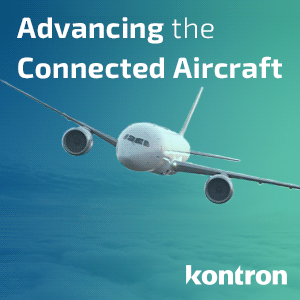 In the context of talking to LEO satellites in the future, Sare confided that "other current technologies that are mechanically steered but closer to the ESA design are probably very viable mid-term technologies…"
He did not mention the VICTS antenna specifically, for either Panasonic's Ku-band IFC solution or potential future Inmarsat GX deals. But when RGN asked Inmarsat's Steenstrup if any work has progressed with Panasonic on a nextgen terminal for GX, and whether Inmarsat believes the current JetWave hardware for GX will ably support GX for years to come, he said: "We are confident that JetWave will ably support GX for years to come.
"In addition, Inmarsat partners with many providers in the IFEC industry on next-generation terminal development. It is our understanding that many of these partners are evaluating the inclusion of a ThinKom antenna into their next-generation solutions."
Featured image credited to GDC Technics, courtesy of Inmarsat
Related Articles: