London-headquartered satellite operator Inmarsat isn't new to the hybrid network game. It has long supported governments with multi-band solutions. And, over the last few years, in concert with Deutsche Telekom, it has delivered an air-to-ground/S-band satellite-based inflight connectivity service to airlines known as the European Aviation Network (EAN). One of Inmarsat's learning points from the EAN is that this meshing of a satellite component with a terrestrial overlay allows you to get scalability.
With the successful EAN rollout under its belt, Inmarsat last week unveiled plans for what it says will be the "communications network of the future". The multi-orbit network will bring together Inmarsat's existing near global GEO satellites with terrestrial 5G and what is envisaged as being a small constellation of LEO satellites, as part of an integrated, high-performance solution called Orchestra.
Inmarsat will firstly focus on delivering Orchestra's terrestrial network, while preparing for a future LEO constellation in the range of 150-175 satellites. Its initial five-year total investment is expected to be roughly $100 million.
The company's maritime, aviation, government and enterprise mobility customers can all benefit from Orchestra, as will new segments such as urban air mobility. Pertinent to Runway Girl Network readers, your author interviewed Inmarsat Aviation president Philip Balaam to understand the role of Orchestra in inflight connectivity.
The terrestrial layer, he says, at least initially will be "a congestion-relieving layer" that can accommodate increasing demand over time. "If you've got that terrestrial layer there, you essentially remove that problem as a future risk. The terrestrial layer is inherently scalable. It's all about using the different layers of the network most efficiently."
Interestingly, current EAN customers are not the targeted demographic for this 5G terrestrial layer, with Balaam explaining that the EAN already has a broad pan-European system available with around 300 towers supporting it so "you don't have a congestion problem". And if demand warrants it in the future, additional towers can be added at major hubs like London Heathrow, Frankfurt or Paris. Rather, the early thinking around this terrestrial layer for Orchestra is to provide relief in those more congested areas for aircraft that are already fitted with GX-powered IFC.
"So, you continue to have GX as a global solution, and it would have GX everywhere, but you'd also have the ability to connect this terrestrial layer in those areas where it's needed, in those areas where you do have extraordinarily high congestion, whether over an airport hub, whether over an area where you have combined maritime and aviation needs," he explains.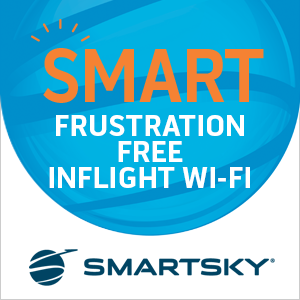 There will be regulatory hurdles to be sure, but Inmarsat isn't concerned, given the speed at which terrestrial can be deployed, and what it sees as its "secret sauce" in effectively managing the integration with the satellite component.
The EAN, for instance, has withstood repeated legal challenges. France's Conseil d'État this week rejected Eutelsat's latest challenge. And in April, the European Court of Justice (ECJ) rejected certain arguments set forth by Eutelsat and Viasat, which have long contended that the ground portion of the EAN network is supposed to be complementary to the S-band satellite, not the primary means of transmitting data.
Inmarsat competitors "who wanted to try and handicap the EAN system" via regulatory and legal avenues flamed out and were "told to get back in their box", says Balaam.
While the terrestrial layer of Orchestra will have "a bunch of terrestrial nodes" initially, at some point in the future the network may also have a LEO overlay. But there isn't a mad dash to get to the LEO overlay, given that Inmarsat's GEO technology roadmap includes the launch of GX7, 8 and 9, and together with the terrestrial overlay will be "more than enough" for the next five-year period, according to the Inmarsat executive.
Looking longer term and appreciating that Inmarsat doesn't yet know how the demand dynamics will play out in ten years, the company believes it's very possible it will make sense to bring LEO to those very high dense corridors in aviation or maritime.
"You don't have to blanket the earth with high-capacity LEO, you can do it in a targeted way," says Balaam. The 150-175 satellite number "may change", he adds "but it won't all of a sudden be 2,000" satellites as Inmarsat doesn't need thousands of satellites to encompass the whole globe in LEO.
If the demand dynamics require virtually all airlines to go "full, fast and free", LEOs will make even more sense. And if the market needs more capacity more quickly, Inmarsat could move more quickly on the LEO front.
We don't really see that at the moment. We think our current roadmap is fine. We don't have any airlines saying: "If only you could bring me a LEO network, my life would be so much better…"
What airlines do want, he suggests, is good service and a solid partner, not "disruptive risky bets on technology I don't understand".
From an aero terminal perspective, Inmarsat is presently keeping its options open, as technology is evolving all the time. ThinKom Solutions' Ka2517 VICTS antenna, which can interoperate between LEO and GEO satellites and is a part of the terminal selected for the Inmarsat/Hughes GX+ North America solution, may suit the needs of the Orchestra hybrid, especially if and when LEOs are introduced.
"[G]etting something new onto an airline takes time, and so I think we're certainly looking at ThinKom, we're certainly looking at the technology roadmap that the antenna providers are looking at as well, and we don't have to take a decision today," says Balaam.
He reckons that Orchestra will give Inmarsat a serious and sustainable competitive advantage over its rivals. "It's very difficult for anyone to mimic or get close to what we're doing here. Others have GEO satellites but nobody has an integrated GEO secure resilient government services standard mobility network. Having that as the platform allows us to overlay these other two layers, the terrestrial and LEO layer. Other people can't do that. It would be extraordinarily difficult to do that. This isn't about being a response to the LEOs. This is about taking the whole idea, the whole notion of global mobility and taking it to a whole new level"
Related Articles:
Featured image credited to istock.com/NicoElNino