Iridium Communications' plan for delivering Certus speeds ranging from 88 Kbps to 704 Kbps in civil aviation — and eventually 1.4 Mbps dependent on market demand — remains unchanged by the news that rival Inmarsat plans to roll out a new SwiftJet-branded service in business aviation that will be capable of supporting maximum speeds of 2.6 Mbps through smart aggregation.
"As you may know, SwiftJet achieves this speed by bonding channels. It's something we could do, but we believe this market is well served by the many Ka and Ku providers out there," an Iridium spokesman told RGN.
He continued,
We don't know why Inmarsat needs/wants to do this, but this is not our strategy/focus. We are focused on perfecting our value proposition, which is quite strong, to a broad range of aircraft that need low/small SWAP and safety services. This includes virtually all sizes of UAVs and rotorcraft to GA aircraft, business jets and commercial airline cockpit services. We focus on getting as much throughput as possible through as small a device as possible, that can be battery powered if needed and even taken with the pilot when leaving the aircraft.
In civil aviation, specifically, Iridium is working to ensure that Certus is validated for crucial safety services. It is eyeing FANS flight trials of Certus by the end of this year or early 2023 in order to obtain the necessary data to receive final FAA clearance. This timeline, which moved to the right due to the pandemic, also happens to sync up nicely with the hoped-for return of the commercial twin-aisle market in 2024.
Collins Aerospace, Honeywell and Thales — which serve as both VAMs and service providers for Certus — plus service provider SITA have all been supporting Iridium through the validation process. However, based on published press releases, it appears that Collins and Honeywell are the furthest along in development. Also in the 'coming soon' category is a Plane Simple-branded Certus aviation terminal from Satcom Direct. And Canadian firm Skytrac is showing particular strength in rotocraft and MilGov.
While the aero safety work continues, small new Certus products for general aviation, turboprop and piston aircraft will roll out at the end of this year. Meanwhile, Iridium's legacy services — operating over its NEXT satellite constellation — are performing great, according to management, and there is still a lot of pent-up demand for legacy products especially now that industry is climbing out of the Covid crisis.
"The good news about aviation is once you're on an aircraft, you pretty much stay on an aircraft. We should never be complacent about that. But you know linefit is obviously the pinnacle of what we hope to achieve in any program that we're involved in," said Iridium vice president and general manager Americas, Tim Last.
"There are also lots of opportunities to get STC aftermarket-type installs, but the bottom line is we've got a very solid aviation business, and Iridium is one of only two satellite operators with that fully global safety kind of credentials. There's still a lot of pent-up demand even for our legacy products, frankly. And I hesitate to say legacy because you know our new network fully supports all of those products and services…"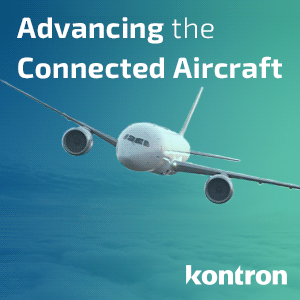 The McClean, Virginia-headquartered firm is content to duke it out with Inmarsat in civil aviation — on a playing field with really only one competitor at present (though Omnispace might be hanging out on the edges with a rumored 5G S-band plan for the aviation market).
But L-band is a very precious commodity and the bad news is there is no more of it. That's why Iridium is being very particular about how it addresses market opportunities.
"So, it's not like you can stretch your arms out and extend into every single thing. I'd love to be able to say L-band for every market opportunity. That's why we're very particular about how we kind of put it into certain market opportunities," said Last.
For its part, Inmarsat is looking to make sure that SwiftJet, available in the first half of 2023, will be "great value" to operators including on a cost per bit basis, said Kai Tang, head of business aviation at Inmarsat, which is of course being acquired by Viasat.
The SwiftJet solution is being positioned as both a natural upgrade path for SwiftBroadband in BizAv (starting with in-service Honeywell terminals) and a viable new offering for brand new customers,. And it comes at a time when OneWeb and SpaceX's Starlink are among the new satcom players making headway in aero.
"None of them yet are safety approved. None of them yet really have a strong history of providing global connectivity for aircraft, fast moving platforms, and none of them especially the newer ones yet have a great answer for when and what the ground infrastructure [will] look like, which again is why we're so excited about this [SwiftJet] because all of that stuff is already there," noted Tang to RGN.
Related Articles:
Featured image credited to istock.com/Thomas_EyeDesign