With successful tests under its belt, Collins Aerospace is confident its new Iridium Certus airborne satellite communications (satcom) system for civil aviation will prove "extremely competitive" and see strong adoption when it makes its market debut in 2022.
Operating via the global Iridium NEXT constellation, the higher-bandwidth solution boasts the operational advantage of being able to connect anywhere including the poles.
But Collins Aerospace's IRT-NX-branded system, which includes the satcom data unit, satcom configuration module and an antenna – either an Active Low Gain Antenna (ALGA) or a High Gain Antenna (HGA) depending on an operator's bandwidth requirements – boasts other key advantages, says Collins Aerospace VP and GM of business aviation avionics Christophe Blanc.
Among them, Collins has historical knowledge of legacy Iridium systems – it has fielded over 3,000 – and other aviation satcom systems requiring stringent IP security. That's "really important when you want to obtain safety service approval at the end of the day", notes Blanc in reference to the transmission of safety voice, ACARS, FANS, and other secure cockpit comms functionality.
Collins also took the early decision to manage all aspects of development of the IRT-NX system in-house "and that includes the antenna in particular". Blanc believes this approach will prove an important differentiator for Collins, which is among a cluster of Iridium value added manufacturers (VAMs) bringing Certus satcom solutions to market.
Other VAMs include Thales and Satcom Direct. One of Iridium's newest VAMs, Canadian firm Skytrac, believes it can beat all of these industry heavy hitters to the punch by becoming the first to deliver an aviation terminal that exploits Iridium NEXT bandwidth in 2021.
Collins, meanwhile, is also an Iridium Certus service provider. It has worked in close cooperation with Iridium from the get-go, and is a very active partner on the program. From the terminal to the antenna, the aerospace giant sees itself as being the one guy in charge of its destiny which "certainly is going to bring a lot of maturity in the product in the way we're testing it and integrating it end-to-end", Blanc tells Runway Girl Network.
To wit, the Raytheon Technologies subsidiary was recently able to successfully connect and transmit data to an orbiting Iridium satellite using the Iridium Certus service utilizing a High Gain Antenna. A similar transmission was recorded in August 2020 with Collins's new low gain ALGA.
"This puts Collins Aerospace among the first to successfully connect with both its Iridium Certus systems," the company said in a statement.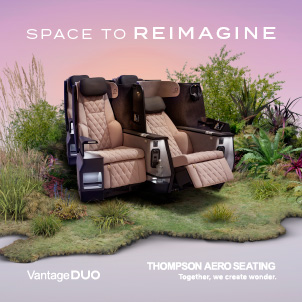 The HGA can support data rates of up to 352 Kbps with future planned upgrades to 704 Kbps and, when available from Iridium, up to 1.4 Mbps. In addition to ably supporting cockpit comms, a 704 Kbps rate can facilitate some passenger/cabin connectivity, especially in business aviation.
When testing the system, Blanc tells RGN, Collins is "seeing the right speed and the quality that we want this system to come with so it's really good".
He expects many business aircraft and commercial airline operators will adopt the system with a High Gain Antenna. But some customers who only need the solution for safety services will potentially be satisfied with the ALGA (supporting speeds of 88/176 Kbps). "So, we're going to provide equipment and in the end the end customer and the OEM will pick and choose."
A 20-year veteran with the company (formerly Rockwell Collins), Blanc manages all avionics-related work for BizAv as well as regional aircraft, which Collins Aerospace defines as being everything from the Bombardier CRJ on up to the Airbus A220.
He says Collins' IRT-NX program "has done very well from the beginning", and expects the two systems to debut around the "mid-2022 timeframe".
Retrofits in the aftermarket should be fairly straightforward as the IRT-NX is a 2 MCU box with a simple antenna that features a slightly different footprint than legacy antennas but with the same mounting system. That allows for minimum drag and lower power usage. Collins also has an arrangement with Boeing to provide as forward-fit its Certus terminals on Boeing 737 MAX and 777X aircraft.
Related Articles:
Featured image credited to istock.com/Leyn