Operators of new and planned Low Earth Orbit satellite networks in the Ku- and Ka-band are keen to support inflight connectivity for airline passengers, as well as certain cockpit communications. Indeed, SpaceX CEO Elon Musk is the latest to throw his Starlink hat into the IFC ring. But Iridium, which operates a global constellation of cross-linked LEO satellites, does not see "any real near-term threat" to its safety services footprint on aircraft flight decks from this new breed of LEOs, the firm tells Runway Girl Network.
Safety services include transmitting ACARS, FANS, safety voice and other cockpit comms functionality. Iridium presently competes with Inmarsat in supporting safety services via satcom, as their L-band links are safety-certified (Collins Aerospace and SITA act as service providers for the airlines).
"I mean obviously we can't be complacent about other competing technologies or companies like that," Iridium VP & GM of IoT and Aviation Tim Last told RGN in reference to the new LEO satellite operators. "We see many of these companies as being sort of adjacent technologies if you like in some regard. I mean being LEO doesn't make them safety services; it's the combination of LEO real-time connected networks, the mesh network we have in space, but the L-band that gives us that sort of great combination for safety. You can't get those other bands approved for safety in the same way. So, we think it's a long road for those guys if they want to get safety approval."
In commercial aviation, Inmarsat is presently the bigger player — over 12,000 aircraft use its Classic Aero safety service over oceans when industry is not grappling with a global pandemic. Though legacy Iridium satcom systems support some safety services in civil aviation today, the US company is eyeing FANS flight trials of its nextgen Certus service by the end of next year or early 2023 in order to obtain the necessary data to receive final clearance from the US FAA. This, in turn, will give airlines more choice and create a more competitive landscape.
But outside of the safety realm, a growing proportion of aircraft operational data is being moved to cabin connectivity and terrestrial cellular networks. Some of the electronic flight bag solutions carried by pilots can connect to cabin connectivity to access real-time weather applications, for instance. And this area ripe for involvement from established GEO satellite operators as well as new low-latency LEO operators. In fact, in 2019, Airbus said it was mulling offering OneWeb-supported inflight connectivity on its airliners, including in the cockpit.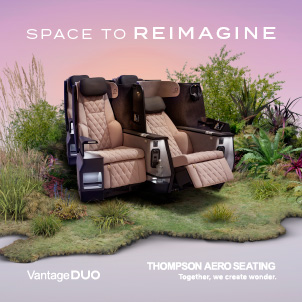 But using cabin connectivity for some non-safety applications is different than having a dedicated, segregated L-band pipe for safety services. And as such, Iridium sees cabin connectivity in a far different light. "[Y]ou know we view most of that market —  the combination of inflight connectivity, entertainment, it's what our CEO describes as the commodity broadband market. I know OneWeb is trying to build themselves as more enterprise connectivity but you know the reality is they will be in a commodity broadband market with their product competing with Telesat, perhaps Starlink and the other players," suggested Iridium's Last.
"So we are really focused on L-band today with a big focus on safety services and then a focus on how do we get our unique lightweight, low-power technology into good fit applications. Definitely some of our partners are focusing their products around cabin connectivity for certain applications and certain products. I am not saying for a moment that we don't have cabin and customer connectivity but we are not trying to be all things for everyone and we are not going to be. You are not going to see us in the back of a commuter flight to the west coast anytime soon because that's not the market we are addressing with our network."
Related Articles:
Featured image credited to Iridium