For the design of its new lounges in Changi Airport, Singapore Airlines is drawing delightfully on the new custom-made batik motif it has been using since its introduction last year. Altogether, the four-lounge complex is a truly impressive set of new facilities that marks a strong sense of identity while remaining elegant and cultured.
The richness in design of all four of the lounges are superlative — so much so that we'll just deal with two of them today: the First Class Lounge, available for Singapore Airlines' top-tier cardholders as well as first and suites passengers, and The Private Room, the airline's famous super-premium lounge for ticketed first and suites class passengers only, often regarded as one of the best lounges in the world.
The First Class lounge is decorated in a set of warm neutrals, with muted jewel tones as accents in the leather, fabrics and ceiling trim. Rich textures at every turn play with light and dark, a must for this lounge, which is a masterclass in how to design a lounge for a space without windows. 
A beautiful feature bar echoes in its shape the iconic 'Gardens by the Bay' columns in central Singapore, with bright white accent pieces in a starfish motif by glassmakers Lalique, who also partner with the airline for inflight glassware and amenity kits.
The batik motifs return in various places, including in some whimsical plaster-effect reliefs behind the low rounded booths on the back wall of the expansive dining area.
A pair of meeting rooms serves colleagues — or even families — travelling together, while a glass-doored telephone call room features what can be argued is the only truly acceptable non-bar use of the high-top stool, one imagines to prevent it turning into a single passenger's private office.
In addition to the latest evolution of the Singapore Airlines multi-function pod in a gorgeous dark teal, there is a new modular seat pair that features low armchairs, a shared side table and readily accessible power sockets — the lounge holy grail.
Further up and further into the lounge complex, we come to the Private Room. This super-premium lounge space is small, low, dark and intimate, like an upmarket private member's club, in shades of medium petrol blue, copper and beige. 
And that privacy is key to the success of the lounge's design, enabling people who want to be seen — dare we say the words Crazy Rich Asians? — to position themselves front and centre, and those for whom luxury is private to cocoon themselves away.
Clever fabric, glass and copper dividers create intimate spaces, while in a delightful change for super-premium lounges, I spy numerous comfortable chairs at tables with power sockets within reach. The holy grail, twice in two lounges!
The Private Room also features a dining area, play room to keep little ones busy, and a variety of seating spaces that will serve solo travellers, couples, and families well.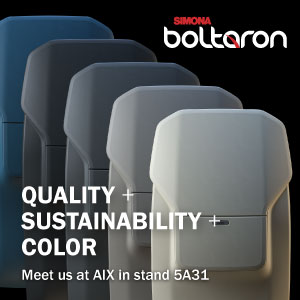 Here, too, Lalique inspirations include a domed light feature in sky blue.
The space is a real departure from the double-height previous Private Room, which was impressive in scale but felt almost cathedral-like in effect.
But the true magic of the Private Room comes not from its space, but from the quality of its staff and the service they offer.
Indeed, for all these lounges, that will be the real test. 
Throughout, the batik motif and the partnership with Lalique brings a real sense of identity to the lounges — a sort of refined whimsy — which might otherwise fail to shine through in what are distinctly elegant spaces.
Related Articles:
Featured image credited to Singapore Airlines