Swift64. SwiftBroadband. SwiftBroadband-Safety. Inmarsat has long favored the word "swift" to describe its L-band satellite-supported connectivity services for aircraft cabins and cockpits. But even individuals who are not tech-savvy know it is a little bit of a stretch to suggest that SwiftBroadband, for instance — which boasts speeds of 432 Kbps in standard configurations and roughly 600 Kbps with high data-rate options — is meaningfully "swift".
To its credit, Inmarsat has worked hard to provide higher speeds, assuring last year that SwiftBroadband could deliver a top speed of 1.7 Mbps as the satellite operator tapped into spectrum management capabilities known as carrier aggregation. But Inmarsat saw an opportunity to go even further, and opted to plow time and investment into developing an even faster service.
Enter SwiftJet, Inmarsat's latest IFC service for the business aviation industry, which will see a commercial service-entry date in the first half of 2023 and, according to Inmarsat, will be "up to six times faster" than its existing BizAv connectivity solution via L-band: the common 432 Kbps per channel SwiftBroadband service found on thousands of business jets worldwide.
With SwiftJet, users can expect enhanced capabilities for video calls, web browsing, email, texting, cloud-syncing and collaboration tools such as Microsoft Teams, says Inmarsast, whilst social media and video applications such as TikTok and YouTube will also be enabled.
Existing SwiftBroadband customers flying with Honeywell's current terminal will be the first to benefit from SwiftJet's maximum speeds of 2.6 Mbps, as their upgrade path "will really be a card swap and it will be quite easy for a lot of folks who already have Honeywell kit", explains Inmarsat's head of business aviation, Kai Tang, celebrating Inmarsat's new arrangement with Honeywell.
In short, operators with Honeywell's kit will not have to change wiring or antenna hardware.
Would-be new SwiftJet customers, meanwhile, can avail of Honeywell's new terminal via pre-order. And incentives are being offered as part of an early adopter campaign, says Inmarsat, which announced the news at the EBACE business aviation show in Geneva.
Notably, Inmarsat is also working with other SwiftBroadband terminal manufacturers to ensure that their kits can offer the same easy upgrade capability in time. "Stay tuned about all the other terminals that are out there as well," Tang tells Runway Girl Network.
Though there is "a little bit of secret sauce" to the SwiftJet service upgrade, he says the firm is using mature technology that "aggregates multiple carriers in a smart way to achieve the speeds we are talking about".
SwiftJet will not be something unique to Inmarsat's new I-6 satellites with L-band payloads, stresses Tang, as "it will be capable on the I-4s as well as the I-6s", which are part of the firm's enhanced Elera-branded L-band network for mobility and IoT.
The SwiftJet service, he explains, was developed "in response to customer and partner feedback for a faster, more advanced L-band offering. They essentially asked us to amplify L-band capabilities without losing its trademark characteristics of resilience, reliability and availability."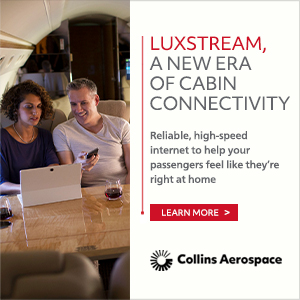 Whether or not the SwiftJet boost will convince existing SwiftBroadband customers to stay the course with L-band in the cabin remains to be seen. The inflight connectivity market for business aviation has never been hotter or more competitive, with Ku- and Ka-band satellite-powered broadband cabin connectivity solutions on offer from a variety of providers, boasting average speeds of 15 Mbps or more.
In the Ku camp, Collins Aerospace in partnership with SES, Intelsat in partnership with Satcom Direct, and Viasat have solutions on offer in BizAv. In Ka, separate solutions are available from Viasat and Inmarsat, the latter of which has seen its Jet ConneX service activated on more than 1,150 aircraft through value added resellers (Collins, Honeywell, SD), and which also happens to be evolving to higher speeds. Viasat, meanwhile, is in the process of acquiring Inmarsat.
Air-to-ground IFC solutions in North America — from Gogo Business Aviation and CONUS new entrant SmartSky Networks —are also snatching tails. And Gogo recently announced plans to launch a global Ku-band LEO satellite-based IFC service over the OneWeb constellation, which will also accommodate a hybrid ATG/LEO service for those interested.
Gogo currently offers Inmarsat's SwiftBroadband service for operators flying internationally so it will be interesting to see if Gogo's Aviator terminal is in line for the SwiftJet upgrade capability or indeed if customers pivot to its LEO service via OneWeb. SpaceX's Starlink is also making headway, having secured 'semi-private' JSX and Hawaiian Airlines as customers for its Ku LEO IFC service.
Tang highlights, however, that Inmarsat's Elera network has a few other feathers in its cap. For one, it has long provided secure safety services to pilots flying over oceans. Both its Classic Aero and new SwiftBroadband-Safety services are already certified and in use today, so the added ooph provided by SwiftJet in both the cockpit and cabin might be enough to satiate the needs of certain operators with L-band kit in the near-term.
Explains Tang:
The roadmap is that all existing SwiftBroadband terminals and all future SwiftBroadband-Safety terminals will continue to have the safety capability, although keeping in mind that as you move to SwiftBroadband-Safety terminals, they'll have enhanced safety features.

All of those terminals — both existing and future terminals — will also have the SwiftJet capability. That's the roadmap.
Furthermore, Inmarsat's customers know that SwiftJet is going to "turn on and work when we turn it on next year", he says. And "they know the ground stations are there, wherever they're flying" even in unusual or exotic locales. Indeed, the ground station upgrades for SwiftJet have already been done.
Inmarsat is also hoping to attract brand new customers with SwiftJet, including bizjet operators that have perhaps never been connected and don't want to take their aircraft out of service for an extended period of time to accommodate a more complex broadband system install like Jet ConneX. SwiftJet, notes the Inmarsat executive, presents these operators with an "excellent simpler process", that will help tide them over until they're ready for Jet ConneX.