Skytrac believes it can beat some of the industry's heaviest hitters to the punch by becoming the first Iridium value added manufacturer to deliver an aviation terminal that exploits Iridium NEXT bandwidth.
"We're fairly confident we'll be first to market, and that is motivating us to work harder and faster to get this off the ground," company VP of sales Jan van der Heul tells Runway Girl Network.
Iridium recently announced Skytrac as the newest VAM for its Iridium Certus 9810 transceiver. The hardware will be redesigned by the Canadian firm to provide a streamlined fit for its new 2-MCU satcom terminal, the SDL-350, with a focus on supporting transfer rates of up to 352 Kbps "both to and from the aircraft" to facilitate cockpit connectivity, and capabilities such as EO/IR imaging, FDR streaming, EFB applications (graphical weather), telemedicine, and VoIP communications.
On the IFE front, Skytrac says it can provide passenger connectivity to VIP users if needed.
A message for airlines
The SDL-350's form factor is "very familiar for the airliners and that's a great focus for us especially as we get into the GADSS mandates" from ICAO, notes Van der Heul, confirming that large commercial aircraft are in Skytrac's sights for the kit.
"So yes, it's built to make sure we can meet the highest requirements for the airliners but at the same time, the same terminal has applications for medium-sized helicopters, law enforcement that wants to download remote video at the scene of the mission, so it will span the entire spectrum of aircraft."
Skytrac reckons it is operating in "a sweet spot" for speed by taking the existing Iridium modem design and optimizing it for 176 Kbps in the launch model. It can put two-channel modems inside the box "and create 352 Kbps speeds," he notes, "and because we're using two modems, two antennas, we provide for greater reliability and greater redundancy in-flight." Wi-Fi and cellular connectivity are also built in.
Prior to this VAM arrangement, Skytrac was already "deep in the development process" for another terminal, the ISAT-200A-08, having been selected as a VAM for the small-form factor Iridium Certus 9770 transceiver, with speeds ranging from 22 Kbps transmit to 88 Kbps receive.
The 9770 transceiver enables creation of mobile products for unmanned and autonomous drones in aviation, and can also serve as an embedded technology by VAMs "to ensure assets remain connected from pole to pole", according to Iridium. Skytrac is positioning both the SDL-350 and the ISAT-200A-08 as enabling solutions "for operators in all segments of aviation for both rotary and fixed-wing markets".
Its legacy terminals are presently transmitting via the new NEXT satellites, though they can't use the higher bandwidth services. Upgrading from a predecessor ISAT-200A unit in the field to the new ISAT-200A-08 terminal, notes Van der Heul, will enable image transfer and VoIP, for example.
"And in fact we already have launch customers lined up in both fixed and rotary wing segments," he says.
Who's on first?
Thales, which holds a unique place in the Iridium Certus partner ecosystem as the only company manufacturing land, maritime and aviation terminals, was anticipated to be first to market with an Iridium Certus line of aviation products for commercial air transport. In contrast to Skytrac's focus, Thales has said it expects commercial airlines to adopt the Certus 700 service (speeds of up to 704 Kbps) and associated hardware.
Iridium assures on its web site that FlytLINK by Thales is "coming soon". But in May of this year, an Iridium spokesman told RGN the satellite operator has "actually been pleasantly surprised by the progress made by multiple Iridium Certus aviation VAMs, so it's open-ended right now regarding who is likely to be first".
Skytrac is gunning for that distinction. Its smaller, lower-bandwidth ISAT-200A-08 terminal will technically be ready for aviation applications first, followed by the SDL-350.
But both will be available in 2021, states Van der Heul.
He declines to opine on whether larger competitors have refocused their resources due to the COVID-19 crisis, and ergo given Skytrac a leg up in the aero race. "I don't want to speak for the competition, obviously, but we're very much focused on Iridium-based satcom services," he says, stressing: "We're focused purely on aviation."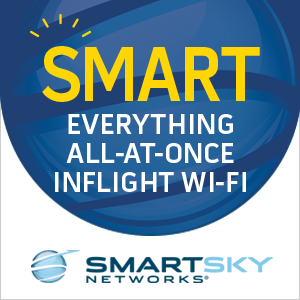 Being small and agile amid the crisis has proven beneficial. "We can pivot very quickly, don't have a huge level of bureaucracy to deal with and have a very motivated team," says the Skytrac executive. "We're actually growing through our staffing and engineering, and across the board we have been growing consistently over the years. So the focus allows us to execute perhaps better than others that are bigger organizations."
Already an Iridium Certus service provider, Skytrac seems well-positioned to secure new customers for both the SDL-350 and ISAT-200A-08, and to upgrade existing customers of its legacy Iridium terminals (it boasts over 7,500 users).
Skytrac provides the requisite antennas, including a low-gain antenna as part of the SDL-350 shipset for fixed-wing aircraft (an optional external cellular and Wi-Fi antenna can be added if needed). New STCs will be required. The firm assures it can support STC program development "and manufacture installation kits as required by clients and competitors". In short, it's a one-stop-shop.
"We'll need to do some new EMI testing so new STC activity is involved but we have the capabilities to support that," explains Van der Heul. "It's a significant part of our service offering, not just to sell the box and the service, so they can get a turnkey service from Skytrac."
He suggests that Skytrac has an advantage by operating in Canada, as certification timelines are significantly longer in the US and Europe. "So typically, because we run our STCs initially through Transport Canada for aircraft certified in Canada, it's a two or three month turnaround, and then we familiarize the STCs with EASA and FAA."
But in addition to retrofits, Skytrac wants to be a linefit option on large commercial aircraft types, including for the likes of the new 777X. It features a photo of an Airbus A320neo in its SDL-350 brochure.
"We have certain OEM agreements at the moment and [are] working to expand those significantly while also working to meet the retrofit market. We're not limited to either one," says Van der Heul.
The firm stays on top of the Iridium Certus safety services evaluation process, and reckons Certus will be recommended in 2021. "We already have safety services products under the Skytrac Latitude umbrella" he says, referencing Skytrac sister company Latitude Technologies' portfolio. The SDL-350 "will be perfect" for supporting safety services.
Expecting "great adoption" of its Certus-powered terminals, the Skytrac executive notes that Iridium "comes at a significantly lower cost than existing Inmarsat systems, this is a key advantage both on the hardware and the services". With coverage including the poles, Iridium is injecting some "much needed competition" as Certus is able to meet operators' higher bandwidth requirements.
Related Articles:
Featured image credited to Iridium