Thompson Aero Seating is going into the Aircraft Interiors Expo in Hamburg next month with an updated version of its popular VantageXL seat, featuring more width in seat and bed mode, a new look and feel, the option of honeymoon-style seating for passengers travelling together, and a few new bells and whistles. It's an incremental upgrade, but it's an interesting one when it comes to the details.
The most immediately visible change is the new look and feel to the side console, which of course is also the footwell for the passenger behind when in bed mode. This has a new swooping polygonal shape, providing an inset for the inflight entertainment system controller and a passenger-facing raised set of control buttons. 
Having just flown a four-year-old A350 VantageXL implementation, where the wide expanse of the side table was a particular benefit — for a laptop and tablet in particular — it will be fascinating to see how many airlines decide to implement this option.
For airlines choosing to eschew the doored mini-suite VantageXL+ option, there are new privacy wings that will be particularly welcomed by customers sitting immediately adjacent to the aisle in the staggered layout. There's also a new translucent privacy divider between the centre seats, which is an interesting and novel touch. Open storage with a feature light or closed storage that also offers a mirrored door that could serve as a passive privacy divider are also both featured.
Thompson says that the seat has a new bifold table, with the images suggesting that this continues to slide out horizontally from the side console. It comes in a cassette unit that is easier to remove for maintenance when required.
Some of the images provided show the extra console and storage option that some airlines have chosen to mitigate the zero-sum issue with staggered seats: those directly next to the aisle have extra storage and surface area to make up for the brush-past and reduced privacy.
Design house Factorydesign was involved in the redesign and aesthetics.
"The Vantage XL business class seat from Thompson Aero is a hugely successful seat platform, one that was born from an evolution of the equally successful Vantage seat, with the added benefit of 100% direct aisle access. Factorydesign worked in close collaboration with the Thompson Aero team to design and develop the original XL seat platform, so it is a huge honour and pleasure to have been asked to help evolve and enhance this latest version," says Factorydesign director Peter Tennent.
"Bringing learnings from the last decade, and embedding current trends, we again worked in close collaboration with the Thompson team to create a truly modern, feature-packed premium seating product, that is certain to prove highly appealing to passengers, and commercially successful for years to come."
The overall look and feel is a big premium boost, with colours in an elegant yet airline-agnostic set of browns and neutrals that seem very on-trend. Notable are both the more matte-effect surfaces and the fabric surrounds of the head level while seated.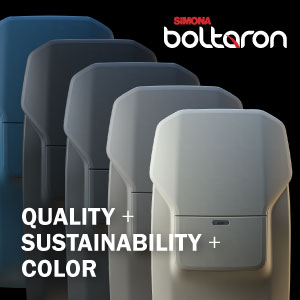 The new honeymoon seating option is a positive one. Previously, VantageXL has mostly been in all-singleton mode (with LATAM as one notable exception): in other words, the centre seats are separated from each other by the footwells. Honeymoon seating, by contrast, alternates two centre pairs right next to each other in the middle with two single seats immediately next to the aisle in the next row back.
With the growing emphasis on premium leisure travel in the post-pandemic world and the changing role and modalities of business travel, this is a smart move to offer, particularly for those airlines with high leisure traffic in their front cabin.
Seat width has rarely been a complaint for VantageXL, but Thompson says that this is now at a minimum 23" for seat width, and 24" at bed width, both on the A330 platform, which is the narrowest modern widebody. Wider aircraft can go up to 26" per seat, but airlines can also choose to widen aisles instead. There's also now space for larger, new-generation inflight entertainment monitors of up to 20". 
At the front of the cabin, Thompson's website shows an extended business-plus option, with an expanded ottoman/footrest area, upgraded storage, and much bigger screens.
And it'll be flying soon: "a launch customer is already in place with the first delivery planned for early 2023," notes Thompson vice president commercial Andy Morris.
Related Articles:
Featured image credited to Thompson Aero Seating