When Collins Aerospace débuts its new outwards-facing herringbone seat, Elements, with its first airlines later this year, it will be another step in the evolution of the popular business class seating style, even despite the delays resulting from the COVID-19 pandemic and its impact on the aviation industry.
"We have launch customers for Elements, both of which deliver towards the end of this year, both of which, well, didn't go any faster with the pandemic, of course," vice president of sales and marketing for aircraft seating Alastair Hamilton says wryly.
"Elements will be flying on A350s and 787s, we hope by the end of the year, assuming the aircraft are flying," he continues. "We're making good progress in getting that into the market."
The airlines concerned are new herringbone customers for Collins, although not necessarily new customers, Hamilton notes. Airline delivery schedule crystal balls, clouded with the uncertainty of rate cuts and COVID-related delivery renegotiations, mean that the precise airlines aren't yet entirely clear.
But even as eyes in Winston-Salem are firmly fixed on Elements, Collins is still delivering Super Diamond seats, and will do so for some time. This brings benefits in both directions: in the same way that the British Airways Super Diamond doored suites use a door first presented on Elements, Collins has learned from — and implemented changes based on — the BA product in Elements.
It's a story of evolution throughout the life of Super Diamond, which débuted on Qatar Airways a decade ago. That seat, Hamilton says, "was, I think, the first [Super Diamond] we brought to market, and it is a much less dense product than subsequent versions of Super Diamond. The seat found its niche, I would say at a higher density point for most airlines."
(Qatar, of course, now uses the Collins-manufactured exclusive Qsuite on its A350 and 777 aircraft.)
For Super Diamond, Hamilton cites a typical inch-pitch density with most airlines in the mid-40s rather than the low 50s at which it was introduced. Part of this downward pressure on pitch is economic, but part of it is also an evolution of engineering and materials to enable a better use of pace.
"As the technology's moved on, and particularly the use of composites and our — and our competitors' — experience in the use of composites, getting more and more proficient, the ability to put in more complex curves, three dimensional curves, generally more complex shapes, has enabled better utilisation of the living space," Hamilton says.
It's not just better ergonomics, geometry and kinematics: it's a better look, feel and human factors experience as well.
"The quality of finish and the the complexity of the shapes you can get from composite is dramatically better," Hamilton says. "As the industry has evolved, the quality of the seats has improved dramatically: go back from the first generation to this the quality of seats produced today."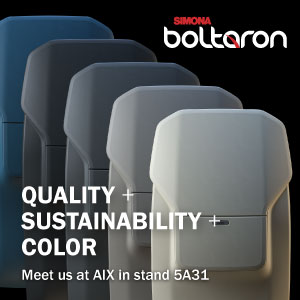 Looking forward, Elements and indeed Super Diamond can expect a bright future.
But it won't necessarily be on narrowbodies, where the increased angle away from the aircraft centreline because of the spatial geometry of the cabin means that Elements "would be a different seat", Hamilton says.
Collins, of course, has had wild narrowbody success with the late-2000s Diamond seat, launched by Continental and since on a myriad other airlines, on the wider Airbus A320 and narrower Boeing 757/737 frame, as well as on many a widebody.
"We've got a couple of products, we're looking at in that segment, one of which we have a launch customer we're working with at the moment, and the other one we're still in the market for," Hamilton reveals.
Related Articles: