Hawaii's tourism is taking off again. With strict Covid-19 protocols in place — a negative test within 72 hours is required from visitors to avoid a 10-day quarantine — and the lure of fun in the sun, the islands are experiencing a mini-tourism boom. Nearly 400,000 travelers visited Hawaii within the first 20 days of April, according to Safe Travels Hawaii, the government program that tracks travelers to the state.
There's so much demand that recently Hawaiian Airlines has announced four new routes, in less than two months. Most recently, the airline kicked off its twice-weekly nonstop service on an Airbus A330 from Austin-Bergstrom International Airport (AUS) and Honolulu's Daniel K. Inouye International Airport (HNL). Orlando to Honolulu; Ontario, Calif. to Honolulu; and Long Beach to Maui are the other routes.
While there are plenty of other options to fly to Hawaii, especially from the West Coast, Hawaiian is naturally the most authentic, with every bit of the experience tied to the traditions of the island. Hawaiian is also the last domestic airline that still includes a meal with every flight. And it's one domestic airline that still offers passengers the chance to bid on an upgrade to First Class.
Bid Up
Launched in 2016, Hawaiian Airlines' Bid Up feature remains the same — passengers submit the amount they would pay for a First Class seat and 48-26 hours before the flight, they will get word if the bid worked or not. However, there are a few requirements to be eligible to place a bid. First, passengers must have a ticket on a flight between Hawaii and North America or Hawaii and International. Second, passengers must have a ticket higher than a Main Cabin Basic fare, as well as not be traveling with an infant or pet, or booked as an unaccompanied minor.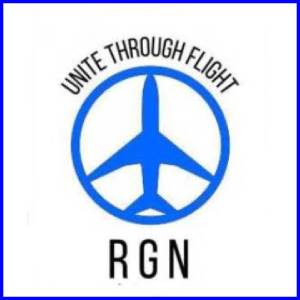 Once passengers get an email alert from Hawaiian, they can begin the bidding process. Passengers have the option to bid on both legs of their flight, or only one. But due to set minimums and maximums, passengers can't just offer $75 and hope that it gets accepted, unless that's within the bid parameters set by Hawaiian.
For this author's flight from Los Angeles International Airport (LAX) to Kahului Airport in Maui (OGG), the minimum bid to upgrade from Extra Comfort to First Class was $495, a hefty fee but with round-trip first fares well above $2,500 and Extra Comfort in the $500-$600 range, that's still a steep discount. And it worked.
Two days before the flight, I received an email saying my bid was accepted for the inbound flight. I did have some guilt about paying that much for an upgrade but alas, cancellations can't be made within 48 hours of departure and the bid is non-refundable. Lesson learned: if you change your mind on bidding, cancel it 48 hours before your flight, before it gets accepted.
First Class Feels
So what did I get for my successful Bid Up?
Hawaiian has roomy 180-degree lie-flat seats in a 2-2-2 pattern (the A321neo planes only have recliner seats.) The deep brown leather of the white curved seat shell is made by Poltrona-Frau, an Italian furniture company that also does the interiors for Ferrari and Maserati.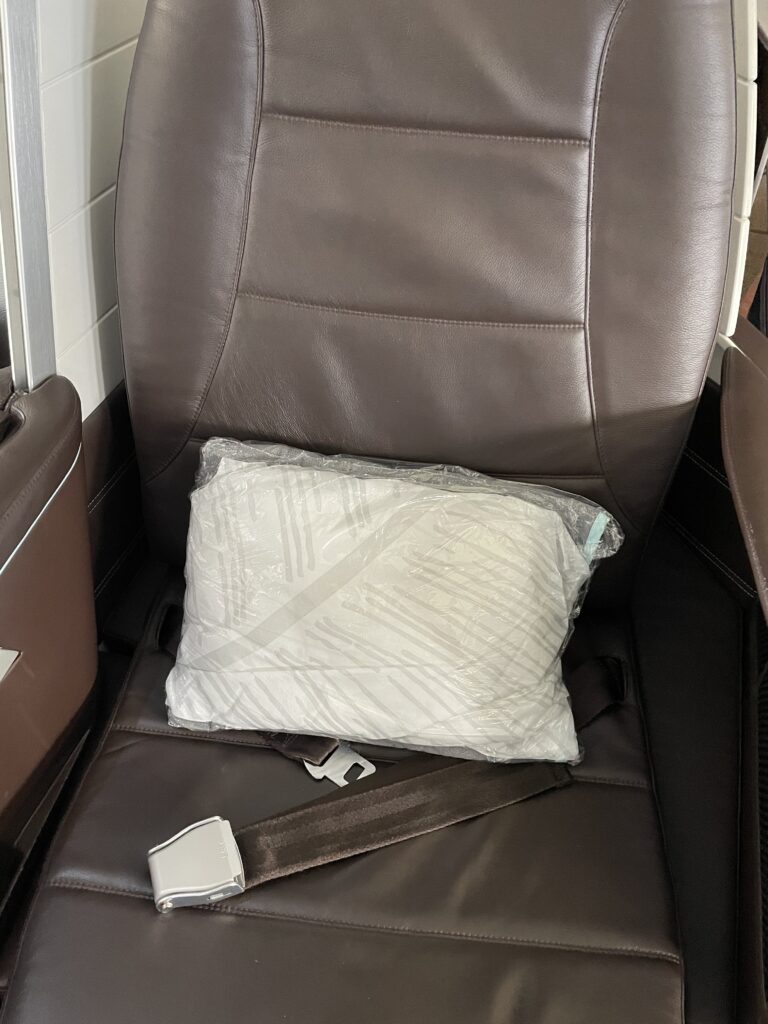 A privacy divider between the seats pulls out of the armrests and is etched with a drawing of an island rainforest. The entire cabin has an airy island feeling with a divider at the back that features the constellation, Makali'i, also known as Pleiades. According to Hawaiian Airlines, this is the constellation that was high in the sky when their first flight launched from Honolulu to Hilo.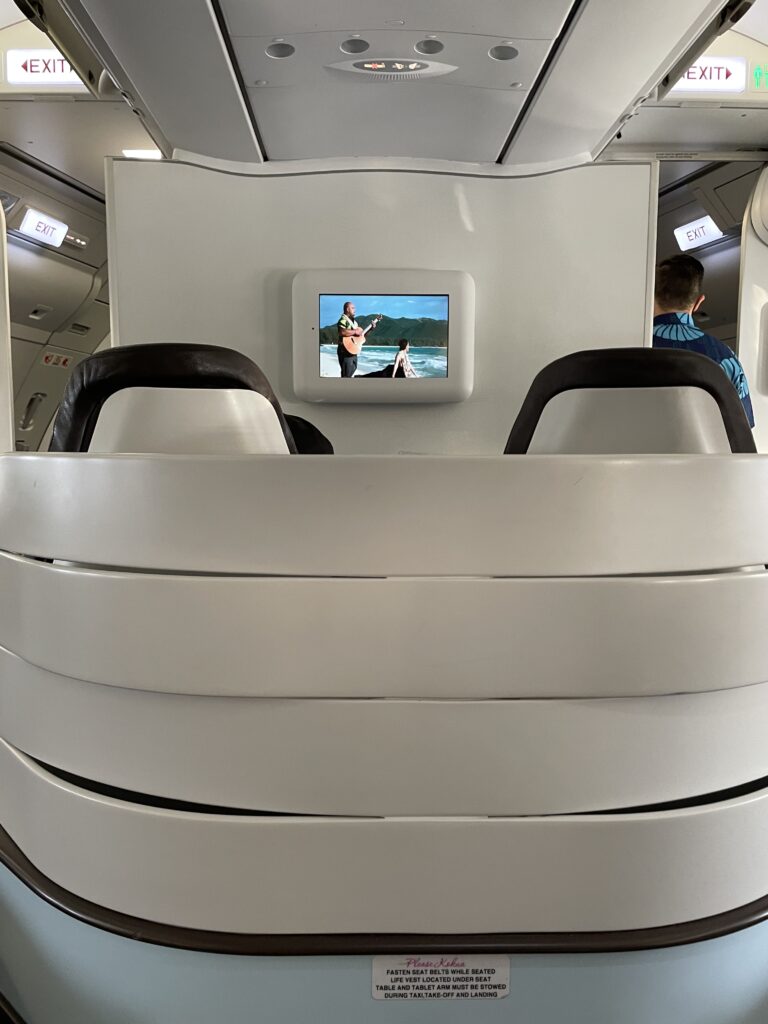 The seats use a wheel, instead of push buttons, to recline to lie-flat or another position in between. A small ledge is at the foot of the seat and there is a tiny compartment below for storage (most carry-ons, even backpacks, will have to go overhead.) There's a light button by your head, two USB ports and one AC power outlet. However, what is missing is a built-in IFE.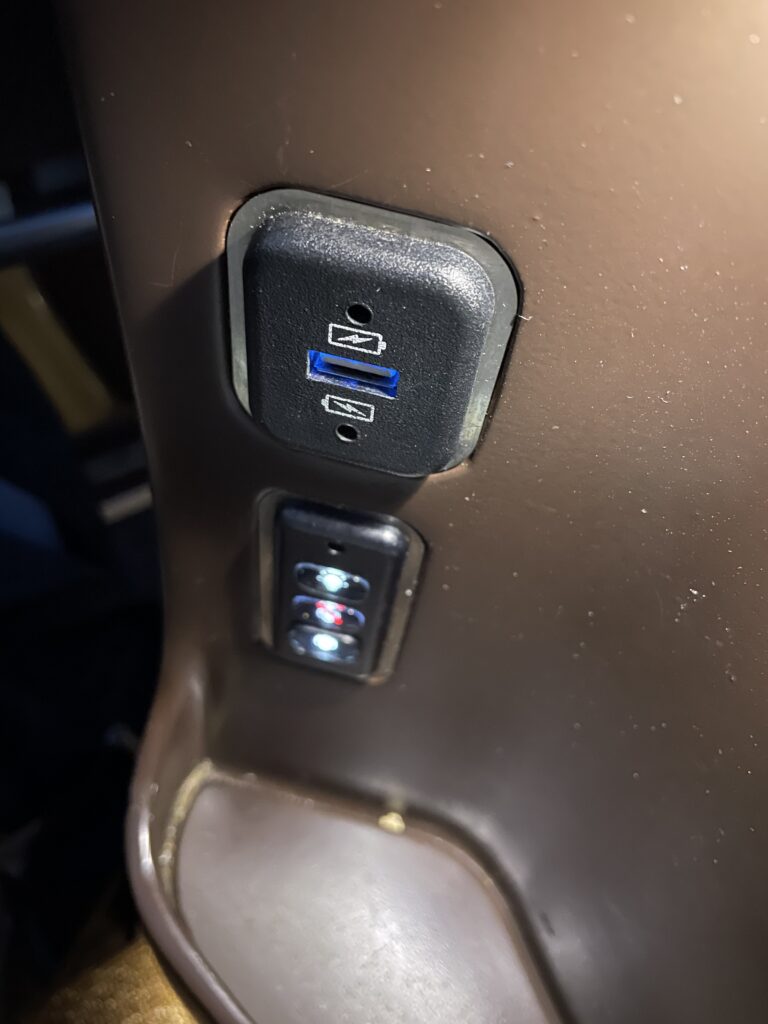 Instead, Hawaiian Airlines distributes iPad Pros and headphones to their first class passengers. The iPads are placed on a special bar that pulls-out from the seat. They are loaded with a decent selection of movies and shows, both domestic and international. It is clunky and seems backwards but well, it's entertainment.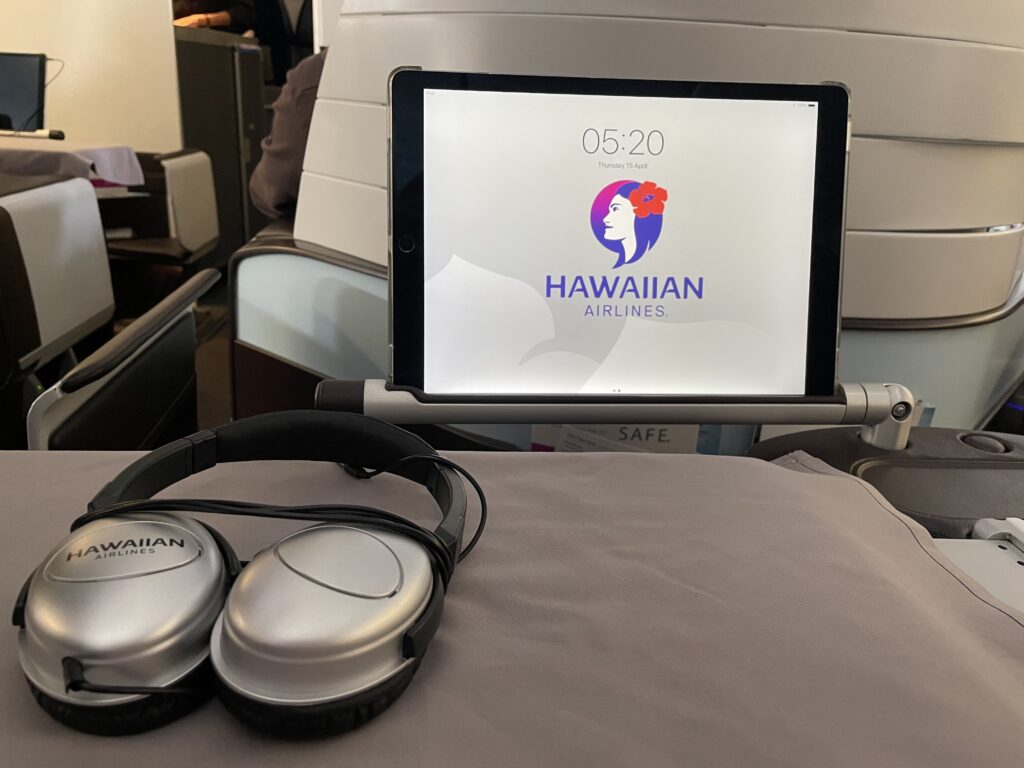 The food and drink service for a morning flight was a pleasant surprise, namely in that Hawaiian was serving a full, plated meal as many airlines are still in the process of resuming service again. The menu was developed by Chef Lee Anne Wong of Koko Head Cafe, who aimed to put a Hawaiian spin on the dishes.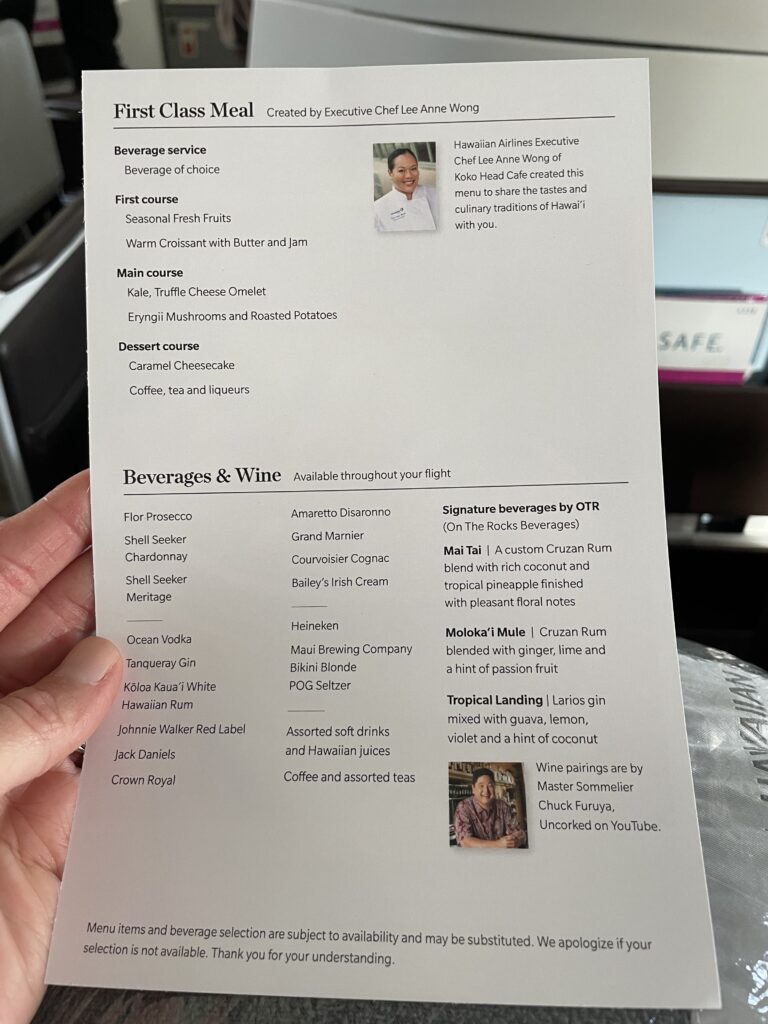 One highlight of the first service were the signature beverages including a Mai Tai, a Moloka'i Mule, and a Tropical Landing. We opted for the mule to put us in an island state of mind just before landing.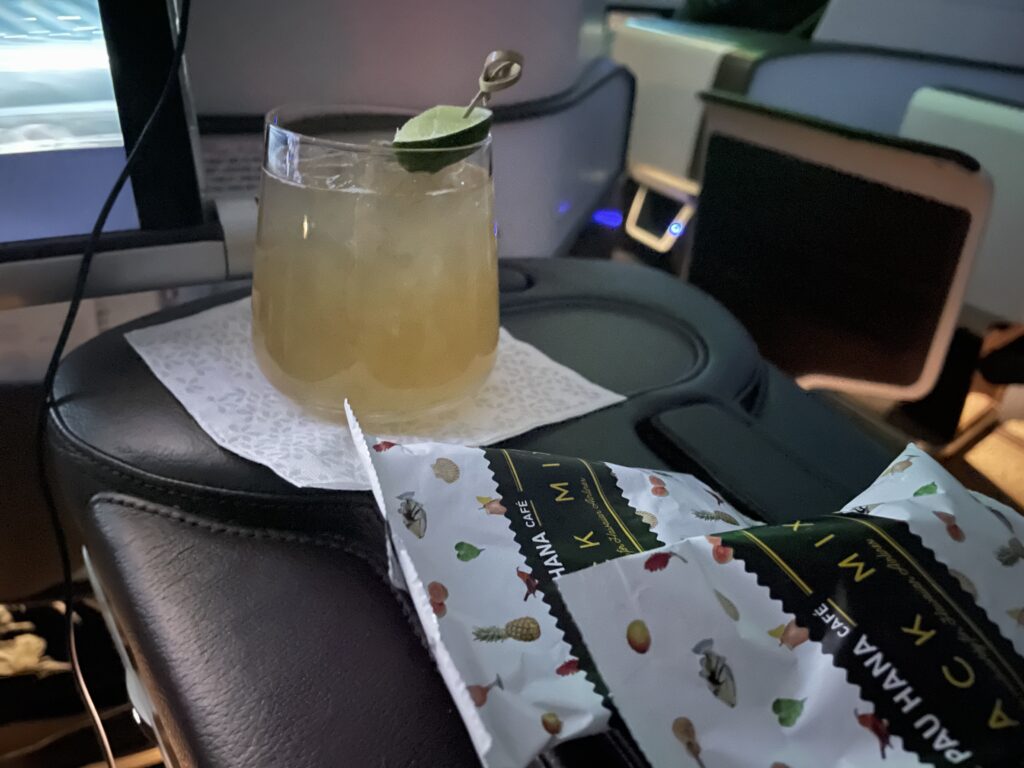 While the seats were extremely comfortable for sleeping, the blanket and pillow issued were not much different than what you would get on a long-haul international flight. That is to say, they were thin and tiny. Apparently, Hawaiian only offers premium bedding on international flights. There was also no amenity kit, which isn't unusual for domestic flights but for a long flight to Hawaii, it would be a nice touch.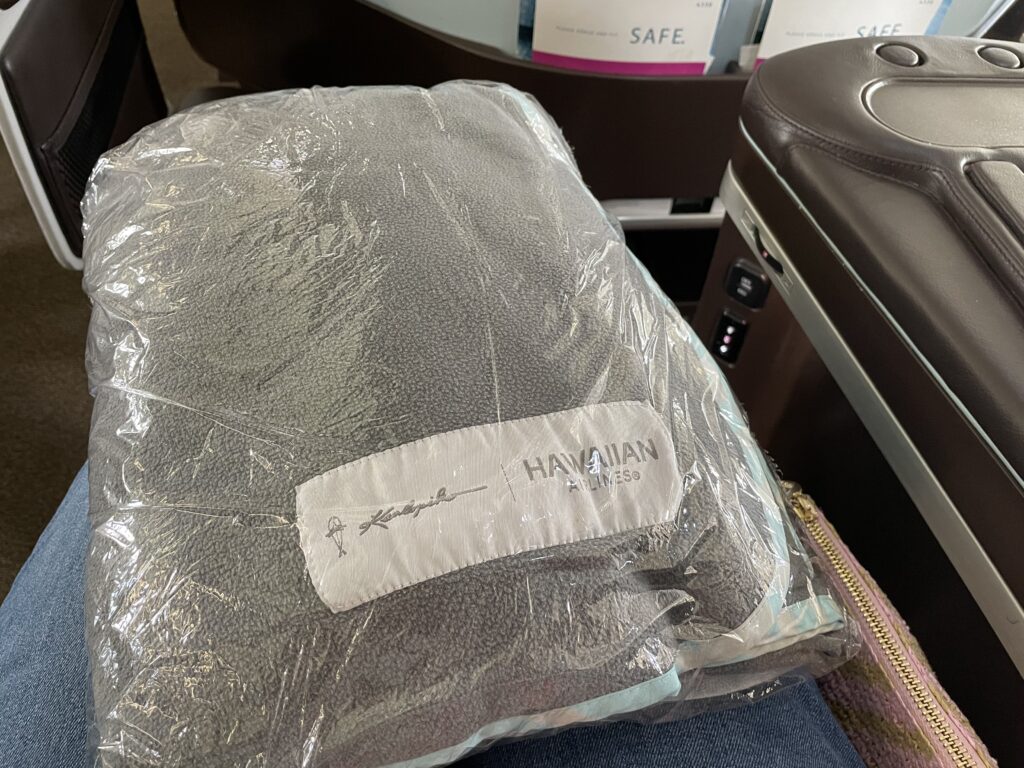 Aside from priority check-in and boarding, first class also comes with two free checked bags.
The Comforts of Extra Comfort
Now, how does the First Class experience compare to Extra Comfort? Since the return trip bid wasn't accepted (I was actually very happy about that!), I was able to try both cabins.
By far the best thing about Extra Comfort is the leg room (the seats have a 36" pitch.) And if you can nab a seat in the 2 section of the 2-4-2 seating, you'll be even more comfortable.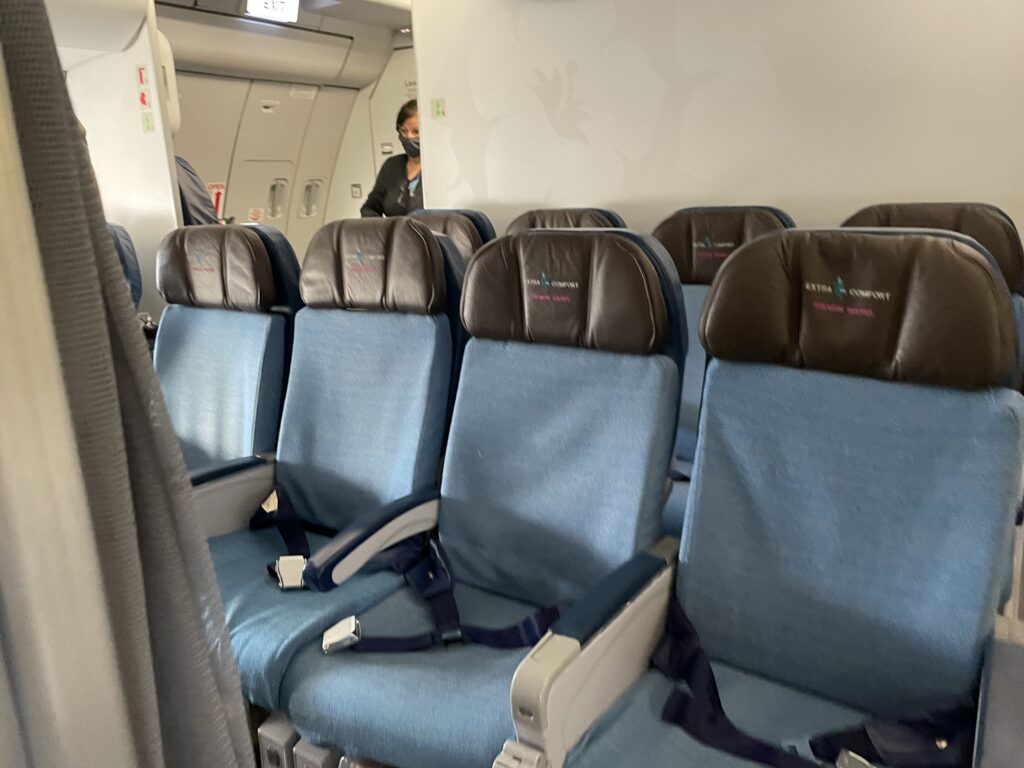 The seatback TVs were a welcome sight from the iPads and the inflight meal that's included (on this trip a BBQ chicken and cheese sandwich) was fairly good, for airplane food. There's also a power outlet below the seat as well as a USB port in the seatback TV. All in all, it was a lovely way to travel back from a few days in paradise.
Bid Smart
The Bid Up feature seems to work best on flights during the week and in off-peak times. My return flight was on a Sunday afternoon and it was completely full, so it's no surprise that the minimum bid wasn't accepted. With Hawaiian tourism expected to rise through the summer, your Bid Up bids will have to be competitive. It might even be worth checking the first class prices when you book your ticket to see what would be the best bid to make. Just make sure you really want it.
Image Gallery:
Related Articles:
All images credited to Juliana Shallcross