Those who have read my work here may recall that I have long tried to fly aboard a Thai Airways 747. Three times, in fact. Each ended in an aircraft swap, and thus, sadness.
It was especially frustrating given that, before the COVID-19 crisis, the jumbo jet flew for years between the resort city of Phuket – where I was located for a spell in 2019 – and Bangkok on a daily basis.
You'd think that being burned thrice – the second time resulting in one of the most infuriating customer service experiences I've ever had – would be enough to call it quits.
But I couldn't let it go. Having morphed into a modern day, monomaniacal Captain Ahab, I routinely averted my eyes from the bucolic splendor of the Andaman Sea to check Flightradar24, hoping to see the jet en route from Bangkok. Every hour I'd check, planning to buy a walk-up ticket on the way to the airport. And every time, no luck.
Then, on the penultimate day last year, a Boeing 747 locked into the schedule: off to the airport I went.
A walk-up business class fare, purchased online in the cab, set me back $200US, about $2 per minute of flight time. With a few days notice or more, I could have cut the cost down to half that amount with ease.
Check-in in Phuket took quite some time, mostly thanks to a single agent and a long line. Once I reached the desk, I asked and was granted an upgrade to first class: seat 1K. Pro-tip, the airline does not sell first class tickets on domestic legs, leaving an opportunity to fly in the nose for cheap. But it can only be done on request via an agent at the airport.
Thai has two different first class configurations aboard the 747: one old, and one new. The new version features very private quasi-suites, and is well loved among frequent travelers. The older version is an aging, pod-like affair.
Pre-pandemic, it was a toss up on any given day which of the two you'd get – if you'd get a 747 at all. The jet that arrived, painted in the Star Alliance livery, was the older version.
A quick stop at the narrow, pre-security lounge was uneventful. A modest supply of food and beverages were available, but I wanted to explore the airport and see the 747 land. I left quickly and went through security with ease.
The gate was a chaotic mess as boarding began on time. Turning left at the door, I settled into seat 1K in the nose.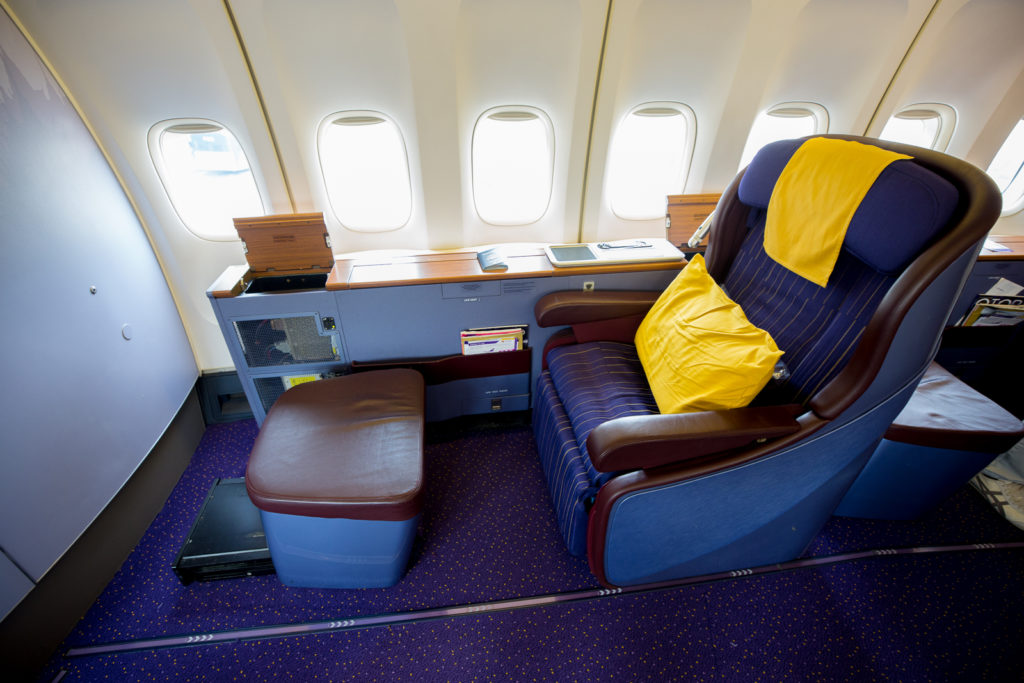 First class is arranged in a 1-1, then 1-2-1 configuration for a total of ten seats. It is bathed in purple, the royal color, with strong yellow accents in the pillows, which are carefully laid on each seat.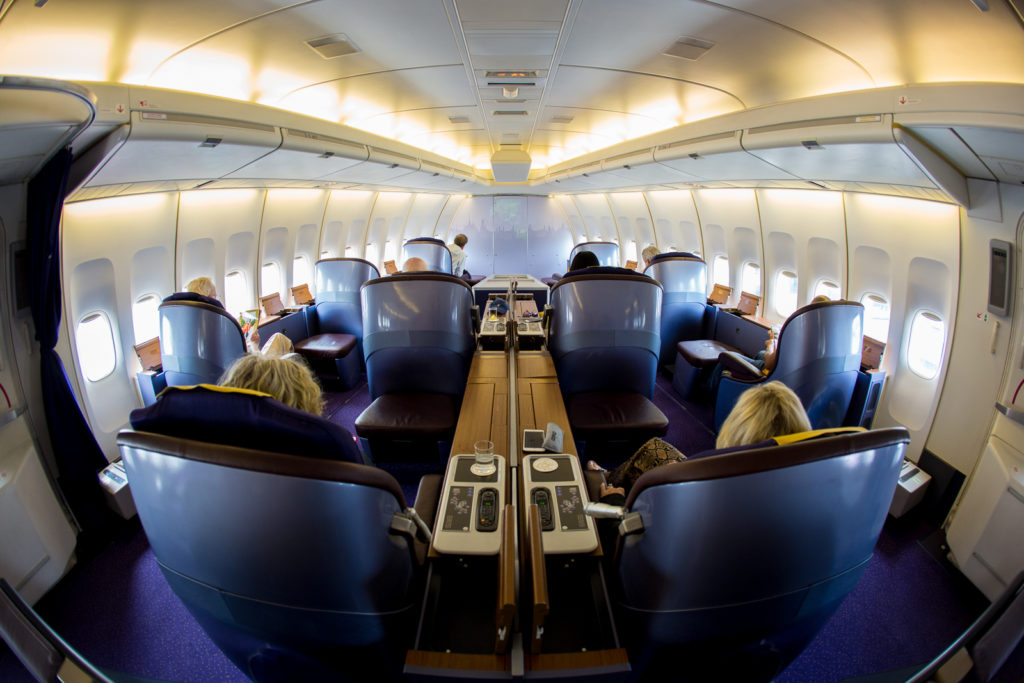 Though aging and a few generations removed from the airline's latest and greatest, the seat pods are nonetheless comfortable with thick, plush padding. They offer an adjustable ottoman/footrest, which sits alone by itself a few feet ahead of the main seat.
The whole affair reclines a full 180 degrees, with the headrest settling into a hard shell back. It offers very little privacy, which is not a big deal on a one-hour daytime flight, but might be a different story on a 12-hour hop to Europe.
The inflight entertainment monitor was tucked into the dark wood paneled side rail, and with a small depression popped out. It was small (10.5") and dimly lit with a standard tethered remote. Seat controls and a single power outlet were also found in the side panel. Both worked without issue.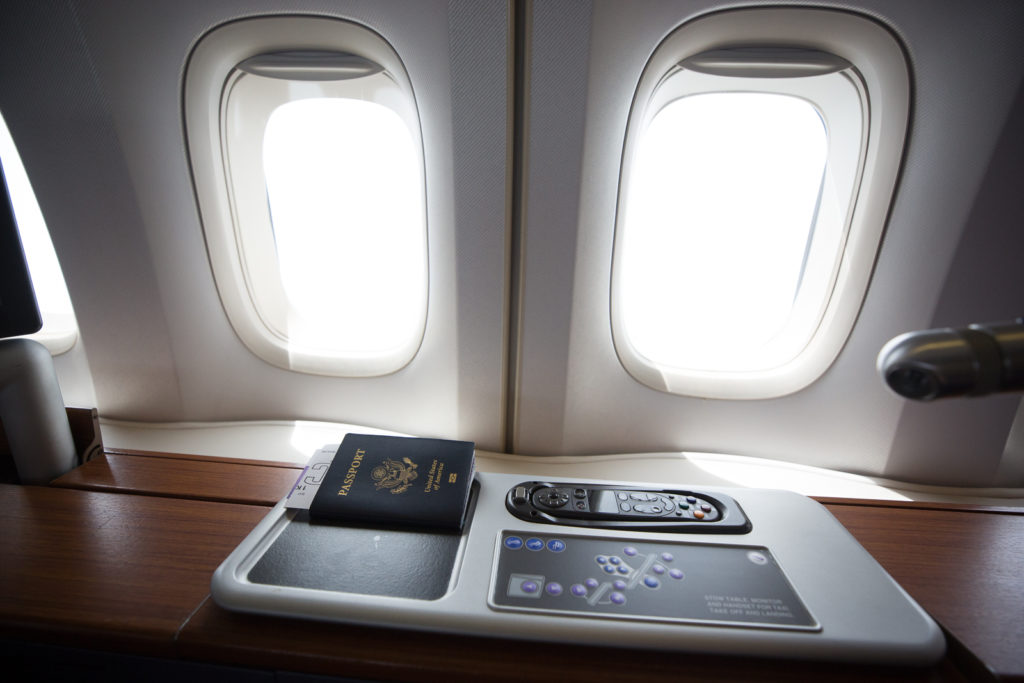 The aircraft was airborne a bit behind schedule, lumbering skyward in the beautiful, wonderful way that only a 747 can.
A meal service got underway quickly, with crew taking drink orders. With the short flight time of just over an hour, there was no choice of meal. A small, warm dish of noodles, greens, and seafood was presented along with an Oreo cookie-based dessert. It was tasty, though I skipped the (curious) seafood.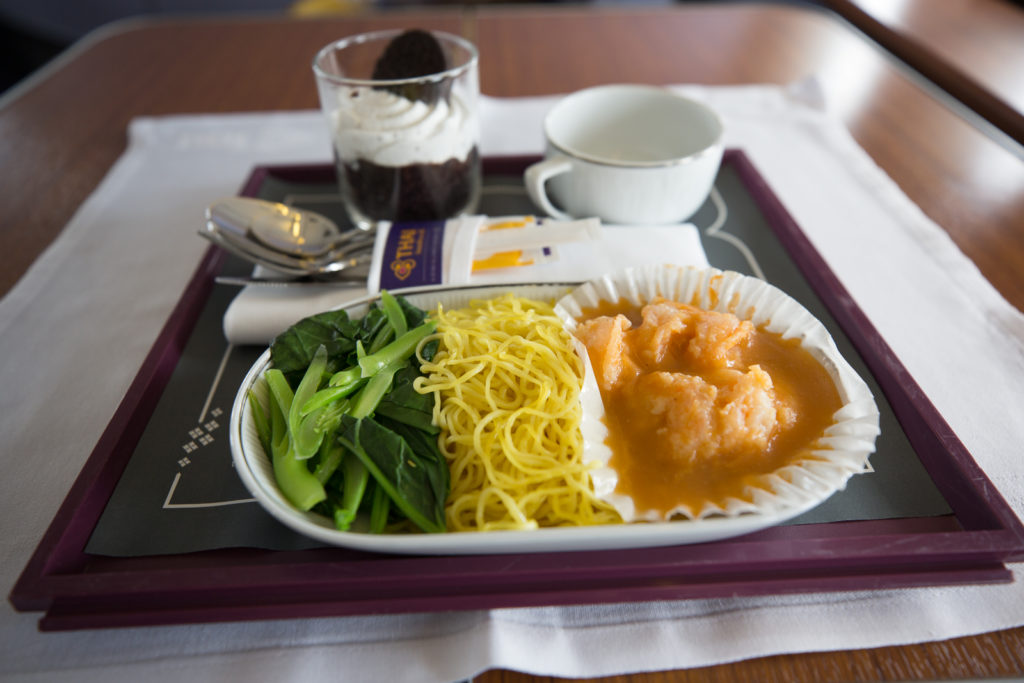 The purser, who had seen me wandering about before departure, gave me a full tour after lunch. It was wonderful to hear stories of his time starting out in the 1990s, making custom steak-and-eggs for first class in the lengthwise galley.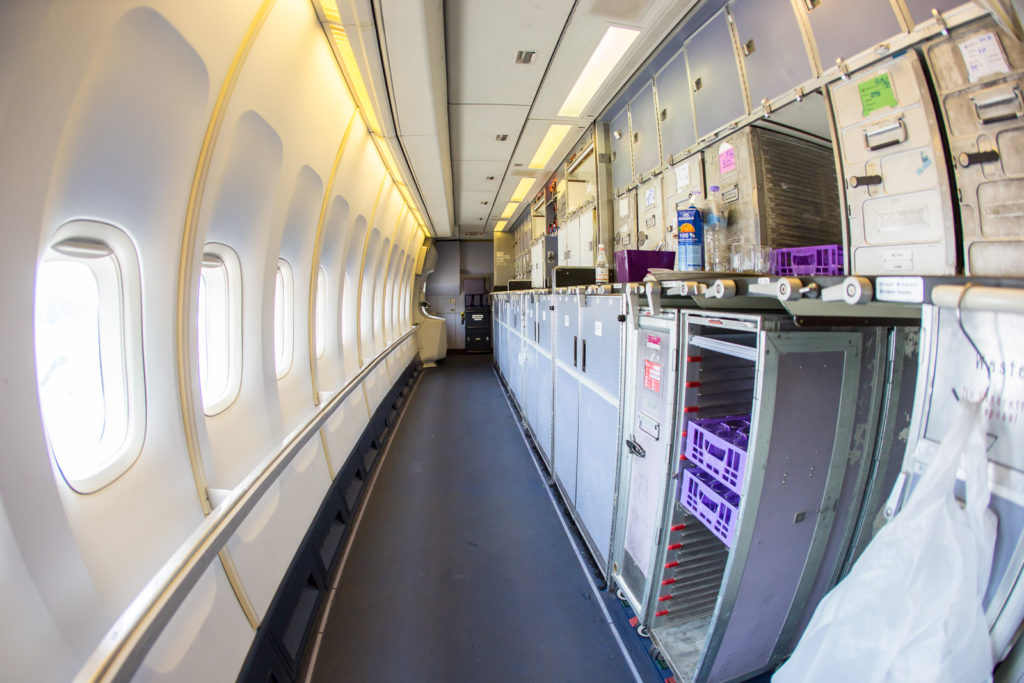 We were joined on the tour by another aviation geek, perhaps in his late teens. The purser offered him one of the empty seats in the nose for the rest of the flight. The teen approached it like it was hallowed ground, a smile from ear to ear that never went away. It was a classy move, the kind that locks in an #AvGeek for life.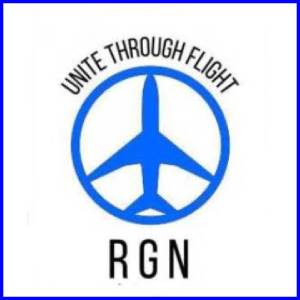 I retired to my seat across the aisle for the remainder of the flight, nursing a stiff drink while listening to the wind part across the nose. Smiling from ear to ear.
The 747 landed on time, though I would've been happy to have never landed at all.
Normally this would be the part where I get to conclusions, but let's be honest. Thai's financial situation, already on the skids before the COVID-19 crisis, has dramatically worsened since. As the airline heads cap-in-hand to Bangkok after narrowly avoiding bankruptcy, a restructuring is all but assured.
It is hard to imagine the aged 747 fleet, already scheduled to retire in 2024 anyways, surviving. But if it does, it's worth going out of the way for.
Related Articles: