Intelsat has divulged further details about it planned nextgen "unified global 5G" network strategy, saying it intends to operate roughly a dozen software-defined satellites to support a multi-orbit, multi-layer, multi-band network which will be integrated with terrestrial technologies and — specific to aero — will ensure an "everything-connected" airline passenger experience.
Intelsat presently operates a fleet of over 50 satellites in geosynchronous orbit. Early this year, the US company tapped Airbus to build its first two software-defined satellites operating in multiple frequency bands.
"There are two software-defined satellites in production today (IS-42 and IS-43) with plans to add ten initially," revealed Intelsat in a statement provided to Runway Girl Network which put more meat on the bones of its previous comments.
The satellites rely on dynamic and predictive design to concentrate and allocate bandwidth to where it's needed most. "The combination of these advanced satellites and global unified network will improve performance and efficiency faster than ever, enabling passengers to enjoy more inflight experiences than ever before," said Intelsat.
Intelsat refers to the forthcoming new network as the "Intelsat Unified Network". It will feature a 5G compatible core that will deliver frictionless roaming "from point A to point wherever, however you get there".
Explained the firm:
This global ecosystem of integrated space and terrestrial technologies, networks, providers, and solutions and services will enable seamless, easy-to-deploy, end-to-end performance with the scale necessary to economically serve people, businesses, and communities wherever they are on the go.

A global unified 5G software-defined network driven by business rules and optimization algorithms will more efficiently allocate capacity and bandwidth based on demand.

This will deliver a flying experience that keeps customers focused on travel versus technology through seamless device roaming — allowing the passenger to easily move from the ground to aircraft A, to airport, then aircraft B, with an automatic connection every step of the journey. And it will result in improved economics for the airlines, matching bandwidth more closely with demand.
Intelsat's website has some initial messaging about its broader strategy.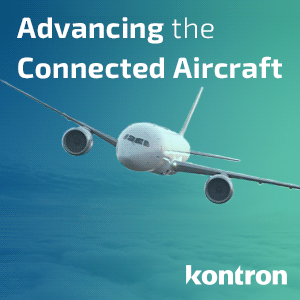 Pertinent to airlines, however, the firm told Runway Girl Network that the Intelsat Unified Network will offer a more efficient, more profitable way of operating.
"Unifying multiple orbits and bands of today's satellite and terrestrial networks in a single, software-defined 5G Unified Network will deliver ubiquitous coverage for passengers and crews," it added.
Describing its vision for the future of inflight connectivity and indeed the role of IoT, Intelsat said: "Our vision for the future is the 'Everything-Connected' passenger experience.
As Intelsat improves the economics of airborne connectivity, even more passengers will be connected from start to finish on more devices than ever. We imagine a fully curated cabin experience with customized options to enhance the passenger experience."
Here are a few futuristic scenarios:
Predictive catering and personalized recommendations provide passengers with the refreshments they expect
Passengers can efficiently enjoy their time onboard with an expanse of digital and physical buy-on-board opportunities (concierge enablement)
Forward-looking, integrated trip details including transit, car rental, hotel reservations and vacation packages giving passengers more spontaneity and peace of mind
Intelsat's 2Ku satcom antenna, which incidentally is being linefit installed on Air France's new A220-300s, is "uniquely forward compatible" with SDS/SDN and LEO/MEO NGSO constellations, noted the firm.
This more fully-formed nextgen network strategy from Intelsat comes as rival Inmarsat is also orchestrating a plan for a communications network of the future. The multi-orbit network will bring together Inmarsat's existing near global GEO satellites with terrestrial 5G and what is envisaged as being a small constellation of LEO satellites, as part of an integrated, high-performance solution called Orchestra.
Related Articles: