Celebrating the fifth anniversary of its Global Xpress (GX) Ka-band network, Inmarsat is gearing up for the launch of four new GX payloads and three new GX satellites between now and year-end 2023. CEO Rupert Pearce characterizes this technology roadmap as the "most ambitious" in the company's history, and notes that it is "fully-funded".
The London-headquartered satellite operator currently operates a five-satellite GX constellation, in addition to a fleet of L-band satellites. The fifth GX satellite, GX5, saw its commercial service introduction (CSI) in December 2020. Inmarsat's satellite services support maritime, aviation, government and humanitarian users. In aviation, GX powers inflight connectivity (IFC) installations at Air New Zealand, Lufthansa, Qatar Airways, Singapore Airlines, and other carriers.
In an update to industry, Inmarsat notes that its next two GX Ka payloads – dubbed GX6A & 6B – will be hosted on the next generation Inmarsat-6 L-band satellites, which are scheduled for launch this year and next. But the GX network will also be enhanced with new Arctic capabilities.
In 2019, Inmarsat announced a partnership with Space Norway and its subsidiary Space Norway HEOSAT, whereby two payloads – GX10A & 10B – will be placed into Highly Elliptical Orbits (HEO), ensuring continuous coverage above 65° North. Their launch is scheduled for 2022, dependent on launch companies and other external factors. Polar coverage will no doubt be appealing to aircraft operators.
Following on from these developments, in around 2023, says Inmarsat, a new generation of GX satellites – GX7, 8 and 9 – will then mark a step change in the combined capabilities and capacity of the GX fleet. "The first software-defined constellation for global mobile connectivity, each satellite in the GX7, 8 and 9 series will deliver twice the total capacity of the entire current, in-service GX network (GX1-5)," explains the firm.
"Their ability to simultaneously generate thousands of independent spot beams of different size, bandwidth and power that can be reconfigured and repositioned across the globe means Inmarsat will be able to respond to peaks in customer demand instantaneously and with pinpoint accuracy, and stack up overlapped capacity over regional hot spots."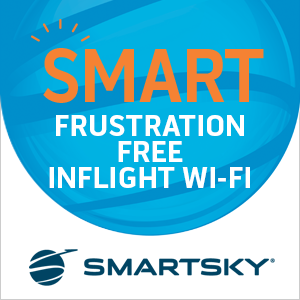 In aviation, Inmarsat's GX-powered inflight connectivity has attracted a number of aerospace giants as GX value added resellers, including Collins Aerospace, Honeywell Aerospace, Thales, Panasonic Avionics, and SITAONAIR.
The company also recently forged a region-specific partnership with Hughes Network Systems to bring a high-capacity Ka IFC solution called GX+ North America to the market.
Inmarsat faces competition in IFC from rival satellite operators Viasat, and Intelsat, the latter of which recently acquired Gogo's commercial aviation business for $400 million. Other aero ISPs include Global Eagle and Panasonic's Ku-band network. And Thales is rolling out a high-capacity Ka solution in North America for its customer Spirit Airlines.
But Inmarsat is confident in its strategy. "Together, with a world-leading community of technology, manufacturing and channel partners, Inmarsat offers multiple networks and an agnostic approach to technology to meet the world's connectivity demands, both now and for the future," says Pearce.
Related Articles:
Featured image credited to Inmarsat