Singapore Technologies Engineering Ltd (ST Engineering) in 2019 acquired Belgium's Newtec, a specialist in designing, developing and manufacturing equipment and technologies for satellite communications. In the ensuing months, the company integrated Newtec's business with that of ST Engineering iDirect.
The acquisition sees ST Engineering iDirect playing a prominent role in Panasonic Avionics' third generation network, as its Dialog platform — including a (formerly Newtec) modem that uses efficient DVB-S2X and Mx-DMA technologies to achieve 600 Mbps aggregate throughput — forms the cornerstone of Panasonic's worldwide aircraft upgrades.
Panasonic tells Runway Girl Network that, together with extreme throughput satellite capacity, the modem can ably facilitate a streaming class of inflight connectivity (IFC) service.
Runway Girl Network interviewed ST Engineering iDirect senior director, vertical market solutions Steve Moses to learn a little bit more about the program, and ST's other IFC initiatives.

RGN: Is ST Engineering iDirect pleased with what it's seeing in terms of in-service capabilities on Panasonic Avionics' IFC-fitted aircraft? Can you share how the modem has been specifically optimized for high throughput satellites?
Moses: We are very excited with the performance and reliability of the Panasonic IFC network enabled by ST Engineering iDirect technology. The capabilities of the ST Engineering iDirect solution were designed for operators like Panasonic to cohesively orchestrate all of their capacity, satellite links to the aircraft and to tailor traffic on those links, thus enabling the reliable operation of their global network. Panasonic has wrapped sophisticated tools and management around our flexible system to enable the unique portfolio of services that they offer – whether that be connectivity, live TV, streaming, social networking, cellular service, on-board content and other operational systems.
Enabling streaming, for example, is a function of managing available capacity and links so that all users receive a good Quality of Experience (QoE) across that capacity versus a few users having access to all the capacity and leaving others starved across the aircraft. While the modems have been capable of streaming for many years, which has also been available in other markets, the capacity and business models that make it feasible for IFEC providers are now emerging. ST Engineering iDirect continues to enable our IFC network operators to provide the unique differentiation on their systems to meet the airline and end customer expectations with high reliability and performance.
The ST Engineering iDirect solution enables operators to efficiently use all their capacity whether it is wide beam, HTS, UHTS, Ku, Ka or both in the same system – or even shared with other network operators. The modem supports those capabilities in conjunction with the terminal and the rest of the IFEC system. In Panasonic's case, our system leverages unique capabilities within Panasonic's antenna for their aero solution and some unique characteristics of the satellite capacity they have designed specifically to service their customers as efficiently as possible. These features include multiple receivers, multiple polarization, fast beam and satellite switching which are parts of our system that help Panasonic achieve their solution.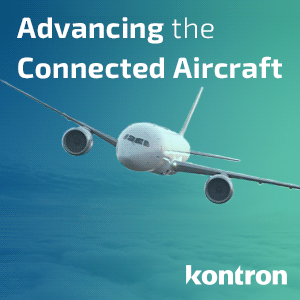 RGN: More broadly, does ST Engineering iDirect believe that a free tier of Wi-Fi will be a baseline requirement for passengers going forward? What trends are you observing in IFC, as industry gradually emerges from COVID-19?
Moses: This really is a business model discussion between the IFEC provider and the airlines. There is certainly a cost to providing connectivity to an airline and aircraft and somehow that has to be incorporated into the business model. Some airlines have been offering connectivity services to their passengers for free for many years, others have chosen a pay wall model, a sponsored model or a hybrid solution and it really is up to the airline and service provider on how they want to manage it. At ST Engineering iDirect, we continue to provide and update the most efficient, high-performance and reliable aero connectivity solutions in the marketplace so that service providers can offer their unique product solutions to meet their customer needs and expectations.
RGN: ST Engineering iDirect sees smaller, regional airlines, emerging market airlines, and business jets as "a significant market opportunity" for IFC. These are all expected to play a pivotal role in industry recovery. Is ST Engineering iDirect targeting a specific footprint for its hardware in these parts of the market?
Moses: ST Engineering iDirect's solutions provide commercial, business jets and regional jets with the same remote products.  These modems are integrated into terminals (modmans) that are most appropriate for those airframes in terms of size and equipment location. In addition, we have products and systems that are tailored to the defense marketplace for higher security and ISR applications.
To date, VSAT solutions have not been viable for smaller business jets and general aviation primarily due to size and weight considerations on the airframe. However, new satellites that have higher performance may enable business models to finally penetrate that market with VSAT. Advancements in the ATG and L-band market which also service those aircraft are also a consideration in terms of viability of the solutions we offer via VSAT.
RGN: What portfolio of IFEC offerings does ST Engineering iDirect bring to the table when talking with airlines, service providers (outside of its modem)?
Moses: We market our aero services solutions to enable satellite network operators to wholesale services to airlines or partners in a way that enables them to differentiate their offerings from others in the market. We also have solutions to enable network operators to interoperate with each other on solutions to extend their coverage and capacity.
We have an integration services team that works with the terminal integrators and solutions providers to enable new antennas, terminal providers and IFEC providers to facilitate successful implementation of their solutions on their network of choice.
Some of the major aero networks we enable include Intelsat, SES, Inmarsat, Panasonic government and defense networks.
RGN: ST Engineering is part of the Jet-Talk joint venture (and Jet-Talk is separately working with OneWeb and Safran on ESAs). Is ST Engineering iDirect excited about – and planning for – new LEO and MEO networks through Jet-Talk? What type of headway have you made through the JV? 
Moses: ST Engineering iDirect is excited to see Jet-talk's solution mature and is looking forward to bringing that antenna into new terminal offerings. The antenna itself has some really compelling capabilities for LEO/MEO/GEO connectivity as well as the ability to bring in capacity from multiple satellites simultaneously.
These exciting innovations coupled with LEO, MEO and our existing GEO systems can enable a futureproofed solution for the marketplace. This should further enhance the performance and efficiency of systems or even operate on multiple systems simultaneously.
ST Engineering iDirect continues to integrate with other FPAs like Thinkom and Kymeta while these new innovations from Jet-talk evolve.
Related Articles: