When you board an aircraft, you should be able to use your smart phone largely in the same way that you do on the ground. But today, there are still certain barriers in place that prevent passengers from seamlessly connecting with all the contacts in their mobile devices whilst airborne. One reason is that onboard Wi-Fi has effectively won the aircraft equipage battle over inflight GSM, yet the former generally doesn't yet support a totally frictionless experience for passengers.
Jack Mandala, who serves as CEO of global inflight connectivity standards group Seamless Air Alliance, told Runway Girl Network: "The majority of our airline members favor Wi-Fi as the technology of choice. This is driven by a number of factors including that Wi-Fi has closed the gap on the technology advantages that cellular used to have. Since Wi-Fi is necessary to accommodate non-cellular devices like laptops and tablets and in order to avoid the cost and complexity of having both Wi-Fi and cellular systems onboard, it seems that Wi-Fi has come out the winner.
"On the flip side, cellular has been preferred in markets outside the US and Europe such as Asia-Pacific and Middle East. Many of these emerging markets will be high-growth areas for inflight connectivity in the future so it is possible there is a shift. The other outlier would be the direct to device market that is evolving around 5G."
But, in general, Mandala said he agrees with the conclusion drawn by Panasonic Avionics, whose vice president, connectivity John Wade recently suggested that while inflight Wi-Fi has won the battle over onboard GSM, such as that provided by its own AeroMobile unit, Wi-Fi roaming on aircraft "will feel very much like the cellular picocell experience", as passenger devices automatically authenticate and connect to the wireless access points (WAPs) on board.
Indeed, if Seamless Air Alliance and mobile network operator association GSMA have their druthers, that sort of truly seamless inflight Wi-Fi experience will be widely and easily supported by airlines.
Last month the two parties announced an important collaboration agreement that will see them work together to develop contract and 'request for proposal' templates to assist airlines and their inflight connectivity partners with roaming proposals and negotiations.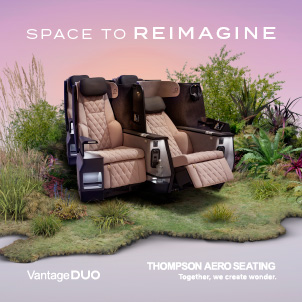 Explaining their work in layman's terms to RGN, Mandala said: "As new [satellite] capacity and competition floods the market, standards will be required for satcom to go into the mainstream and integrate with the mobile network operator (MNO) ecosystem. The GSMA has built standards that enable a very efficient process for contracting roaming agreements between 750-plus mobile network operators worldwide. These standards define requirements for testing, billing, and include commercial contract templates. Our project with the GSMA will enable mobile network operators to contract for roaming inflight with the same ease and comfort of a process they are familiar with."
In a nod to the collaborations emerging between various MNOs (T-Mobile and AT&T, for example) and US-based carriers such as Seamless Air Alliance members American, Delta, United and Alaska — whereby the MNO might provide free messaging or Internet browsing for eligible cellular customers — Mandala said:
As we have seen in recent announcements from T-Mobile and AT&T, mobile network operators are beginning to see the value of including inflight access in their offer. Our goal is to modify the current GSMA standards to add Wi-Fi as an access technology so that new inflight roaming agreements will not require a one-off negotiation.

We intend to enable a number of implementation models. Commercial options may include airline direct agreements, or with aggregators (such as AeroMobile and SITA), or through the use of MNO roaming hubs. Technology options include using cell phone SIM cards, Passpoint, and other seamless and secure authentication methods. The updates we are working on with the GSMA will scale a model that enables a truly frictionless passengers experience.
Creative MNO and airline partnerships have also been forged outside the US. In October 2022, Brazilian telecommunications company TIM announced that TIM Black and TIM Black Família customers would be able to browse social networks, messaging apps, emails and web sites for free during domestic and international flights of Intelsat 2Ku-fitted GOL and LATAM aircraft.
"The free access is the result of a partnership with Intelsat, the largest Wi-Fi Internet provider on commercial flights in the world, operating since 2009. With the agreement, the operator — which has the largest mobile network in Brazil — takes the best browsing experience in an unprecedented way also to the air," said TIM in a statement.
Across the proverbial pond, Deutsche Telekom's private mobile customers, who are members of certain cellular plans, are able to take advantage of complimentary inflight Wi-Fi on Lufthansa Group airlines flying short- and medium-haul routes with Inmarsat GX inflight connectivity on board.
But as Mandala explained, more can be done to enable MNOs to contract for roaming inflight with the same ease and comfort for which they are familiar. Alex Sinclair, who serves as CTO of the GSMA, noted: "We've come a long way since the first SMS was sent in 1992, but even now there is no guarantee that airline passengers can connect with their contacts on the ground during a flight.
"Our collaboration with the Seamless Air Alliance will facilitate and accelerate agreements between airlines and MNOs around their own route network to improve connectivity."
Related Articles:
Image: istock.com/AleksandarNakic