Making good on its stated commitment to invest in more software-defined GEO satellites to support its nextgen unified global 5G network strategy, Intelsat today announced it has tapped Thales Alenia Space to build two such satellites, operating in both Ku- and C-band frequencies.
Dubbed Intelsat 41 (IS-41) and Intelsat 44 (IS-44), the satellites are expected to be in service in 2025, helping to ensure the firm can add high-speed dynamically-allocated connectivity across Africa, Europe, the Middle East and Asia for government and commercial mobility services — including for the aviation market — as well as cellular backhaul.
"Intelsat 41 and Intelsat 44 will be based on the Thales Alenia Space's innovative Space Inspire product line allowing seamless telecommunications mission and services reconfiguration, instant in-orbit adjustment to broadband connectivity demand, and superior video broadcasting performance while maximizing the effective use of the satellite resources," said Intelsat in a statement.
Today's deal means that Intelsat now has four software-defined satellites in production. Under a prior order with Airbus, the first two satellites (IS-42 and IS-43) for Intelsat's nextgen network are on track to be delivered in 2023.
An Intelsat spokeswoman today confirmed to Runway Girl Network that IS-42 covers North America (including Central America and the Caribbean), as well as the North Atlantic. IS-43 covers North America and the North Pacific.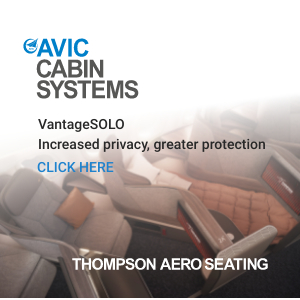 Intelsat previously revealed to RGN that it intends to operate roughly a dozen software-defined satellites to support a multi-orbit, multi-layer, multi-band network which will be integrated with terrestrial technologies and — specific to aero — will ensure an "everything-connected" airline passenger experience (PaxEx).
In terms of PaxEx, it explained: "This will deliver a flying experience that keeps customers focused on travel versus technology through seamless device roaming — allowing the passenger to easily move from the ground to aircraft A, to airport, then aircraft B, with an automatic connection every step of the journey. And it will result in improved economics for the airlines, matching bandwidth more closely with demand."
With a fleet of over 50 satellites in geosynchronous orbit, Intelsat lays claim to operating "the world's largest integrated satellite and terrestrial network". The company also supports inflight connectivity on thousands of aircraft, after acquiring Gogo's commercial aviation division at the end of 2020.
In aero, Intelsat's 2Ku-branded inflight connectivity solution competes with IFC solutions from fellow Ku-band connectivity providers Panasonic Avionics and Anuvu. But Intelsat also supports their offerings with satellite capacity.
Additionally, Intelsat competes in aero with Ka-band-focused satellite operators Inmarsat and Viasat, which also connect aircraft around the world. Inmarsat, meanwhile, is planning a hybrid satcom/terrestrial global communications network of the future, called Orchestra.
On 8 November, 2021, Viasat revealed it had entered into a definitive agreement with Inmarsat to acquire the London-headquartered satellite operator for $7.3 billion. The move will create a global communications behemoth which — among its many assets — will boast a remarkable portfolio of inflight connectivity solutions and a significant customer base in civil aviation, posing intense competition to Intelsat in aviation.
Related Articles:
Featured image credited to Thales Alenia Space