You might not expect to find a passenger experience design house in the quiet Hanzomon district of Tokyo, with its distinctly un-Japanese wide streets, lack of drooping telephone wires and mid-height apartment buildings or office blocks. It all feels a little Scandinavian, a little modern French, a little American office park — and it's less than a thousand feet from the Japanese Imperial Palace in the centre of the world's largest metropolis.
But walking up the stairs to one of those office blocks revealed a conference room stuffed with thermoplastics, laminates, curtain fabrics, carpet swatches, and some truly fascinating colour-changing seat fabrics. And it is there that I delved deep into the aircraft interiors weeds with Daniel Baron, managing director of Lift Strategic Design.
When we spoke, Tokyo-based Baron was just about to present Philippine Airlines with the first of the new cabins for its Airbus A330-300 aircraft, with a clear brief to change the perception of the airline through its passenger experience and cabin interiors.
And it looks stunning.
The goal, Baron explains, was to shift the perception of the airline as "something missing", if there was indeed any awareness at all, to a professional, premium airline that was definitively on the map.
Rather than a generic cabin aimed at a passenger mix focussed solely on price shuttling guest workers to the Middle East, Philippine Airlines commissioned Baron to come up with what he calls a cabin that looks "unmistakably PAL and unmistakably Philippines". Not, Baron quips wryly, "kind of JAL-ANA-Qantas-Air New Zealand-Singapore-Thai-Cathay-Korean-Asiana-ish, but genuine authentic Philippine Airlines — and up there with the best."
Some of that authenticity comes from drawing Filipino elements into the cabin, like the barong fabric patterns that are replicated in stripes of varying widths on the texturised bulkheads and in the pocket linings of business class seats to give an organic, natural feel.
Some of it comes from the natural-feeling blues, greens and tans in business class that feel very cool-tropical, with capiz-shell metallic effects catching the light within the aircraft, washing the texture to avoid the plastic-on-plastic feel of many cabins.
Some of it is the organic swoop stitching on the business class seat fabric, the inviting-looking fabric in premium economy, and the vibrantly patterned iridescent material covering the economy class seats, which looks varyingly blue, green and orange as the light catches it, with diamond motifs that look like water droplets from afar and change to a traditional fabric motif on the side of the seats.
The effect, all in all, is thoroughly impressive placing swatch on swatch in a sunny Tokyo conference room, and looks even better on the aircraft after its public unveiling in the Philippines.
"As you know," Baron tells me after presenting the cabin to PAL a few weeks later, "the all-economy 3-3-3 configuration was ordered by the previous regime and isn't very old. It was quite a big move for PAL, or any airline, to remove fairly new seats, replace them with more spacious ones, plus invest in a brand new inflight entertainment system [Zodiac RAVE]."
No IFE had been installed earlier – in what turned out to be a failed experiment in offering wireless-only entertainment on twin-aisle aircraft flying longhaul. 
The new IFE screens "are exquisite", says Baron. "People on the aircraft were ooooing and aaaaaing over them."
It wasn't just the airline itself at the aircraft's unveiling, however. Baron says that around three hundred visitors walked through the airport, ranging from government officials, PAL staff, frequent flyers and media.
"During the tours, I was on the aircraft the entire time, showing people around and explaining both the seat features and the designs," Baron continues. "That's a level of passion and commitment that I hope communicates to clients just how much I care about their success. Instead of watching from afar, I'd rather be on the front lines. At the same time, other airlines might not even allow their designer to talk to the visitors, so I'm super grateful to PAL for the chance."
The response, Baron notes, was partly based in the wow factor of three thoughtfully designed new cabins — business, premium economy and economy — and partly on the fact that those cabins demonstrate how serious Philippine Airlines' new management is about creating a more competitive flag airline for the Philippines and Filipinos.
In business class, Baron has designed PAL's first-ever fully flat business class seat with direct aisle access, based on the Thompson Vantage XL product also seen on SAS and Qantas. The Philippine Airlines Vantage seats, though, are the first in Asia with adjustable Lantal air cushions, and also come with an extra layer of padding underneath the calm yet inspiring tropical blue seat fabric across their full width of 23 inches and length of 78 inches when in fully flat mode.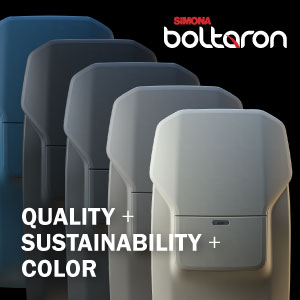 PAL is fortunate to have little touches that many other smaller airlines (and some larger ones) ordering popular seat products either don't think to put in or aren't able to order: a four-way headrest, a storage shelf for pocket contents, a headphone hook, a padded inner shell that absorbs noise, and an impressively sized 18.5" monitor with on-demand inflight entertainment.
In premium economy, PAL also added an extra padding layer on these 19.55"-wide seats, pitched at 38 inches with eight inches of recline. In addition to the centre cocktail table space on the shared armrests, each passenger also gets a mini pull-out cocktail table, plus two dedicated pockets for their personal items and a 13.3" touchscreen monitor.
Economy, meanwhile, enjoys an 18-inch seat width pitched at a very competitive 32" pitch, with an impressive six inches of recline, making PAL's new seats some of Asia's most spacious. An articulating seat bottom cushion comes with, again, extra foam under the cheery seat covers. While business and economy have a USB socket and an AC outlet, economy gets just the USB port, a growing trend.
Taken together, it's a boost for every class of service, launching PAL beyond its current products at a single stroke. The airline — and its designer — are to be commended for using really smart design and cutting-edge passenger experience engineering to create a uniquely Philippines set of cabins.
Image Gallery:
Related Articles: