German leisure airline Condor is following up its recent controversial yet brave stripey rebrand with an impressive new business class, featuring staggered fully flat beds offering direct aisle access to each passenger on its forthcoming Airbus A330neo aircraft, which are to be delivered this northern hemisphere autumn.
Beyond the laudable choice to offer direct aisle access to every passenger, the design language, too, is striking. A sea of differently textured "Condor Marine" navy blue is broken up impressively by navy stripes on the back bulkhead wall, a vertically striped antimacassar, and echoes of the stripes in horizontally striped brushed warm almond gold accents on the inside and outside of the side console privacy screens. 
The lower part of the cabin, below the consoles, is a horizontally grained wood effect that feels surprisingly modern and brings a bit of a natural feel to a cabin that could otherwise feel a bit "boring blue".
Between the wood, the almond gold accents and the textures of the thermoplastics, fabrics and soft furnishings, it's a mature and luxurious implementation of the Condor stripes. 
Sensibly for a leisure-focussed airline, Condor has opted for the honeymoon-pair layout in the centre section, where four couples have the option of "cuddle class" right next to each other, although the height of the centre divider apparatus means that it's not entirely a double bed.
In terms of seat manufacturer and model, Condor's press office did not respond (over a German holiday weekend, in fairness) to Runway Girl Network's questions, but the seat has strong structural and design language elements of the Safran Skylounge Core seat, with a similar product unveiled the same week for Taiwan-based airline Starlux. 
A Safran spokesperson told RGN that "for any information regarding Condor, we suggest you to contact them directly."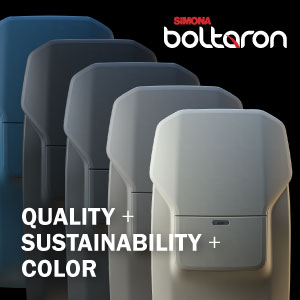 Whoever manufactures it, a stagger like this a strong choice for Condor, and once the full fleet of A330-900neos replaces its elderly Boeing 767-300ER aircraft the airline will have one of Europe's best business class standards, fleetwide. Its existing A330-200 business class is already well above par for a low-cost or leisure carrier, offering the Stelia Solstys staggered seats that came with the four ex-Etihad airframes.
Thirty business class seats will feature ahead of doors 2, with an all-economy configuration down the back. Interestingly, Condor has decided not to add proper international premium economy seats, instead going for an extra-legroom economy product that the airline advertises as having 13cm (5 inches) extra seat pitch.
Delving into Condor's 360-degree virtual reality tour of the A330neo, surprise elements include business-plus options in the front row, with those four seats eschewing a densifying embedded monument for a partner dining option, with seatbelts, a fold-down table and a cupholder armrest. 
The doors 2 entryway features a large welcome-on-board panel with the A330neo's signature Airspace cabin welcome lights overhead, with very on-brand stripes down the centreline of the aircraft.
The only disappointment is down the back in economy, where the sheer holiday joy of the airline's recent rebranding is absent where it could most effectively have cheered up the economy class experience. 
Navy blue seats and monotone "Condor Earth" plain mud-brown antimacassars, with the stripes only visible in the same brown on the rear bulkhead wall and on the pillows, do not shout "vacation". Your author is not suggesting some sort of eyewatering Candyland-inspired maelstrom of peppermint striping, but something a little more engaging than blue and brown might have matched the brand's energy a little better.
Related Articles:
Featured image credited to Condor