As with any multi-class airline, the majority of Lufthansa's revenues and profits come from its premium cabins, particularly business class. Yet of the 27,000 seats announced as part of the Lufthansa Allegris generation of products, 24,000 — or some 89 percent — are economy. Premium economy, meanwhile, remains the most profitable space in the aircraft by square centimetre. So what's new in the Allegris generation?
Premium economy isn't really new-new: it will be the ZIMprivacy seat, as announced over a year ago and already implemented by Swiss last year. This is a decent premium economy choice from within a market segment that remains the least differentiated in aviation. 
Elements of note include that it is a fixed backshell product with a slide-forward mechanism to recline rather than a pivoting recliner — a kinematic choice that some passengers love and some passengers loathe.
Interestingly, it doesn't look like Lufthansa is planning a substantial expansion of the number of premium economy seats on board, at least from the limited amount of layout information provided. Lufthansa's release material says that the airline will be installing 24 seats as standard on its Allegris Airbus A350-900, up from 21. This specific increase, however, is driven by the addition of an eighth seat in every row, up from seven on today's A350s. Its Allegris Boeing 787-9, meanwhile, will see 28 premium economy seats, presumably across four rows of seven seats.
Lufthansa says its new premium economy seats will offer 99cm of seat pitch, which works out to 38.98 inches — let's say 39 — and which is an inch more than most airlines (including Lufthansa's first-generation premium economy) and a few inches more than airlines at the stingier end of premium economy seat pitch.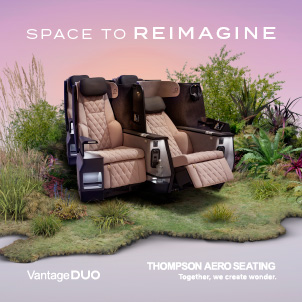 Of note, premium is the only cabin in the Allegris family that is not sub-segmented: business has its seven types, first has the double bed in the centre, and economy comes with two extra-space options. Given the rest of the products, it's genuinely surprising that Lufthansa hasn't made the front row of premium economy some sort of "Premium Plus" product with an extra-high legrest, larger wall-mounted screens, additional storage or a big office-style fold-down desk space just on the hard product side alone.
Overall, given what we know about it now, it's a solid and slightly above average premium economy product, but the context of a markedly improved business class opens up the comfort canyon between premium and business. The proof of the new premium economy will be in the pudding — and the soft product. The airline has previously treated premium economy as essentially a marginally improved economy experience, including on the dining front.
Back in economy, Lufthansa is plumping for a fleetwide installation of the latest Recaro fully featured slimline seat, the CL3810. Successor to the wildly successful CL3710, the CL3810 cuts an impressive 1.9kg of weight compared with previous generations, and also offers improved knee and shin living space. This will cover some 24,000 seats and is obviously a massive vote of confidence in the new Recaro product.
Lufthansa's version comes in a series of dark blues and appears to be a fairly stock installation from the back, with tablet holders, USB ports, large, modern Safran RAVE inflight entertainment screens with Bluetooth audio options. 
Economy also offers two extra-space options: extra-legroom seats at the front of the cabin and the option of purchasing an empty seat next to you as a "middle-seat-free" class. Extra-legroom is now standard across the industry, and Lufthansa's will offer 86cm (33.86 inches) of pitch, compared with 79cm (31.1 inches) in regular economy. Lufthansa will offer more than ten percent of its economy class as extra legroom, with 22 of 201 economy seats on the Allegris A350-900 and 34 of 231 seats on the Allegris 787-9 in the category.
Middle-seat-free in economy, meanwhile, is more unusual, and it will be instructive to see how well this is taken up by economy class passengers — and indeed whether it is taken up more on aircraft with narrower seats like the Boeing 787 than on aircraft with wider seats like the Airbus A350. 
Notionally wider seats, anyway: while Lufthansa executives would not be drawn in Berlin this week on whether the airline plans to take nine-abreast or ten-abreast seats on its forthcoming Airbus A350 aircraft, given the 201-seat total and the 22 seats of extra-legroom economy, it would be a mathematical surprise if the airline went ten-abreast. Stranger things have, however, happened, so we'll continue to keep an eye on the numbers.
Related Articles:
Featured image credited to John Walton