In a surprising move, Lufthansa is rebranding its forthcoming seating from nose to tail as the "Allegris" product generation, with new renderings including new first class suites, the business class that it has been hyping for five years, the premium economy first announced for Swiss, and a whole raft of new extra upsell options for economy class passengers.
Let's start at the front with renderings of the new first class suites, which are very attractive indeed. A rich dark series of dark blue textures and materials mix with a coppery metal palette, textured blue-white overhead, warm woods and glossy stone-effect horizontal surfaces, featuring of course the single Lufthansa red rose in its holder — a delightful touch. The two images provided are of "A" seats and are marked "outboard", with hopefully more options on the centre pair.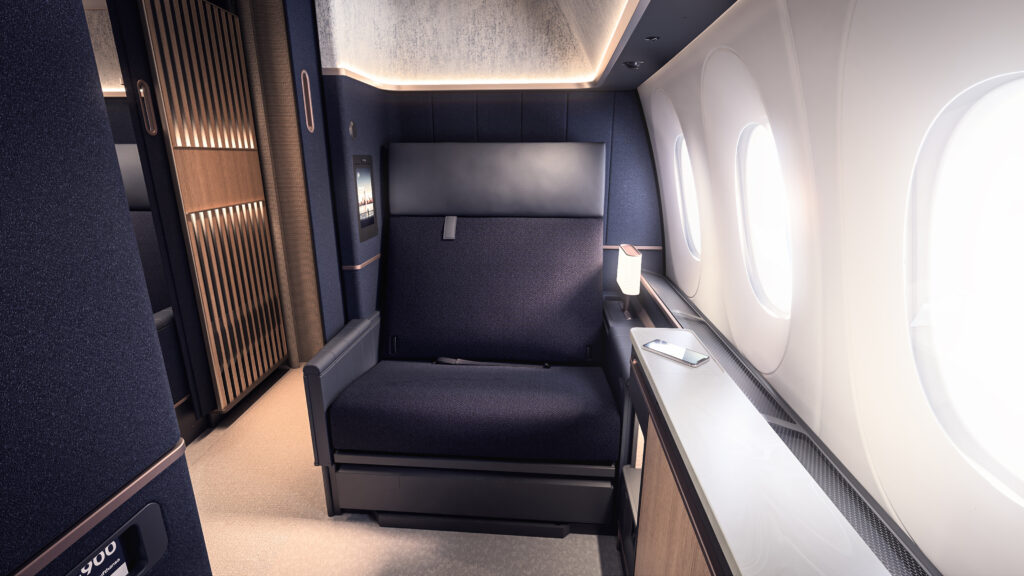 There are lots of details here, many of which are truly excellent, but the headline change is not only the doors (previously seen on Swiss) but the "nearly ceiling-high walls that can be closed for privacy". This will be fascinating to see in action.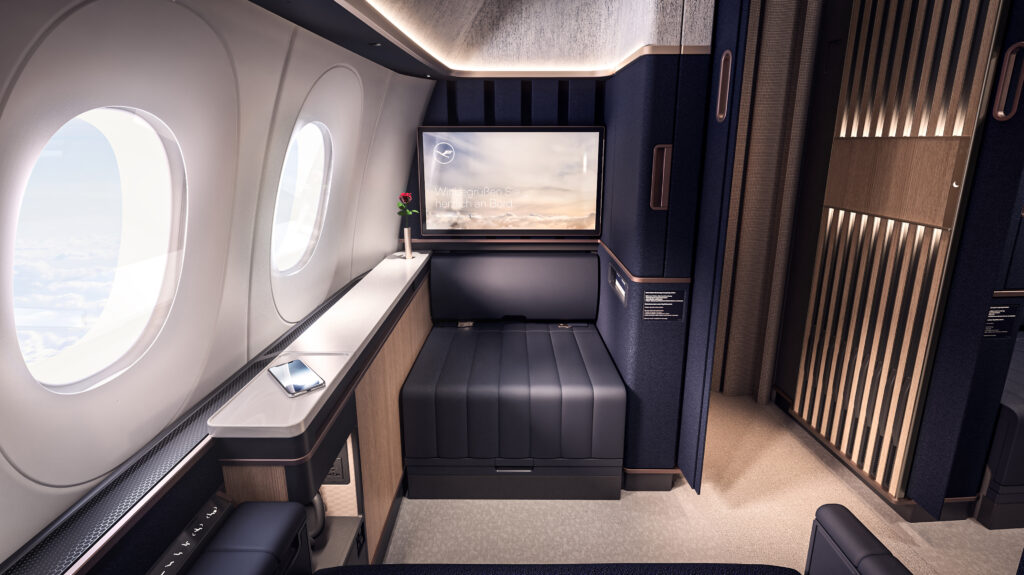 In business, however, the renderings, marked in their filenames as "Voyager" — perhaps a sub-brand? "Allegris Voyager Class"? Is this the new "OZ Quadra Smartium"? — look quite staid. Lufthansa has had a full five years to improve the renderings of this product since its announcement in 2017.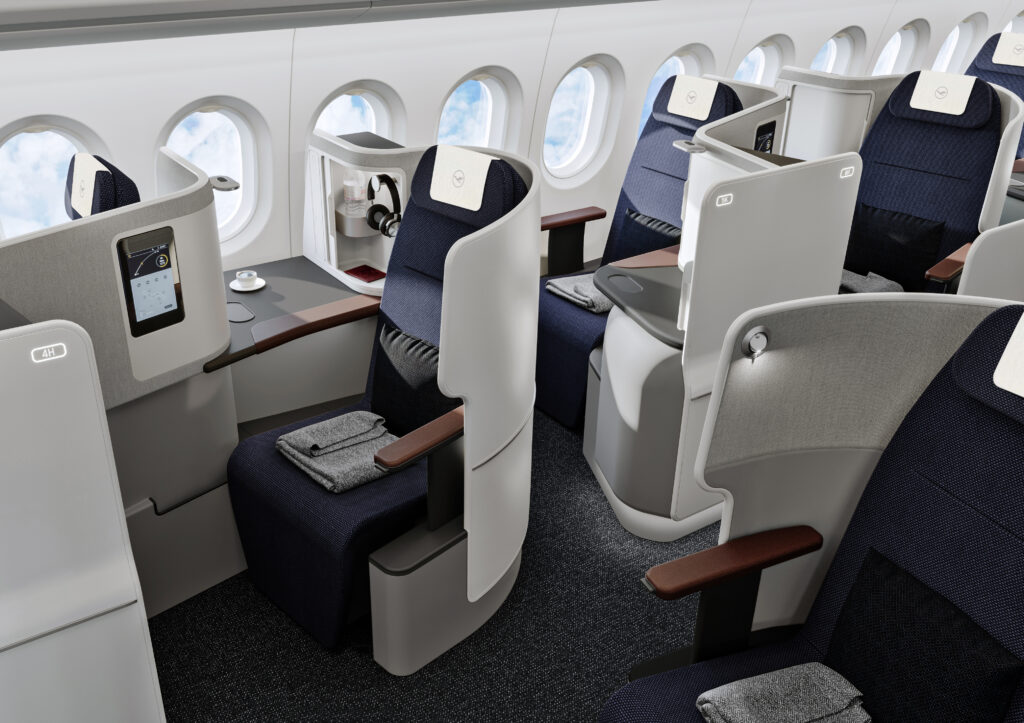 For a seat that has yet to be actually produced, and that still may not arrive for several more years, it looks narrow in the actual seating area, with flimsy armrests reminiscent of the late 2000s and acres of untextured white thermoplastic. 
It is, however, a stagger that achieves direct aisle access, but direct aisle access staggered seats in business class — starting with the mid-2000s implementation of the Solstys seat from Stelia, then Sogerma, if RGN's references are correct — is well into its second decade as a concept. This is just a rendering, but it is not an improvement on the product announced half a decade ago.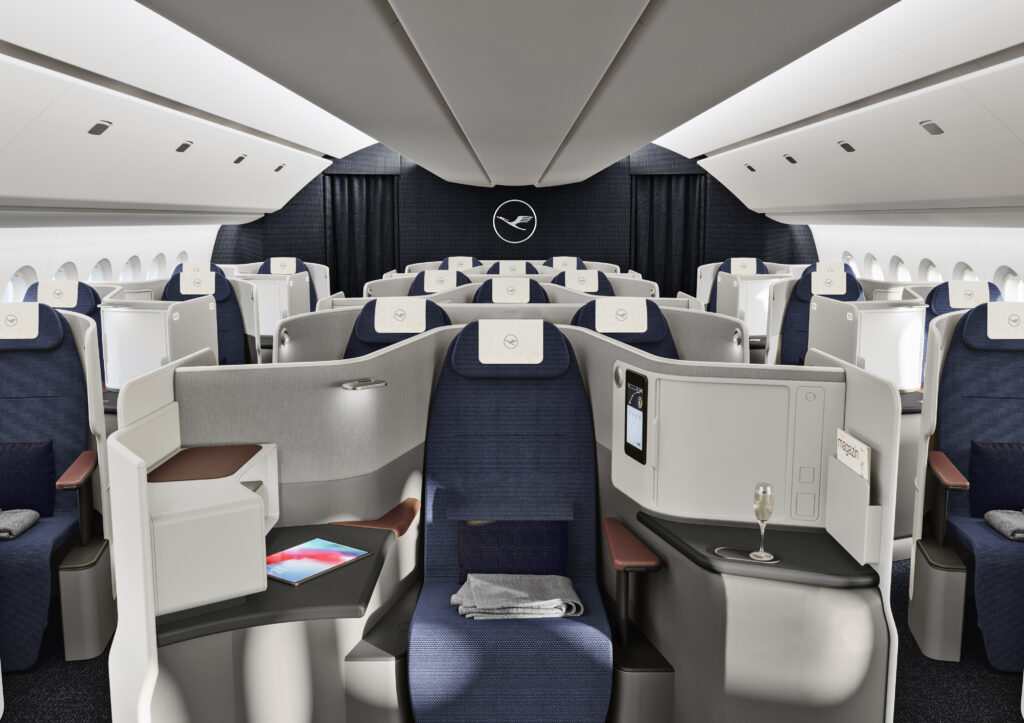 Premium economy is the ZIMprivacy seat ordered earlier this year, a slide-forward product that looks solid but with which we have no direct experience yet.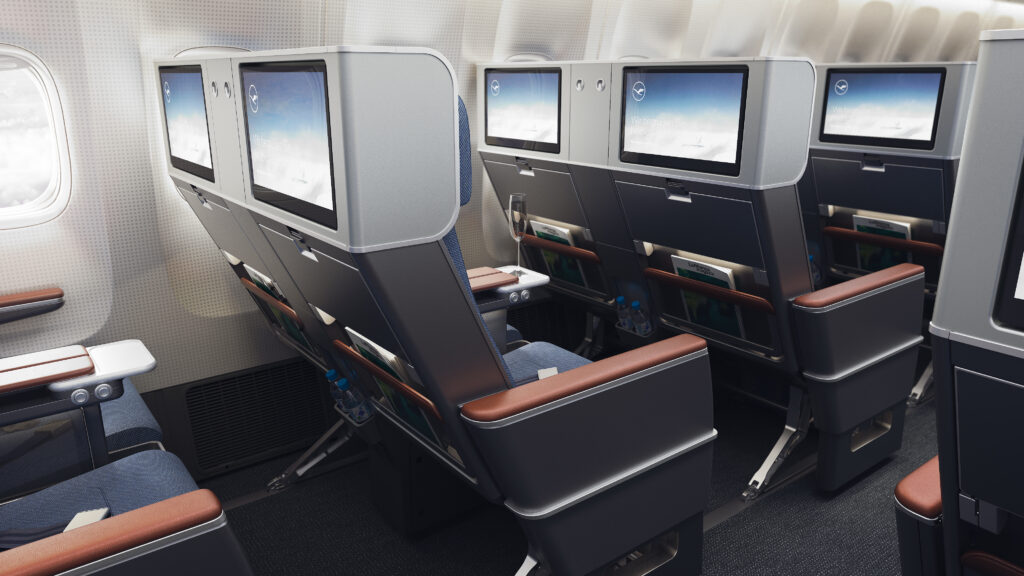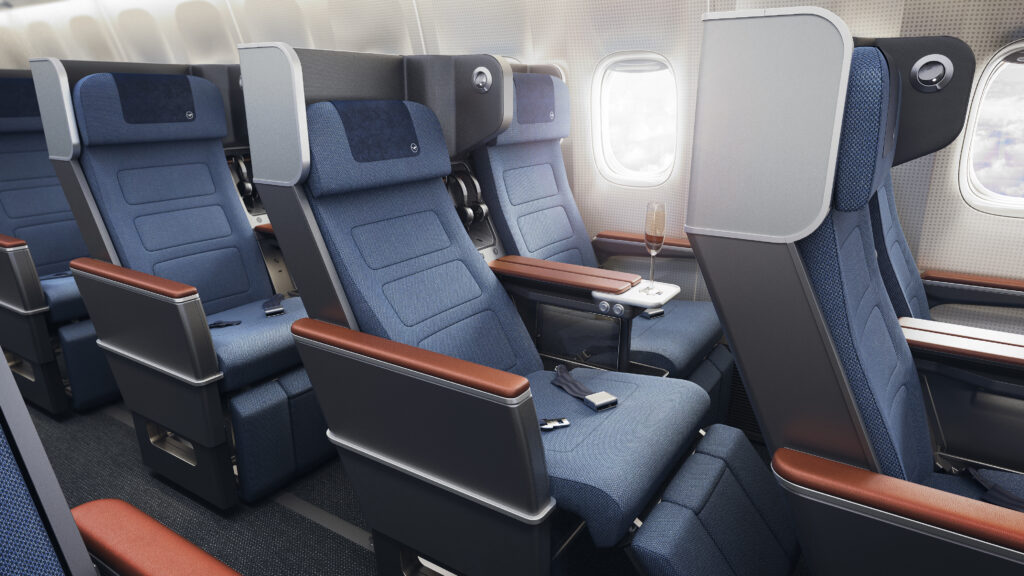 Economy, meanwhile, looks to be where Lufthansa is planning to go full market segmentation. In addition to regular economy seats, the airline is planning "Free Neighbour and "Sleeper's Row 2.0" products, presumably to be sold via ancillary revenue upsell options at some point in the sales path when booking directly with the airline.
Free Neighbour is essentially Lufthansa's European business class offering, which brings a certain cognitive dissonance. It's the only economy picture shown, with a hard-installed secondary tray table in the middle seat. This is all very well, but part of the market for a no-neighbour product is curvy people, who do not want extra hardware at waist height. The success of this product will depend on its implementation.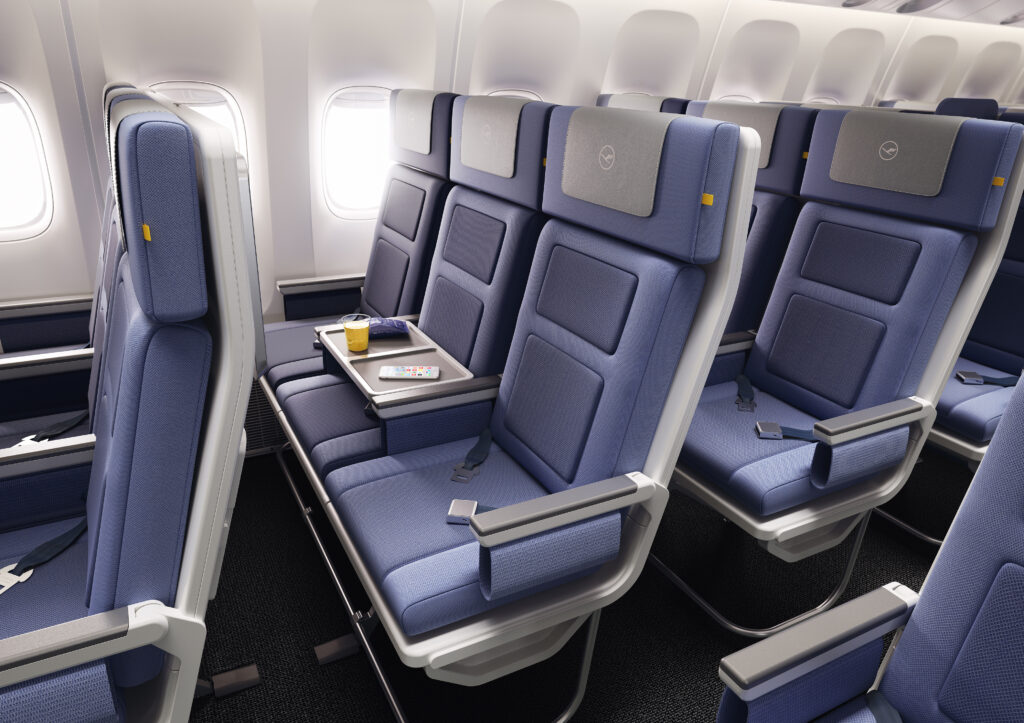 The other economy segment is Sleeper's Row 2.0, with the promise of a fold-up legrest and additional mattress, which sounds very much like the Air New Zealand Skycouch. No further details were provided.
There's just the one image of economy, with a single blocky and square triple seat by the window of what looks like a Boeing 747 interior that looks quite unusual: it appears either not to recline or to have some sort of slide-forward/internal recline mechanism, with loose looped seat fabric hanging underneath each of the armrests. The renderings are pitched substantially. We do note an iPhone rendered with fingerprint sensor — which was superseded five years ago in 2017 with the iPhone X — so it will be interesting to see this product develop in its encounters with the real world.
It seems that the Allegris brand will be for longhaul, replacing the "intercontinental" (versus "continental" shorthaul) semi-branding that Lufthansa has previously used. The airline says that 100 aircraft, "such as Boeing 787-9s, Airbus A350s and Boeing 777-9s, will fly to destinations around the world with the new "Allegris" service," noting that "additionally, aircraft already in service with Lufthansa, such as the Boeing 747-8, will be converted." That suggests that passengers are likely to see a fairly significant crossover period, especially with the delays in delivery of the 777-9, as Lufthansa replaces its fleet.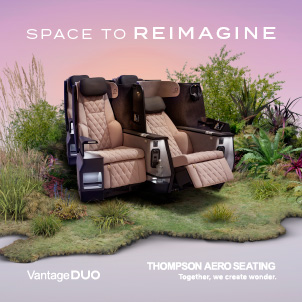 It was notable that Lufthansa is making quite so much in its press release of the four Airbus A350-900 and one Boeing 787-9 (of a total of six) aircraft featuring direct aisle access in business class, the line around which Runway Girl Network reported back in June.
"Premium and quality products have always been Lufthansa's promise to its passengers," the airline boldly claims. This is something of a stretch in reality: the appeal of flying Lufthansa is not the hard products but rather its large network presence and the above-average connection experience for the half of its hub operation flights located at Munich Airport.
This is a mixture of renderings of various levels of attractiveness, plus some un-illustrated product suggestions. We must reserve judgment until we see actual seats in the proverbial thermoplastic, foam and fabric flesh.
Related Articles:
All images credited to Lufthansa Group