It may not have the snappiest name — like any good Recaro seat, it shares a product number with an old Nokia phone — but the Recaro CL3710 is among the most impressive economy class seats on the market. Certainly more than 40 airline customers on just about every mainline aircraft worldwide think so.
But why is it so popular, and how has its design pleased both carriers and passengers, from some of the world's shortest routes like Japan Airlines' domestic Airbus A350 all the way through to Qantas' ultra-longhaul Boeing 787? Runway Girl Network sat down with Chris Buckner, director of product management at Recaro Aircraft Seating, to delve into the details.
"On a very high level, the biggest advance is really the balance of the most important seat characteristics: comfort, living space, product quality, weight and cost," Buckner says, noting that "learnings from previous product generations and evolving market requirements were thoroughly integrated in the new seat platform."
Key to any of the newest generation of fully featured slimline economy seats is the redesign of the supporting structures underneath the seatpan that hold each set together. CL3710, Buckner says, "is a new seat platform built from scratch. The dual beam sub-structure enabled both a reliable but also lightweight seat base. Seat kinematics were also newly developed, enabling a generous recline up to 7" in combination with the seat bottom articulation."
This dual beam sub-structure is what, crucially, gets the seat out of the way of passengers' knees, with width also cited as between 17.2" and 18.8" by the seatmaker (and dependent on the airframe).
"During the development, experts from different disciplines such as ergonomics design or materials engineering were deeply involved to create the best possible seating experience," Buckner explains, highlighting "seat features like the 6-way headrest with integrated neck support, the comfort backrest netting or the seat cradling motion provide optimal body support."
"Details matter," Buckner states plainly. "The seat pan is ergonomically contoured and has a flexible front nose. Cushions with extra side support reduce unpleasant pressure points noticeably on long-haul flights."
And CL3710 is certainly on a lot of those.
Launched in 2014 with KLM Royal Dutch Airlines following extensive market research, CL3710 appears on nearly four dozen airlines on practically every major modern widebody: Airbus' A320, A330, A340, A350 and A380, as well as Boeing's 737, 777 and 787.
But what's interesting is that it's clearly flexible and attractive enough to operate not just on longhaul widebodies, but on airlines like flydubai, which uses the seat on its Boeing 737 MAX. Your author dragged the airline's vice president of inflight product back to the very last row, pitched at 29", and the amount of space was truly astounding — especially given a connecting flight to that departure at the same pitch with older seats.
"Broad modularization options make it a perfect fit from short-haul to long-haul operations, from a comfortable baseline seat with basic entertainment and power options up to a premium product with extra comfort cushioning and advanced connectivity solutions," Buckner says, citing the "latest IFE system integration and bring-your-own-device solutions" as some of the recent additions to the CL3710 platform.
A key design feature of the seat is the amount of customization within the seat family that is permitted within what Recaro calls the "multi-function bridge", and what others have been referring to as the "customization bar", which contains passenger-pleasing additions like power and USB sockets, RFID readers, and so on, between the IFE screen and the table.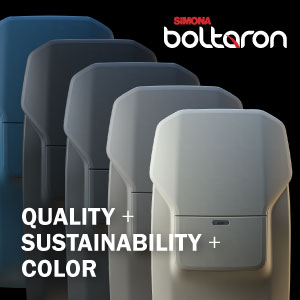 "The base idea was to use the limited space in an economy seat in a clever way," Buckner explains. "Multiple functions were combined in the "multi-function bridge". The multi-function bridge combines a peripherals bar with a high literature pocket and the counterpart for the table locking mechanism. Power outlets and other peripherals are easily visible and accessible for the passenger."
And Recaro is continuing to design new functionality options for the seat, showing airlines additional ways that they can design a more comfortable economy class passenger experience.
At this year's Aircraft Interiors Expo, the seatmaker was showing new options, ranging from a new headrest with an integrated neck pillow, a new lumbar cushion and seat bottom extension, new backrest geometries, a new stowage flap that also serves as a stand for personal electronic devices, and a new way of attaching the dress covers.
Indeed, Recaro won the Best Passenger Comfort Hardware category at the Crystal Cabin Awards for these upgrades on CL3710, suggesting that the future is bright for this innovative seat — and comfortable for its passengers.
Related Articles: