Hughes Network Systems expects its electronically steerable antenna (ESA) will be ready to enable both flight testing of Gogo Business Aviation's global OneWeb LEO-powered inflight connectivity service, and serial production deliveries, in the second half of 2024.
"The development of the Hughes ESA for Gogo Business Aviation is well underway. In close collaboration with Gogo Business Aviation, we have made great progress in the development to date and are on target for flight testing and serial production deliveries in the second half of 2024," Hughes vice president Reza Rasoulian tells RGN.
"The Hughes ESA technology is extremely efficient and produces very little heat, therefore eliminating the need for complex cooling solutions. Additionally, we also are on track to deliver our fixed ESAs to fulfill the 10,000-unit order from OneWeb [to enable networking services for enterprise and government customers]. These will be available starting later this year, which aligns with the OneWeb global constellation service launch."
OneWeb says connectivity solutions are active today with its distribution partners in Alaska, Canada, the UK, Greenland and the wider Arctic area. With two satellite launches remaining in order to achieve global coverage with its Gen 1 network, OneWeb intends to activate global service this year. However, OneWeb has been working against a 2024 timeline for launching aero service in business aviation. And as first reported by RGN, OneWeb's commercial aviation IFC service launch has slipped to early 2024. 
As such, Hughes' work to deliver an "exclusive antenna assembly" for the Gogo programme appears to be roughly in line with OneWeb's schedule for offering service in BizAv. (Gogo has indicated that its new LEO- and hybrid ATG/LEO-powered IFC will be available once the OneWeb network "is fully launched and commercially available". It is positioning these solutions as capable of accommodating everything from super light jets and large turboprops to ultra-long-range jets.)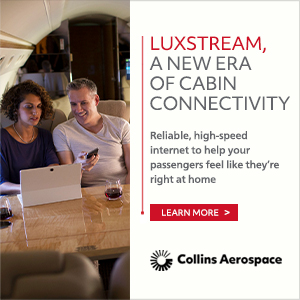 Last month, an industry veteran suggested that Hughes is using Stellar Blu Solutions' Sidewinder ESA (with Ball subarrays) as the basis for the terminal it is providing to Gogo for OneWeb services. But both Hughes and Gogo rejected this claim.
"The Hughes LEO Terminal for business aviation is a unique electronically steerable antenna designed and developed in-house by Hughes engineers," a Hughes spokesperson confirmed to RGN.
"We demonstrated this antenna's performance in a fixed application at SATELLITE 2022. Since then, we've extended the design for business aviation applications with Gogo. It uses up to one-tenth the power of other ESAs, incorporates an integrated modem, and contains no moving parts. Leveraging our deep history in LEO engineering (for Iridium, Globalstar and OneWeb), this proprietary technology is the basis of the terminal we are building for Gogo Business Aviation."
A Gogo spokesman said: "Gogo Business Aviation has not made any changes to our plans with Hughes."
Related Articles:
Featured image credited to istock.com/dmbaker