NEW YORK — This year has been a year of recovery for Lufthansa, including in the Americas where the German juggernaut has seen its 2022 corporate bookings hit roughly 80% of pre-pandemic levels. Eager to maintain this momentum, the carrier — which in October unveiled its new Allegris-branded generation of long-haul seats — is highlighting the fact that "seven" different Allegris business class options will technically be available in the same cabin class.
All of Lufthansa's Allegris business class seats will obviously offer the baseline features that business class passengers have come to require i.e., direct aisle access and the ability to go full-flat in bed mode.
But with what appears from renderings to be an alternating 1-1-1 and 1-2-1 configuration — featuring center thrones and center pairs, and with some window seats closer to the aisle, plus the carrier's announced plan to offer a premium front row product — Lufthansa will be able to cater to different passenger preferences.
During a 2 December media briefing in New York attended by your author, Lufthansa vice president passenger sales for the Americas, Dirk Jansen, noted that passengers will have the opportunity to choose a longer full-flat bed, targeted at those who are over 6ft tall.
We're left to speculate if this is a reference to the front row product. In its October press release about Allegris, Lufthansa promised a front row product with "more comfort and privacy due to higher walls and sliding doors that completely close. Here, travelers can enjoy extended personal space, a monitor up to 27 inches in size and ample storage space, including a personal wardrobe."
The front row suite of new @lufthansa "Allegris" Business Class product coming with its first own #Boeing787 next year is probably the best seat in the house, even compared to new First suites. It's one of seven (!) different seat types just in the same C class cabin #PaxEx pic.twitter.com/tkezxtyPwW

— Andreas Spaeth (@SpaethFlies) October 14, 2022
Thereafter, Allegris business class will offer "six more seating options with the highest level of comfort", including seat walls that are at least ~45-inches high, and generous space in the shoulder area, said the carrier's statement.
Lufthansa intends to update its booking experience and use technology to help passengers choose the appropriate product for their travel, said Jansen in New York, adding that more details will be divulged in February 2023.
The Allegris brand also includes a much-touted new first class product, as well as new premium economy and economy service, and is expected to be offered on some 100 aircraft, such as the carrier's new Boeing 787-9s, Airbus A350s and Boeing 777-9s.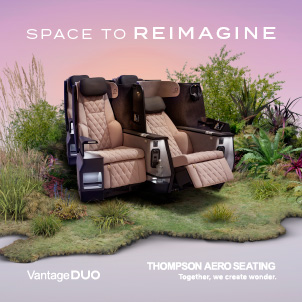 On the day of the media event in New York, Lufthansa's first 787-9 to the US landed at Newark International Airport. And the carrier was quick to point out that the fuel-efficient twinjet is a key part of its CO2 reduction plan.
Specific to the US market, Lufthansa said service from its Frankfurt and Munich hubs has been fully restored to pre-pandemic levels. And in June, it launched its first new destination since 2019, in the form of St. Louis-Frankfurt.
Italy and India are popular destinations for US corporate travelers. To that end, a Florence-inspired coffee cart and an Indian spice market-themed display were showcased by Lufthansa in New York.
Lufthansa also featured a stall from the famous "Münchner Christkindlmarkt" or Munich Christmas Market, which draws travelers from around the world.
Related Articles:
Featured image credited to Lufthansa Group