As it reaches its 50th year in aircraft seat production, Recaro Aircraft Seating faces a changing landscape that will require even more ingenuity to meet the challenges ahead.
Runway Girl Network sat down with CEO Mark Hiller to discuss how the seatmaker plans to draw from its venerable history to meet the evolving needs of airlines and passengers, including their ever-important sustainability goals. Flexible cabins, reveals Hiller, are expected to be part of that future in a variety of ways.
Recaro already knows a thing or two about flexible cabins. Years ago, Air New Zealand approached Recaro with its Skycouch idea — an economy class seat triple that creates a lie-flat space for passengers. The final design, which is lauded by travellers around the globe, represents a collaboration between the two companies, notes Recaro.
But even before the Skycouch debuted, Recaro was building seats to support European carriers' Eurobusiness configurations onboard single-aisle aircraft.
"There was the development of the innovative convertible seat in the 1990s, a seat which can be switched between the economy class setup and business class, especially for narrowbodies. Lufthansa and British Airways used this, for example," notes Hiller. "The product is dated now, but it's still something where the industry is lacking, to have a flexible concept." 
Indeed, Recaro is already helping airlines accommodate a new vision for Eurobusiness, as exemplified by its work for TAP Air Portugal.
Recaro can also support the rapid kitting of aircraft with seats, via its SWIFT program.
In order to accommodate future flexible cabins, Recaro is focused on producing aircraft seats that deliver passenger comfort and the type of weight savings that airlines now require in a bid to slash fuel consumption and ergo CO2 emissions.
The seatmaker is known as an innovator on this front, offering, for example, the option of a high literature pocket on seatbacks and/or a lightweight net pocket for stowage of personal belongings, which in turn increases the living space in the seat.
Replacing the seat's thick foam padding with a thin foam layer also delivers weight savings, enabling operators to add seats if they so choose.
"If the seats are the lightest ever, and soon as light as they can be, then for sure it's about flexibility, how to utilise the aircraft for different flights and markets," says Hiller. "The convertible [Eurobusiness] seat is a good inspiration, so this is born from an innovation which Recaro defined in the 1990s."
It will be interesting to see if airlines offering the Eurobusiness middle-seat table setup will welcome a new iteration of this concept, such as ATR's recent X-Space concept. US start-up Breeze Airways, for example, has also signaled its interest in quick-swap interiors.
Celebrating 50 years in aircraft seat production, Recaro is obviously a powerhouse in economy class seating, But it also lays claim to being a key player in developing the ever-popular premium economy platform.
"In the 2000s, there was a rise in focus on premium travel products, and the arrival of premium economy, we are proud to be one of the inventors of premium economy," suggests Hiller.
Eva Air and Virgin Atlantic each claim to be the first airlines to offer premium economy in the early 1990s, and they tapped Recaro competitors for the manufacturing.
But British Airways also brought premium economy to its long-haul aircraft. And in 2000, notes a Recaro spokesperson, the airline selected Recaro to outfit its cabins with the Premium Traveller 4400 seat, which was of course branded as World Traveller Plus.
Here's a throwback Thursday! The new millennium began with the introduction of the "Premium Traveller 4400," which was created in cooperation with one of the largest European carriers. Do you remember this seat? #RECAROAircraftTurns50 pic.twitter.com/J6nm1b0efI

— RECARO Aircraft Seating (@recaro_as) August 4, 2022
Premium economy has enjoyed enduring popularity, especially in the last decade. And Hiller points to Emirates' new premium economy platform, manufactured by Recaro, as a testament to its impact. The CMF work for these seats is particularly impressive.
Going forward, Recaro wants to bring more premium product design to the premium economy segment. "Airlines will also want to make statements about individualization like you see in a business class already; you adjust your air temperature, lights, according to your needs. We are asking ourselves how can you combine it, for example, with an app to really have your own passenger experience, which is really individualised. That's really exciting to see what can be done in the future," he says.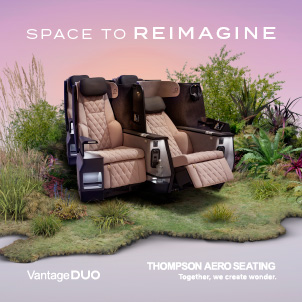 It will do so while remaining focused on delivering sustainable design and ensuring its products remain durable for the duration of their life cycle. "We can tackle the two together better now than in the past through a combined approach," explains Hiller.
"First of all, we have done a lifecycle assessment of our products; what is the carbon footprint of our products from design, manufacture, use and then on to recycling. This proved that more than 90% of the emissions is driven by the use of the product. So, whenever you are able to take a lighter material, even if the carbon footprint of the material is higher in production, this reduces emissions overall."
Whilst looking 50 years into the future is a fool's errand, Recaro remains firmly committed to embracing new challenges and, in the absence of a brand new super-light material being discovered, more flexibility in the cabin may prove to be the next step in achieving sustainable air travel. 
Related Articles:
Featured image credited to Recaro Aircraft Seating