HAMBURG — The age of the turboprop is here…again. Aircraft manufacturer ATR, makers of the longstanding ATR 42 and 72, is making a strong pitch to airlines to replace fuel-intensive jets on regional routes with its more efficient and greener turboprops. This premise has been persuasive to some operators for a while, but ATR has perhaps been stymied by the lack of a compelling premium product to facilitate two-class configurations.
That paradigm could change with the introduction of the ATR 'X-Space' seating concept, revealed this week at the Aircraft Interiors Expo in Hamburg. ATR bills X-Space as a "plug and play" solution that allows airlines to convert seat duos into premium seats, with the aisle-side seat's back and pan removed and replaced with a side table. 
Speaking with Runway Girl Network at the show, an ATR spokesperson explained that there is more demand for point-to-point routes, as well as for more space in the cabin. And, as such, airlines are now requesting more two-class configurations, which X-Space can provide. 
Similar to Eurobusiness-style seats, where the central seat in a row of three aboard a narrowbody is not sold to provide more space, X-Space allows ATR operators to offer a 1-1 configuration in support of a premium class configuration. 
ATR also hopes that the convertible nature of X-Space will allow airlines to change their cabin layout depending on passenger demand ad hoc, which carriers like British Airways do in Eurobusiness with adjustable curtains and removable centre drinks tables. 
One possible downside to the concept is that X-Space is not quite as flexible as the traditional EuroBiz approach which keeps all seats intact onboard. Instead, the parts of the seat that are removed to accommodate the 1-1 configuration must be stored outside of the aircraft. This is something that could be done overnight, or indeed at the gate, but would still require additional resources to complete.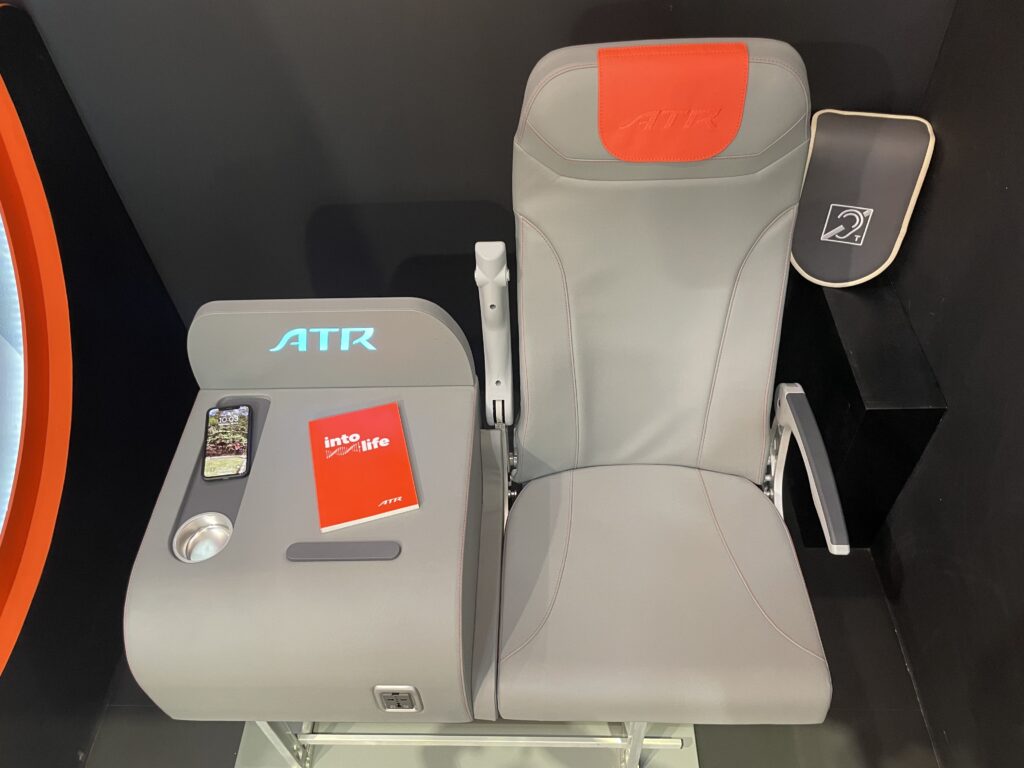 Whilst still in concept phase, X-Space boasts other passenger amenities. For instance, there are built-in peripherals to charge passenger devices, a cup/bottle holder, and of course, space on the table to lay personal items or snacks.
(On a side note, 'semi-private' US operator JSX tried a similar concept to promote social distancing in the midst of the pandemic onboard an ERJ-145. And US start-up Breeze Airways has been studying a quick-swap approach for first class on its A220s.)
Working with the Deaf and hard of hearing community to make aircraft more accessible, ATR also showcased its hearing loop in the headrest of X-Space at AIX. This technology generates a localized magnetic field that can be detected and transformed into sound by a hearing aid or cochlear implant when these devices are turned to T (for "telecoil").
ATR is also touting a series of cabin improvements for its turboprops, including larger overhead bins to take rollaboard suitcases. While the airframer says it has not yet identified a suitable antenna for Internet connectivity, it does offer a wireless IFE system which allows passengers to stream content from an onboard server.
In addition to X-Space, ATR also revealed that it is planning a bespoke business class seat for the future. Its spokesperson is clear, however, that X-Space is not meant to be an interim solution. "X-Space offers operational flexibility, but we will still offer a business class seat for different carriers."
No potential customers were mentioned, but both the North American and Asian markets, where regional jets are commonplace, spring to this journalist's mind as likely regions to secure customers.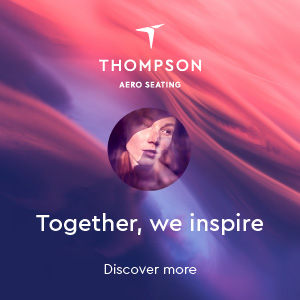 Interestingly, ATR's fresh push to be seen as the right #GreenWing aircraft to displace jets on more routes, comes as the Federal Aviation Administration in the United States has issued a proposed rule aimed at reducing greenhouse gasses emitted by aircraft flying in US airspace. If adopted, the rule would require more fuel efficiency for new subsonic jet aircraft and large turboprop and propeller aircraft that are not yet certified and for new planes manufactured after 1 January 2028.
"Examples of commercial aircraft that will be required to meet the proposed standards include the upcoming Boeing 777-X and future versions of the 787 Dreamliner; the Airbus A330-neo; business jets such as the Cessna Citation; and civil turboprop airplanes such as the ATR 72 and the Viking Limited Q400. The proposed rule does not apply to planes already in service," states the agency.
But even as it seeks to enhance the passenger experience onboard its turboprops including with new premium concepts, ATR is keen to highlight the operational efficiency of its ATR 42 and 72 turboprops for regional routes — and indeed how more efficiency can be obtained. The average route flown by an ATR turboprop is less than 400 nautical miles though the type has a range of nearly 900 nm, it notes. "At this distance, the 40% fewer emissions and less fuel consumption (compared to a jet) is definitely advantageous."
ATR is clearly positioning its turboprops as an answer for the next generation of regional aircraft, and X-Space could help to shape that future. "We are still in development phase, and this is a concept," and although several airlines are interested, the company is not yet ready to disclose further details.
"We want to reflect market needs, and to give market what they want," says the spokesperson. With increased efficiency being the number one priority for airlines, and enhanced space high on the list for passengers, X-Space could help tick a few more boxes for both operators and passengers alike.
Related Articles:
All images credited to Fintan Horan-Stear