It remains to be seen if Etihad Airways will adopt a 10-abreast configuration when it takes future deliveries of the Airbus A350-1000, though the AvGeek rumor mill has certainly been in overdrive since hints were dropped at the Farnborough International Airshow.
Airbus is clearly primed to facilitate such a move for its customers, after revealing details to RGN about its frame-sculpting work to add a crucial four inches of cabin width to the A350-900 and -1000, which in turn would enable operators to offer a 3-4-3 economy class layout with 17"-wide seats or an even more comfortable 3-3-3- configuration. This work is part of the airframer's transition to a "new production standard" (NPS) between now and 2024.
But if Etihad opts for a 10-across layout, will its passengers even notice? The reason we ask is because Etihad appears to have adopted a more consistent seat width range on its widebodies, irrespective of type. So for instance, whereas the Airbus A330 can handily carry 18-inch wide economy class seats in an 8-abreast configuration, Etihad's A330 seats are 17.5-inches wide, at least according to multiple published flight reviews. Its A380s, now grounded, also reportedly feature 17.5 inches of width, even as others have offered the more standard 18″ down back.
We've searched high and low for Etihad's exact economy class seat width measurements, including for its new 9-abreast Airbus A350-1000s but the carrier's website doesn't highlight this information, nor do reviewers tend to mention it. An airline spokesperson did not immediately respond to our request for comment. And even an AvGeek super-sleuth in our circle tells us: "Seat width is the most difficult metric to find and Etihad doesn't mention it anywhere in public that I'm aware of."
Notably, Etihad's messaging about the new 9-abreast A350 economy cabin doesn't seem to over-promise. Yes, the carrier touts exceptional comfort onboard, alluding to details such as its popular supportive headrest wing in a YouTube video. And the Recaro CL3710 seat itself is a Crystal Cabin Award-winner for its extensive comfort enhancements.
But Etihad doesn't explicitly promise a superior living space for economy class passengers onboard the A350.
Rather, Etihad's messaging around the A350 seems to be far more focused on the widebody's eco-credentials, including its 25% less fuel burn and emissions than previous-generation twin-aisle aircraft.
To wit, during a 7 September gala event celebrating Etihad's A350 entry-into-service on flights to North America, held at Cipriani Downtown in New York City and attended by your author, Etihad Airways Group CEO Tony Douglas talked at length about the Sustainability50 program — a partnership between Etihad, Airbus and engine-maker Rolls-Royce which will see Etihad's A350s used as flying test beds for new procedures and technologies aimed at reducing CO2. The program builds on the learnings derived from Etihad's similar Greenliner program for the Boeing 787.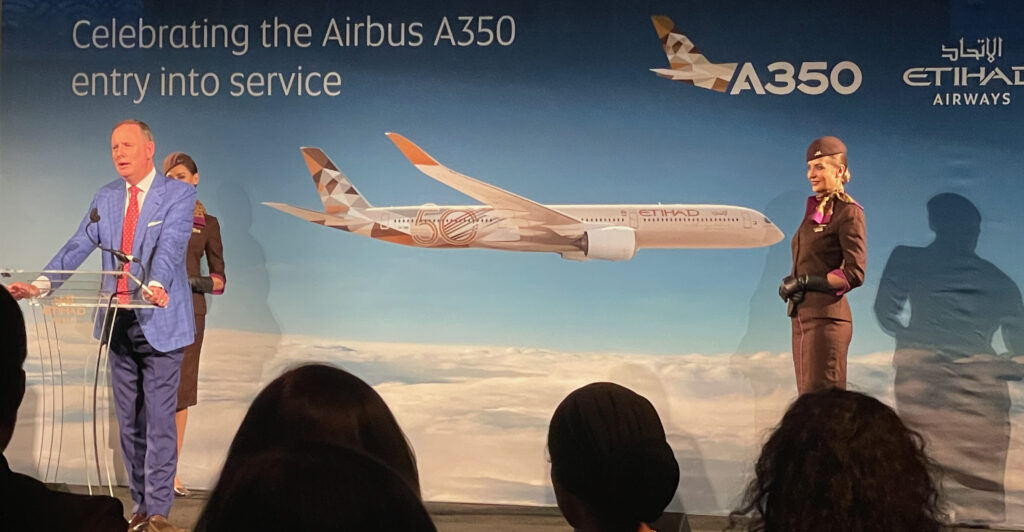 Noting that Etihad is among the airlines leading the movement for net zero emissions by 2050, Douglas said the addition of ultra-efficient aircraft like the A350 are a pivotal part of that effort.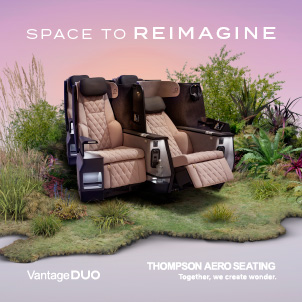 It will, however, be interesting to see if passengers notice any difference in comfort when flying Abu Dhabi-New York JFK this winter.
Etihad has operated the A350-1000 on its daily service between the two cities since 30 June. But from 15 November, four new frequencies will be added with a 787-9 (for a total of 11 weekly nonstops on the route),
This experiment will certainly glean great data for the carrier. And it provides a neat juxtaposition for the PaxEx-savvy among us, as the carrier's 787-9 coach seats are understood to be roughly 17.2 inches wide.
Which brings us back to the NPS A350 being developed by Airbus. In not playing the seat width game from the start, could Etihad more easily pivot to a 10-abreast NPS A350 aircraft with 17″-wide seats?
Related Articles: