Behind Panasonic Avionics' new Astrova inflight entertainment system — with its consumer-grade thin screen, ultra-fast charging and substantially lighter weight — are key technology, trend and development drivers. Runway Girl Network sat down with company vice president of product development Andy Masson at the Aircraft Interiors Expo to discuss them.
During Astrova's development, Masson tells RGN, "we went and did a whole bunch of research during COVID: we weren't standing still. We wanted to know what's changed: what's changed for the public? What are the things that are changing for the customers and the customer base? One was sustainability, and this huge drive towards sustainability, specifically in terms of reduction of weight, is how we looked at that. Customers want to reduce their carbon footprint."
To that end, Panasonic claims "significant" weight savings in the seat-end portion of the system, while remaining backwards compatible with its previous IFE platforms including eX1, eX3 and NEXT.
RGN quizzed Masson on details, for a notional Boeing 787 Dreamliner updating from a baseline eX3 system at just the seat end — in other words, without the head-end system upgrades beyond the seat itself. "This system is 30% lighter than eX3, per seat," Masson says, and that "includes the seat box, the harness to the monitor itself, and then the monitor itself."
That cable, harness and seat box redesign makes up a significant part of the weight savings, particularly when replicated 200–300 times across a widebody aircraft.
In terms of choices for airlines watching interior upgrade budgets at present, "you could just do the seat-end. You could leave the network in place. And we've designed it specifically with that in mind," Masson explains. "You're probably taking the cabin out, you're probably changing the seats out anyway — you don't have to … but you probably are — in that particular case, seat-ends only. If you wanted to upgrade the head-end, you can but you don't have to."
The screen itself impresses in its styling, size, clarity and performance, with Masson citing a "6.5 millimetre bezel around the outside, that's three millimetres less than an iPad Pro. It's seven millimetres thin: it's extremely thin. That's all part of the sculpted precise design that we put together, and we did that because it then strips weight out."
The plastic front end is polycarbonate, bonded optically to the screen behind, which is 4K OLED HDR. Let's unpack that.
The 4K part arguably remains something of an overkill, and has done for more than half a decade because content creators continue to charge high rates for 4K content. Most airlines still have just a handful of 4K movies on board. Upscaling from 1080 is all very well and good — but the current paradigm means that airlines aren't yet making full use of the 4K technology.
On the OLED side, much like the home consumer market the difference between LED, OLED and QLED is one of those technical questions that largely will make little difference for anyone with average onboard requirements. In theory there is a benefit to the deeper blacks of OLEDs, but in the real world if you're trying to watch a movie formatted to fit the aviation screen, upscaled from 720p, in a sunny airplane cabin with all the window shades open, will the difference be relevant?
HDR, or high dynamic range, is a video and image technology that improves the way light is represented. And in some ways, it is the new studio-thrown hurdle to surmount for IFE providers. 
"You have to have HDR if you want to put content on from specific studios," Masson tells us. "Some studios demand HDR before they will allow you to have 4K content, because they want to protect the creativity of their content, and they're getting very restrictive about that."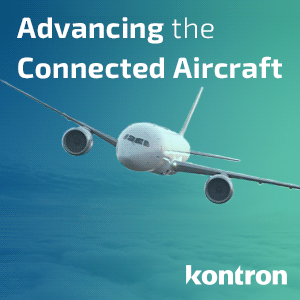 Speaking of brightness, Astrova also includes programmable LED lighting in the screen surround, enabling airlines to subtly signal passengers about phases of flight: transitioning to a sunset peach in the evening, or to a dawn blue in the morning, say.
And there's an impressive amount of power to go round: Astrova can provide 67W of juice over USB-C, enabling fast-charging of devices — even the larger, power-hungry ones like tablets and laptops.
"Our research showed that more people are now bringing tablets on an airplane than laptops, for the first time," Masson tells RGN. "14% of people bring on tablets, 12% of people bring on laptops."
Astrova delivers this via its peripheral bar underneath the screen, both making it very clear where the sockets are and enabling changes and upgrades to the passenger device power supply without having to remove the entire screen assembly.
Overall, Astrova is impressive, and contains some of the most innovative developments out of Panasonic Avionics for years. And it already boasts a customer in the form of Qatar Airways' 777X fleet. With the launch of Astrova, and several very interesting new hires, we'll be watching closely for the next clues to how Panasonic is repositioning itself.
Related Articles:
Featured image credited to Recaro