Tucked into the very back of the Airbus booth at the Aircraft Interiors Expo, well behind the new business class suites, wafer-thin inflight entertainment screens, and new connected IoT wifi systems, was the passenger experience innovation that has the chance to affect the greatest number of travellers worldwide: larger overhead bins.
Not the XL bins announced in 2017 as part of the A320 Airspace cabin, nor the 2019 agreement to launch the bins pre-Airspace on American Airlines. Rather, these are a quick, efficient and responsive post-COVID pivot — if you'll pardon the bin-related pun — to a new bin model that requires only a relatively light refitting of the cabin onboard Airbus A320 family aircraft.
While the benefits of bigger bins are clear, after two-and-a-half years of pandemic disruption some cash-strapped and operationally challenged airlines and lessors aren't up for the full cabin refit for the XL bins. That refit includes new ceiling panels, air outlets, cabin LED light unit, riser ducts and underbin monuments.
The XL Bin, Airbus vice president for cabin marketing Ingo Wuggetzer tells Runway Girl Network, "is a huge improvement on volume, so that everybody can bring one bag of the biggest size on board. What we got as feedback is that a lot of airlines want to retrofit, but if you retrofit that bin, you also need to go for a new lining in the ceiling and the sidewall, because they're different and it doesn't fit anymore."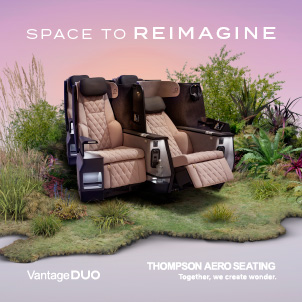 So what is an airline to do that wants more bin space but doesn't want to relook — that's French for "refresh" or "revamp" — their entire cabin, as Airbus puts it?
Enter the Airbus Large Bin: not as large as the XL bin, but based on the same design and adding an impressive three extra bags per bin, for a total of eight, compared with the previous generation of Airbus bin — while requiring 30% fewer parts to change in the retrofit process. The L bin re-uses a substantial part of the existing cabin, with only new covelight panels to install and oxygen boxes to modify.
"The L Bin gives you a minimum of change — that means maximum reuse of existing parts," Wuggetzer tells RGN. "You can stay with the sidewall, you can stay with the ceiling — you have one transition panel we add and that's it. Lighting: you reuse what you have from before. That makes it a lot faster, in terms of downtime, I think it's only three days or four days of downtime. And in terms of cost, of course you save because you can reuse the parts."
Where the XL bin can fit bags on their side at 24" height, 16" width and 10" depth, the L bins' maximum bag dimensions are slightly smaller at 22.8" height, 16" width and the same 10" depth. But it's not just the size of the bin, it's where the support structure is located, hence the number of bags per box staying the same as the XL at eight bags, up from five on the previous generation of bin.
In practice, the inch smaller width and height feels like it will be mostly unnoticeable for most passengers, with only those road warriors who measure their bags to the maximal fraction of an inch likely to have to turn their bag sideways.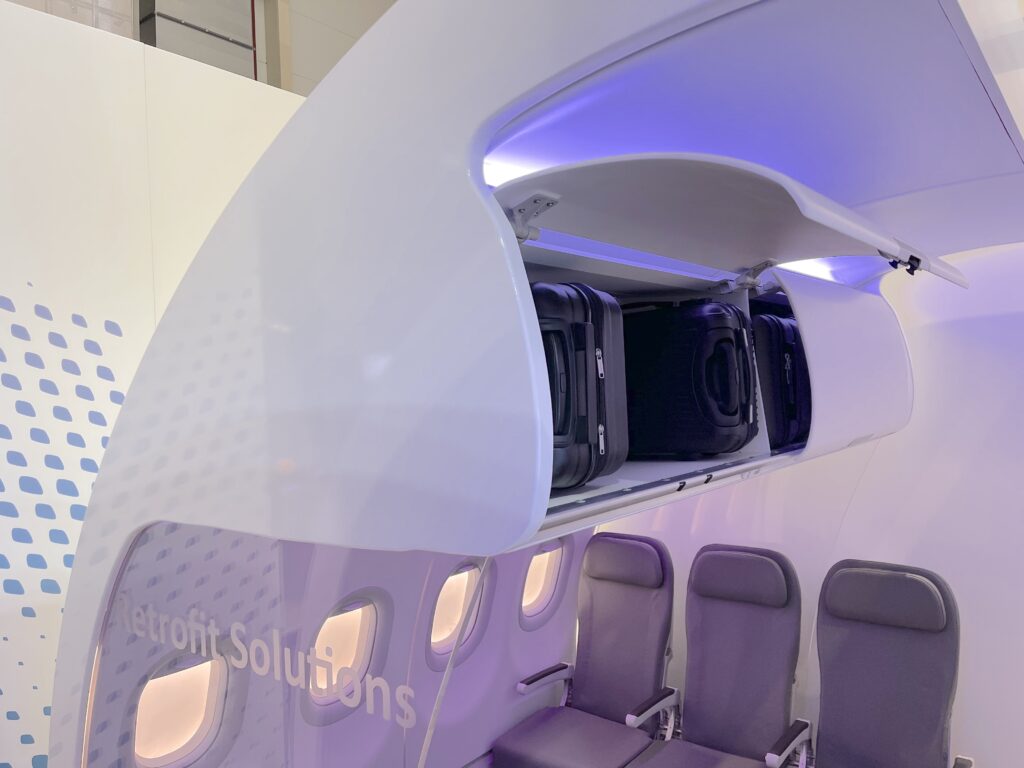 Airlines are certainly keen on bigger bins. Airbus says it has sold 1000+ shipsets of the XL bins, including 200+ on retrofit, to 31 customers of which 7 are low-cost carriers and 24 are full-service carriers.
Airbus isn't alone in the retrofit market, of course. Diehl Aviation has Enlarged Bins in its portfolio and Safran Cabin's ECOS Shelf Bins were refitted onto the first of 24 Air France Airbus A320s in July 2021. But there's certainly something attractive for an airline, or indeed a lessor, to fit into the standard Airspace design language and have the airframer-supplied bins when it comes to long-term value for an aircraft. 
Related Articles:
Featured image credited to John Walton