Inflight entertainment hardware stakeholders have long sought to drive weight out of their systems to improve the eco-credentials of their products and ergo aircraft fuel efficiency. Thales InFlyt Experience is no exception. The French multinational corporation says its new line of "Optiq" displays for its AVANT IFE achieve 30% weight savings.
But how did it accomplish this goal?
Optiq is based on Samsung's QLED technology. QLED, which stands for "quantum dot LED TV", is a display technology that uses phosphorescent crystals to improve the LED backlight on an LCD screen. During a media briefing, Thales InFlyt Experience vice president, product policy Cedric Rhoads explained that the company shrunk down the outer frame of the monitor to get closer to the LCD display "and when you do that, it reduces volume and mass of your overall product".
Thales also transitioned to polycarbonate plastic, a transparent thermoplastic. "So instead of the screen being glass with an anti-shatter film, we now have a polycarbonate screen," revealed Rhoads.
Maintaining optical clarity can be a challenge when switching to plastic, which is why Thales added an anti-reflecting and hardness coating to protect that underlying polycarbonate layer "and that really allowed us to take a tremendous amount of weight out of the monitors", said Rhoads, noting that Thales can achieve head impact criterion (HIC) certification with this configuration.
Ensuring system reliability was also a key target for Thales, which believes the Optiq displays will enjoy "the highest reliability ever".
So, this means less time spent repairing a product, which reduces the cost [to] the airline and also increases passenger experience there. And for the time when the USB port or the audio jack needs to be replaced, we have the ability to replace those modules on wing with the 11" and 13" monitors. So therefore, the monitor doesn't have to be removed, [which] once again saves time and cost.
Thales also worked to achieve size and weight reductions for in-seat power. The company's modular new Pulse solution — which employs dynamic power management so that "no one person can suck up all the power" — has seen an impressive 30% weight reduction over legacy systems.
"In the past what the industry did was tend to over-design, give more power than what was needed, but now with this kind of dynamic power management you are able to shrink the size and weight of the power supply itself," said Rhoads.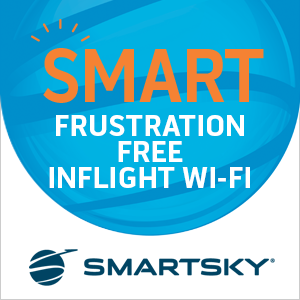 Outside of its IFE and in-seat power hardware initiatives, Thales is achieving weight savings in other ways. Its e-commerce solution is powered by Airfree, which digitally connects travelers to duty free retailers and travel-related service providers worldwide.​ Passengers can browse an airline's duty free selection on the Thales AVANT IFE system, make a payment, and collect their purchases on arrival.
"It takes weight off the aircraft" as the carrier does not need to carry duty free "and increases choice for the customer and so it really is a win-win overall. And then making sure that we understand what passengers are doing with better analytics and how the system is performing," said Thales head of marketing for inflight, Jerry Thomas.
Given the 'Greta effect' on aviation, and the financial constraints created by the COVID-19 crisis, Thales is armed with a timely message as it enters discussions with airlines about its latest IFE technology. And that message is already resonating, with Thales confirming it has secured customers for its new products.
"We also are very excited now to see the market start to reemerge after COVID," said Rhoads.
Related Articles:
Featured image credited to Thales