HAMBURG — With its new inflight entertainment and connectivity system, NEXT, Panasonic Avionics is developing new hardware and software to coincide with the entry into service of the Boeing 777X, currently in the 2019–2020 window — but also creating an application ecosystem that will enable airlines to quickly and easily add or adjust functionality to suit developing needs and different aircraft types.
"We're really happy to introduce our new IFEC platform, called NEXT," Panasonic Avionics senior director, corporate sales and marketing Jon Norris tells Runway Girl Network. "It shows the lineage from the X-series, but what NEXT isn't is another iteration — it's not eX4, for example. It's a combination, a platform, that has all the constituent parts of an IFEC system. It has the platform, it has the hardware, it has the core software, and then all of the operating features and functionality." Panasonic explains NEXT in this video:
Clearly, at this early stage there is little detail about the hardware, software or application base for the system, and with the speed at which consumer electronics continues to progress, this is a smart move by Panasonic. But the model itself is a notable one, which may well signal a desire by the overwhelmingly dominant IFE supplier to replicate some of the financial success of Apple, which produces iPads and iPhones with iOS installed and also takes a cut of application sales through the App Store.
The move would also likely decrease the number of airlines that simply install a system as a capital expense but then fail to invest in user interface software advances that improve the passenger experience and lengthen the usable life of the system. The previous widebody solution, eX3, was launched in 2011.
"At the platform level, it's digital, it's scalable, and it's modular," Norris says of NEXT. "What we mean by that is that it's scalable because it's not just a widebody solution. It's widebody, it's narrowbody, it's everybody. It can be scaled for number of passengers and aircraft types. It's modular because you can add features and functionality. This comes back to layering in features and functions that airlines might select, and that can change over time."
"The real leverage on the platform is the ecosystem," Norris explains. "The sum is greater than the parts. Yes, you could go buy an IFE system from one company and a connectivity system from another, but not only do you have the integration challenges between those two systems, but then the layering on of the elements in the ecosystem, the services, etc., you get significantly more value through having a platform solution from Panasonic."
Panasonic is also attempting to redefine the way it talks to airlines, which at present is often along the lines of, to paraphrase, choose box A and screen size 1. The company will instead move to a model of helping airlines to define the business outcomes they want from the new system, and using the application model to achieve them them.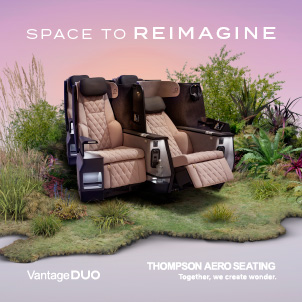 "If you think of the platform as the hardware and the core operating software which sits on the aircraft, it's a fully functional IFE system," Norris says, "but it can't do anything because it doesn't have any applications on it. You can then select and tailor your solution from the ecosystem of Panasonic, so you can say 'I'm going to do food & beverage onboard and shopping. I'm not going to give it away for free, so I need real-time payment. So I will just layer on those features into what I'm going to provide.' You add features and functionality based on where your focus is, and what business outcome you're looking for."
"The other way you can look at it is that it has the lineage from the X-series, but it's also the 'net, the Internet, wrapped around the X-series. Very clearly where we see the market going is that connectivity will be ubiquitous. It's not a case of whether there will be, it will be there, it will be used for lots of different reasons, and it's one of those things where it might be more operationally focussed, it could be passenger focussed, it could be both. It's something that is scalable and can be tailored for the airline question."
Linking NEXT in with some of the enabling technologies Panasonic has been developing — like its ZeroTouch content loading system — Norris notes that "this isn't just technology for technology's sake. What we're actually interested in is the business outcomes. Why are we interested in automatic updates? It's because it's simple to implement and maintain. It means moving away from the monthly cycle to dynamic content. It allows me to choose in the lounge a movie I want to watch, and even if it's not scheduled be on the aircraft, it could be uploaded so that we've got on the plane that particular movie you want to watch."
Personalisation is a fundamental part of the NEXT benefits, both to passengers (who see "hyper-personalized and contextual experiences that increase brand equity and passenger loyalty") and to airlines (which can "collect valuable passenger behavior data to build profiles for targeted advertisements and increased revenues").
Accessibility, too, features heavily, with passengers expected to sync their settings from smartphones to the NEXT system, which Panasonic says will "offer an inclusive entertainment experience that meets DOT's accessibility requirements" — which may be as low as 50% of content offered in accessible formats.
The proof, of course, will be in the pudding. It's a long three years from now until 2020-ish, and the NEXT announcement is just the first step in that direction. Airlines, lessors, airframers — and hopefully passengers — will all need to have the opportunity to say what they think about this NEXT approach to inflight entertainment.
Panasonic Avionics hosted John Walton at its Lake Forest, CA headquarters for a briefing on NEXT
Related Articles: