In a world where inflight entertainment (IFE) screens continue to increase in size, resolution and clarity, the ongoing failure of content providers to supply high-definition video for the aviation world has led hardware manufacturers to take matters into their own hands.
Hollywood's fears that the increasingly short early window will be the vector for high-def piracy has resulted in providers like Safran Passenger Innovations (formerly Zodiac Inflight Innovations) looking to computer algorithms and increasingly powerful seatback processors to upscale low- or medium-definition content to something approaching high-def.
On the hardware side, 4K has been looming over the aviation industry for years, to the extent that the metaphor is now more that it is looking in the rearview mirror of the consumer electronics bus, accelerating into the distance while inflight entertainment content is left coughing in the proverbial dust of 720p, and often below, resolutions.
"What happens today," executive vice president for sales and business development Larry Girard tells Runway Girl Network, is that "most people at home have 4K televisions. There really isn't much 4K content out there. So when you're watching TV you're usually watching HD or even less. There are artefacts or other things, but generally speaking with our screens we can upscale the content from 1080 up to 4K with very little loss of resolution or of picture. You'll see artefacts in fast-moving scenes, but generally speaking you get a very vibrant, crisp display out of something that's very low quality to begin with."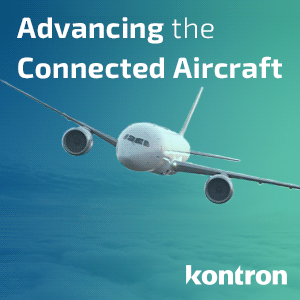 Demonstrating the capacities of its RAVE system using an old low-res sub-1Mb encode rate on a US network sitcom, the results were truly impressive: only a small flicker during high-velocity movements.
"At the end of the day," Girard says, "it really is about compression, but from our perspective we have the processing power in our system to be able to upscale this lower resolution content."
RAVE's functionality is in many ways reflecting the consumer world, where 4K content is relatively rare but 1080p is relatively common, a state of play that is a generation ahead of inflight entertainment. In essence, getting a good upscaled picture requires purchasing a decent 4K TV with enough processing power.
But, Girard notes, "there are always limitations. We're always going to want to push the envelope and get the best content that we can in order to do that, because it does use a lot of horsepower. The upscaling reduces some of the other kinds of things that we might be able to do on the system as far as multitasking."
To be fair to the inflight entertainment industry, some of the problem revolves around getting modern enough systems on aircraft, with numerous examples of elderly systems springing to mind even on the world's leading airlines. In the race to replace some of those older systems, the retrofit market where RAVE started is crucial, but so is getting systems like the sleek new RAVE Ultra on factory-fresh linefit aircraft.
"Last year you saw the Ultra screens — they looked really cool, but they were just an idea," Girard says. Multiple airlines have selected them. "So we're really excited about that, but we're focussed on making sure we can get that delivered, linefit on Airbus, linefit on Boeing, and that's been a big, big part of our focus. Let's get these on an airplane, let's really get it out there, and let's start wowing passengers."
With astounding 25% year-on-year growth, RAVE is making inroads at airlines that might not initially be seen as markets for a challenger system. But the promise of forwards- and backwards-compatibility of the RAVE system, and the company's willingness to push the technology boundaries, has clearly won business. Going forward, that sort of innovation will be particularly important as airlines decide whether or not to offer seatback IFE on longhaul narrowbodies, or forgo it entirely for a wireless-only solution.
As Airbus' Ingo Wuggetzer recently told RGN in reference to IFEC on the A321XLR: "For me, connectivity is a clear must. Connectivity is a commodity today – you must have it – it drives [the passenger's] decision whether to buy a ticket or not, whether you have connectivity on board. In terms of screens, I think that's up to the airlines to decide whether they need screens as well."
He continued, "We also see airlines that might have only a connectivity offer. This may be depending on the classes, but it is completely up to the airlines."
For Girard, Safran Passenger Innovations is "always trying to go to the next step. We're working on 4K laser projection, especially for first class suites and public spaces. Implementation of Bluetooth throughout the cabin is also coming next. With our partners, we really do have access to some unique technology."
RGN understands that Panasonic has also quietly advanced its Bluetooth work with a major airline partner, as pairing IFE to passengers' own Bluetooth headphones becomes increasingly important.
Related Articles: