It may seem counterintuitive to offer a new in-seat IFE solution to airlines amid the COVID-19 crisis – given that some operators, namely in India, are not even permitted to switch on their systems – but Lufthansa Technik (LHT) and South Korean multinational technology conglomerate LG are working to do just that, as part of a wider new effort to digitize aircraft cabins.
The AERQ-branded partnership between LHT and LG first emerged last fall, when they pitched the idea of adding more digital signage on board, including a "Welcome Board" made of a massive OLED display.
Now AERQ managing directors Arnd Kikker and Sangsoo Lee say AERQ's vision has expanded to include an open IT platform, in-seat IFE screens and other key elements. Kikker is a former senior director at LHT, while Lee continues to hold the concurrent position of senior project manager at LG.
LG to offer onboard displays through AERQ
"The AERQ Platform includes touchpoints such as an Inseat System and Cabin Digital Signage. The Inseat System provides passengers with an exceptional inflight entertainment experience, including integration of their own devices. The Cabin Digital Signage screens are based on the latest OLED technology. The Welcome Board is part of the screen solutions. It can greet passengers onboard the aircraft and functions also to enhance the airline brand while providing passenger relevant information," explains Kikker.
He says the same OLED technology can also be applied to ceiling panels to provide passengers with a customized cabin experience and enable airlines to enhance their brand awareness. "The screen solutions are rounded off by the Transparent Class Divider concept for aircraft cabins, a state-of-the-art transparent OLED display that divides large cabin environments in a visually appealing manner."
AERQ's "heart piece" is an open IT platform that consists of these onboard touchpoints as well as a software architecture that allows control and customization. "Together they build an ecosystem that will help airlines to profit from the growth possibilities connected with digitalization by meeting the rapidly changing demands of their passengers' expectations," says Kikker.
LG will be providing all of the screens across touchpoints, says Lee.
Yes, LG provides all of the screens. The Cabin Digital Signage, which includes the Welcome Board, the Ceiling Panel and the Transparent Class Divider, is equipped with OLED displays.

The PED friendly seatback IFE screens come with state-of-the-art 4K LCD.

We are working on OLED displays for our inseat IFE displays, as well as how to bring evolution of display technologies on board to the aircraft
Wherever you sit in the "will it or won't it survive COVID-19" argument regarding in-seat touchscreen entertainment systems, embedded solutions are undergoing a sort of evolution.
Embedded IFE evolving
On the one hand, Hollywood's early window – a key value proposition for offering in-seat IFE – is virtually gone amid the COVID-19 crisis. On the other hand, there is still a "captive audience" benefit for airlines to offer a screen at eye level in front of passengers, including to impart new health and safety protocols.
In a recent Op-Ed for RGN, El Al head of inflight entertainment & connectivity Tal Kalderon made the case for connecting seatback IFE screens to the Internet to allow passengers to connect to the personal accounts of their streaming providers (e.g., Netflix, Amazon, Disney+, Spotify).
"In the first stage, perhaps because of the fear of touching screens brought on by COVID-19, we can simply enable Mirroring of the smart device to the screens so passengers can avoid touching the screen by using only their personal devices. But as the pandemic passes, use of the seatback screen will be preferable," stated Kalderon.
Empowering passengers to access their own streaming services via the seatback screen could shift a large amount of content spend away from medium- and long-haul operators, perhaps enabling them to afford the inflight connectivity bandwidth required for such a system.
High capacity satellite operator and inflight connectivity provider Viasat has been prepping for such a reality, with vice president commercial mobility Don Buchman previously predicting: "The people bring the content and they'll just mirror it up on the screen. So your device could actually be the conduit for getting the content to the screen… You can get to early window movies that way; you can buy them on demand."
In AERQ's opinion, the inflight entertainment and connectivity landscape "will increasingly go hand in hand", suggests Lee.
Therefore, we offer a holistic approach to digitalize aircraft cabins. Airlines should have the highest amount of freedom and flexibility when it comes to creating digital cabin experiences.

Passengers want to experience their journey more and more personalized, comfortable and entertaining. Hence, customized in-seat touchscreens will become increasingly important for both short and long distances. Airlines can convey their brand via the screens, too.
Passengers' smartphones are a key part of AERQ's cabin digitization plan. "Yes, passenger's mobile phones are part of the Inseat System that allows passengers the integration of their own devices. A simple Wi-Fi connectivity and Bluetooth paring create an upscale entertainment experience. The passengers' mobile devices become integrated as touchpoints for information, payment and personalization. Crew devices will be connected as well," confirms Lee.
Notably, AERQ is now "focusing on putting airlines back in control of their passengers' cabin experience and making them the owner of all digital passenger data", he says.
Kikker explains:
We are here to make airlines the playmakers for their own cabin experience as airlines know by themselves what they need to be successful. The aircraft should be considered as a data center. Hence, the first step to digitize the aircraft cabin is the open IT platform that connects the dots between passengers, crew and developers. The AERQ platform is designed to allow full control and customization by the airline.
The Lufthansa Group has long explored how to take control of IFE, including from a hardware perspective. Its Lufthansa Systems unit has proposed tablet-based solutions through the years. So too has Lufthansa Technik. And one has to wonder if Delta's decision to bring in-seat IFE work in-house through Delta Flight Products has given major carriers further food for thought.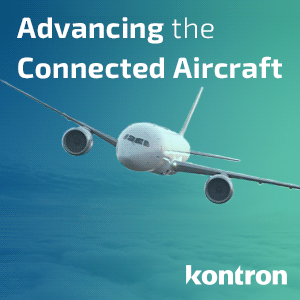 With respect to the inflight connectivity pipe, airlines are ultimately in control of such decisions. "AERQ delivers an agnostic solution and will seek partnership within the IFC industry accordingly," says Kikker.
Real-time e-commerce is important to the AERQ vision. "Our digital ecosystem provides a solution for connecting the ground while being on board," notes Lee.
Partnerships with prominent wireless IFE providers might also make sense, given AERQ's interest in accessing aircraft in the near-term. AERQ tells RGN it will look for a suitable partner.
AERQ's open IT platform, Inseat System and Cabin Digital Signage are ready to offer, according to the firm. "We are in talks with several airlines and partners about concrete projects. Very likely we will see the Welcome Board within 2022 and the full system [including IT platform] shortly thereafter," says Kikker.
Image credited to AERQ
Related Articles: