Though it will test an all-digital satellite payload in 2021 with the aim of directing capacity to hot-spots like busy airports, OneWeb is staying mum about its plans for a second-generation constellation and the specific implications for aero.
Last month, the satellite operator and partner SatixFy UK announced their intent to add "a digital technology pathway payload that will include a full digital payload into OneWeb's launch schedule during 2021", saying this development will "pave the way for satellites with a higher level of flexibility to efficiently support peaks in demand without oversizing the constellation".
SatixFy UK is a division of Israel's SatixFy Ltd, which designs satcom systems based on in-house developed chipsets. Its joint PR statement with OneWeb explained that the payload will demonstrate full beam hopping capability in both forward and return links, and will include an onboard-processing subsystem capable of running independent links on the user and gateway links on the ground with different capacities.
Pressed by Runway Girl Network to clarify OneWeb's strategy at the recent APEX TECH conference in Los Angeles, company VP for commercial aviation Ben Griffin demurred, noting that OneWeb's focus is on the buildout of its 648-satellite first-generation constellation.
Beyond that, he added, it's "hard to say exactly" what OneWeb is going to do and when.
A OneWeb spokesperson also declined to provide comment, explaining that the firm is tied up with preparing for the next satellite launch, which is now slated to take place on 6 February at 2142 (GMT) from the historic Baikonur Cosmodrome, Kazakhstan.
However, SatixFy group CEO Yoel Gat shared his thoughts in a lengthy interview with RGN. First, he provided some clarity on the capabilities of OneWeb's current LEO satellites, noting that they will "cover all the world all the time, which is not a very efficient mechanism because there is not a lot of traffic with oceans and deserts". That can make the economics challenging for #PaxEx cabin applications in aero.
So, whilst the first-gen network will achieve global coverage, there is a need to be able to route traffic to more concentrated areas "so that's what we're doing, coming up with a payload design that allows us to direct traffic to users", said Gat.
"We can do multiple beams that can point towards multiple locations and switch between them over a very short period of time, so coverage needs to shift extremely quickly. That's the kind of capability that the new satellite can support, and what we're demonstrating," he added.
Implications for aero
Needless to say, the impact to aero is potentially huge. Like many stakeholders in industry, the SatixFy CEO believes that passengers will expect free Internet on aircraft and an experience in the air akin to on the ground, requiring "hundreds of megabits per second per plane". With the new satellite payload launching in 2021, he said, "we will be able to focus to specific planes or even specific areas of planes." This cannot be done with the first-gen satellites, he noted.
Does this new, second-gen OneWeb satellite have a specific launch date? Stressing that OneWeb does not want to commit to any specific date because it's difficult to know when satellites will be launched, he said the date is "roughly May of 2021".
Asked whether the parties are starting with just this one satellite, or if the plan entails additional payloads (as the press release hints), Gat said: "This is a question you need to ask OneWeb. I am absolutely convinced that the answer is yes, otherwise why go through it? It's a big process, a big investment, so I believe their intention is yes for their second-generation fleet, but they need to answer."
RGN has sought clarity from OneWeb on this point, asking if this first satellite is effectively a "test". Griffin said at APEX TECH that he did not have details to share about the SatixFy collaboration.
Aero terminal for IFC
One aspect of the two parties' joint press release that captured your author's immediate attention is the mention of an aero terminal for IFC which will be able to operate on both LEO and GEO satellites simultaneously and maintain "make-before-break connectivity between the rising and setting satellites. Maximum capacity can be directed from multiple sources to hot-spots like busy airports."
Gat said SatixFy's electronically steerable antenna (ESA) for OneWeb service is the same type of antenna as being developed with Safran for the Inmarsat GX Ka program, but obviously in the Ku-band frequency for OneWeb. The firm first revealed a "256 element Ku-band antenna for IoT and mobility application" in February 2019.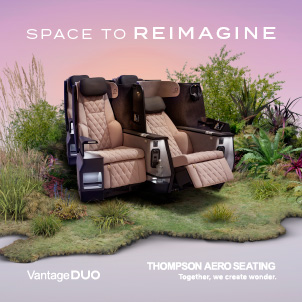 Meanwhile, OneWeb's focus is trained on its current-gen satellite program. A 6 February launch with Arianespace will carry 34 satellites into orbit aboard a Soyuz launch vehicle. The satellites, manufactured by the OneWeb Satellites joint venture between Airbus and OneWeb, will first be placed into a near polar orbit at an initial altitude of 450 kilometers from where they will rise to their final orbit of 1,200 kilometers and form part of OneWeb.
"This marks the start of a regular launch campaign during 2020 that will rapidly grow OneWeb's first phase constellation of 648 satellites and represents one of the largest civilian satellite launch campaigns in history. Each satellite forms an integral part of the high-speed global satellite broadband network and together will activate OneWeb's first customer demos by the end of 2020 to provide full commercial global services for sectors such as maritime, aviation, government and enterprise in 2021," said OneWeb in a statement.
OneWeb's Griffin said at APEX TECH that 2022 is a likely start date for transmissions to be supported on commercial aircraft, given that aero terminals will need to be first tested and certified.
Image at top credited to OneWeb
Related Articles: