Airlines can be forgiven if they're still not 100% sure which inflight connectivity roadmap to adopt for their fleets or subfleets. After all, they face an increasingly diverse set of options, including new hybrid Ku/Ka-band connectivity solutions and the eventual opportunity to exploit integrated LEO/GEO (or MEO/GEO) networks with new antenna architecture. And it was only last week that Thales revealed it is eyeing the launch of a new global, high-capacity Ka service.
Seamless Air Alliance founding member OneWeb and new member Intelsat – which had contemplated a SoftBank-supported tie-up that never came to fruition – are still very much operating in an "interoperable" LEO/GEO Ku-band network mindset.
"Yes, we definitely are working closely with OneWeb on integrated LEO/GEO hybrid services," says Intelsat VP and general manager, mobility Mark Rasmussen. "We think that's going to be a real differentiator and something that brings even more value, not only to the Ku ecosystem but to airlines and passengers, so we're working hard on that, and working closely with them on that, to bring hybrid and interoperable services to market. I think it's a promising technology that will impact not only aero but land-mobile as well."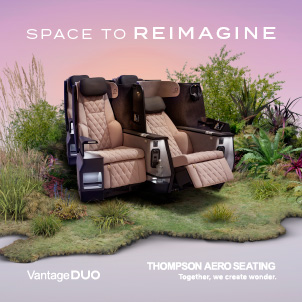 Realistically, this particular scenario is at least a couple of years out, agrees Rasmussen, as OneWeb's first LEO satellite launch may have already slightly shifted to the right, as is so often the case in the satellite industry. "There is work that has to be done and the satellites need to get up there, but we're working hard on it," he assures.
Naturally, work is also afoot on the hardware side of the equation, though Gogo was the first out of the gate to suggest that its present-day ThinKom-manufactured 2Ku antenna will be "for the most part" interoperable in a shared OneWeb/Intelsat LEO/GEO network. It was also the first to forge a partnership with Intelsat (in 2016) with the intent of leveraging such a network for inflight connectivity.
With the industry acknowledging that electronically steerable antennas (ESAs) are optimal for transmitting via LEO satellites and shared networks, Gogo is also working with ESA maker Phasor to develop a Ku ESA for commercial regional aircraft (this work may take on a new level of importance if Gogo's nextgen ATG plan does not come to fruition).
Intelsat, meanwhile, has also been working closely with Phasor "not only across aero but maritime and land as well", notes Rasmussen. But even as Phasor has made a series of recent news announcements – including touting successful tests between its ESA and Kepler's first in-orbit LEO nanosatellite – Phasor and Intelsat have stayed fairly vague in their messaging about their specific collaboration, suggesting that a Phasor ESA will initially support the Intelsat Epic Ku ecosystem in various verticals, including aero. A flight-test schedule has not been announced.
Are Intelsat and Phasor simply guarding their proprietary work given the hotly competitive nature of the industry right now? "I think that's a fair statement," says Rasmussen. "Antenna developers are very focused on confidentiality and privacy around what they're doing. There is a strong rush to be the first one out with the better mousetrap in that space. We're an investor in Phasor, but we wish all of them [ESA antenna manufacturers] well, because it can only help grow this aero connectivity segment that we all work in." In that vein, Intelsat wishes fellow partner Kymeta the very best in its endeavors, even though the luster appears to have worn off Kymeta's metamaterials antenna for the aero market.
"I think Kymeta has said they're not focusing on aero in the near-term themselves," says Rasmussen. "We're following their lead on that, but it's still a very capable technology and maybe the only electronically steered array out there today that's really in production and commercially available, and by golly it actually works. It has got a lot of good stuff going for it in maritime and land-mobile and we're still pleased with that as a partner."
The integrated LEO/GEO network narrative is also beneficial for some of the Ku-band connectivity providers that want to present an upgrade path to airlines that have fitted their aircraft with traditional, mechanically-steered Ku antenna systems. Indeed, bolstering the business model for Ku connectivity via current GEOs, and tweaking the nextgen antenna Arinc 792 spec to accommodate future LEOs, are among the objectives of the Seamless Air Alliance, Seamless CEO Jack Mandala told RGN during a recent interview.
"That's exactly what we're looking at right now," said Mandala, who stressed that competing LEOs and MEOs to OneWeb are welcome to join the alliance.
Intelsat says it has been getting close to the various standards bodies, including Seamless, for a variety of reasons. It wants to support more cockpit applications, which could make the cost of adding broadband pipes to aircraft more palatable to airlines. But it knows that the current economics of providing inflight Internet to passengers is a problem that needs to be solved.
Rasmussen explains:
Something's got to give here. Passengers don't really want to pay for it and as a result airlines don't want to pay for it. We'll do the best we can to bring the best economics and value to passenger seats … But I think we also need to evolve the business model in that space. I think all the stakeholders have a responsibility to do that, and by the way I put the airlines in that bucket now.

As stakeholders, the collective of airlines, the people who deliver the services, and those of us who are building networks need to come together to figure this out, and get it right, and I think that will happen over time. It will evolve, not unlike inflight entertainment evolved.
On the Ku pricing front, Rasmussen gets the sense that there has already been "a little bit of stabilizing there because the capacity comes online in big tranches and gets consumed up fairly quickly and then there is not much available to where the airlines want it most. So, it's continual supply and demand. And we all know about and hear about LEO systems that are going to bring all kinds of more capacity, etc, so I think there is always going to be certain costs with building spacecraft and putting throughput in space and it's back to my earlier comments – there are investments that have to be made there."
He continues, "We'll continue to evolve technology to make payloads more economical and do more with less money, but it's still a big investment whether a single satellite or a constellation so right now [we're] seeing a flattening and even a shortage [of Ku capacity] starting to exist in certain regions…"
Global Eagle, Gogo, and Panasonic Avionics are Intelsat Ku satellite capacity customers, and the satellite operator now counts 2,865 Intelsat Ku-transmitting aircraft across more than 60 airlines. "[I]t's big business for us and a growing one [that] we hope to continue to grow," says Rasmussen.
Yet, in a surprise announcement before the APEX EXPO kicked off in Boston last week, Panasonic and London-headquartered satellite operator Inmarsat agreed a strategic collaboration that will see Panasonic sell Inmarsat's GX Ka-band service "as a primary offering for new business". Panasonic confirms it intends to move forward with investment in 'XTS' extreme throughput satellite capacity in the Ku-band to support legacy airline customers, but the market awaits clarity on the full level of its commitment in this regard, and on whether Panasonic still plans to preserve capital for LEO networks.
Intelsat is unfazed by news of the Inmarsat/Panasonic strategic collaboration and bats away any suggestion that Panasonic's focus on GX for new sales makes its shared LEO/GEO Ku network efforts with OneWeb any less appealing, telling RGN:
All spectrum is precious because it is limited. Ku-band is available today and will be in the future. To state that a frequency will not be used makes the assumption that consumption will be limited, which is not what is happening.  Intelsat and many of the other 37 GEO operators will continue to support various frequencies in the future for the above reason.

A single Intelsat Epic satellite has more raw throughput than other high-throughput systems, but as data consumption on planes continues to grow, no one frequency or operator can provide the services. For example, covering a dense area (HUBs) requires a lot of bandwidth that has to be provided from multiple orbital locations. So it is not the aggregate throughput that matters but the density of throughput. Intelsat has many orbital locations allowing it to address density. Inmarsat and Viasat have very few orbital slots, making density an issue.

Simply stated, there are numerous factors in play that mean Ku-band will be available and used by the mobility sector for many, many years.
Meanwhile, Global Eagle – which has taken a more agnostic approach to frequency – is now far more vocal about the benefits of shared LEO/GEO networks; this spring it became the first major IFEC stakeholder to announce a collaboration with Telesat after what it says was a comprehensive review of the various planned NGSOs (presumably including OneWeb). Telesat is focused on rolling out a Ka-band LEO constellation.
However, Global Eagle CEO Josh Marks reveals that the firm is not joining the Seamless Air Alliance at this time. "I think at this point if standards emerge we see that as an advantage for everybody and we're supportive of it, but the sophistication required to develop the equipment, network, monetization and [ensure] service level agreements all work in harmony goes far beyond what a set of common standards could accomplish. Integration is the real challenge."
On the separate subject of hybrid, mechanically-steered Ku/Ka connectivity solutions (such as those being pursued by Taqnia and SITAONAIR in the Middle East, and Gilat in China, as well as Viasat's work), Intelsat's Rasmussen says, "I'm not sure where that goes, I don't have the perfect vision into that future but we're watching it very closely. I think Ku/Ka antennas certainly can be a good thing. I think it can bring even more utilization of our assets so we don't see it as a de facto threat by any means. Probably [there is] some technology that needs to get ironed out, that needs to make things as cost effective as straight Ku or straight Ka, but people are working on that and will continue to work on that.
"Where we're putting focus now is on the Ku ecosystem and LEO/GEO hybrid services, low latency there and … bringing new economics to the connectivity marketplace."
Related Articles: