Intelsat is eyeing the launch of a small MEO satellite constellation with the aim of supporting a multi-orbit network strategy for aviation, the satellite operator and aero ISP confirmed to Runway Girl Network at the Satellite 2022 conference and exhibition in Washington DC. It also revealed plans to test an electronically steerable antenna on a Bombardier CRJ700 this year.
"Yeah, we have made filings for that," said Intelsat SVP commercial Dave Bijur after RGN got word of the MEO filing on the show floor of the convention.
And you know, I think the world is going in a multi-band, multi-orbit direction, and so I think we're really well positioned in GEO, right. We're flying over 50 satellites, which makes us the biggest GEO operator in the world.

And so, we've got these layers of capacity, which is a differentiating factor for us and the MEO, I think is a great next step with few enough satellites to be affordable and economically viable but enough to deliver polar coverage, lower latency. The kinds of things airlines are asking for.
In a hybrid network scenario for aero, does the NGSO component have to be operated by Intelsat, RGN asked?
"Oh, I think the MEO, there's a good chance we do that. But I don't think it has to be," responded Bijur. Intelsat remains open to partnerships, particularly in LEO.
"[L]ook at the Ku ecosystem, right. SpaceX and OneWeb are there, and are, I think, making great progress. I mean, you could go talk to them at this, but I've had a lot of discussions with the LEO operators. I think they're coming right along, and they deliver, you know, lots of things that we can't and don't, which today is like polar. Polar is a big deal. If you're going to be on a 777X, you can be pretty sure it's going to go over the North Pole. And I think that's where there's a huge advantage to working together with the LEO providers," said the Intelsat executive.
"And I don't think, you know, they're in a position necessarily to deliver the kind of capacity you need at Dallas/Fort Worth and Kennedy and at the big hubs around the country. So, I think this is complementary and we'll have more news about that shortly."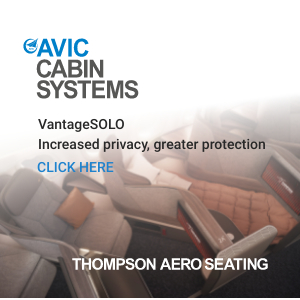 What is Intelsat's timeline for offering a hybrid network in aero (either its own GEO/MEO or in partnership with a LEO…it did, after all, think hybrid with OneWeb pre-Chapter 11? And it is already integrating with SpaceX's Starlink for certain applications, Space News reports.
"We have been just doing the filings," said Bijur in apparent reference to the MEO filing for aero, specifically. He continued, "You know, that's a multi-year activity and there's lots of components to making it come to life, including the market dynamics. But you don't want stop innovating, right? I mean, if I look at what Intelsat's really good at is like continuing to invest and continuing to put money on things. You don't do that by deciding in 2027, oh man, we need more capacity. You have to start that now so that you're ready when this huge demand wave comes."
Intelsat uses the ThinKom Solutions Ku-band VICTS antenna to support inflight connectivity on commercial narrowbodies and widebodies, and has made some notable linefit gains at airframers. But it has been studying ESAs for years. Indeed, your author remembers interviews in 2015 around such work with Phasor. Given its plans for a MEO and/or LEO partner augment to its GEO network, where does Intelsat's ESA work stand?
Bijur revealed:
You come to this show every year and you'd ask people 'when is it happening'? And they'd say 'three to five years'. Okay, that's annoying. And so, I'm not saying that. I think it's this year. Later this year, we're going to install it on a CRJ700, and that is newsworthy. We have not shared details about that yet publicly.

And so I don't want to talk more about it than that, but I want to let you know that's happening right. That's a reality of what's going on in this market and… there's nothing wrong with 2Ku. 2Ku is a terrific product. But again, to the point I made about the network, you know innovation is constant and you have to be continuing to move forward and trying new stuff. And I think some of these ESAs are finally at the point of maturity where they've solved some of the heat issues, they're being more widely accepted by the OEMs. And listen, airlines give us a lot of feedback and tell us what they want for a different application and a different platform. And there's a home for ESA with us.
Is Intelsat still committed to the Ku-band frequency for IFC?
"Absolutely," he said, adding: "[W]e're interested in MEO and we're going to work with LEO providers. And of course, we're huge in GEO. That's always been this company's strategy.
"We're in C-band, we're in Ku-band, we're in all sorts of different parts of this business that are required if you're going to be diverse. If you're gonna offer optionality and flexibility. And so, I think the rest of the market is starting to catch up with that. I think, candidly, I think the Viasat-Inmarsat merger is, you know, a demonstration [of that].
Related Articles:
Featured image credited to Intelsat