Hanwha Systems sees aero as its "main target" for the active phased array antenna technology and IP it acquired when it bought Phasor Solutions out of bankruptcy and created the Hanwha Phasor unit. The South Korean aerospace and defense company has entered talks with inflight connectivity service providers and integrators to deliver an initial product that will transmit via the Ku-band frequency.
"We already started with conversation with many partners" in aero, Hanwha Phasor business development manager Shane Hyunsoo Shin told RGN during the Satellite 2022 conference and exhibition in Washington DC. "So, because you know [the] value chain in this industry is like, not only antenna, there are [also] many components with modems, cables, power supply. So, we are just part of that; we provide the antenna. So, we are working with many system integrators."
On certain occasions, Hanwha Phasor does have direct conversations with airlines or airframers, but given that the firm is "new in this antenna industry", he said, "it's more efficient to work together with the right partner".
Hanwha Phasor describes its approach to implementing phased array as "an inventive and patented approach" with "analogue IQ baseband combining across the antenna enabled by an application-specific integrated circuit (ASIC). This enables an active phased array terminal capable of GEO, HEO, MEO and LEO connectivity, while delivering a superior experience for users."
Though it is billed as being "optimized" for LEO, the phased array antenna can support hybrid network scenarios, noted Shin.
"Right now our antenna is going to have dual beam in RX and single beam in TX. So definitely we can connect to different satellites at the same time, but it depends on… Some customers, they want very low power consumption. But a dual beam means higher power consumption. If we can have only one RX single beam, we can lower our power consumption. So sometimes we, when we have very specific requirement from our customer side, we can adjust our spec or even we can turn off one of our RX so it depends on the customer's requirement."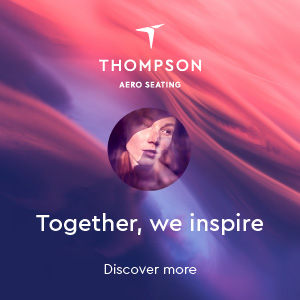 Shin demurred in providing a timeline for EIS in aviation. Asked by RGN if it would be in 2023, he said it's "hard to say exact moment, but one thing I can say is we already started conversation and we talking about a demo plan." This would entail flight testing the product.
While Hanwha Phasor "definitely" also has a Ka-band aero antenna plan, said Shin, the company is presently focusing on Ku because "it's like mainstream at the moment" and more widely used with existing networks. "So, we're going to support Ku first, then Ka."
In this specific regard, the plan seems unchanged from Phasor's prior strategy. In 2019, then Phasor president and CEO David Helfgott said the firm would initially support Ku because Ku satellites are still dominant (Helfgott is now CEO of SmartSky Networks.) Phasor worked with both Astronics Aerosat and Gogo on ESAs before Hanwha Systems' acquisition.
Hanwha Phasor's ability to design its own ASIC chips in-house is "core" to the firm's competitiveness and how it differentiates itself in an increasingly crowded market, said Shin. "So, that means we can control or can change the performance, power consumption and even that is related to price range, so everything is connected."
In comparison, many of Hanwha Phasor's competitors, though "not all of them", are using COTS chipsets, he noted. "Of course, they can change something, but it's very limited. It's not fundamental changes. But for us, we design our own chipset so we can improve or even if we need, we can decrease or increase the performance, power consumption. I think that is [the] biggest difference." He compared the strategy to Apple in the mobile world, which is doing more chipsets in-house.
The Hanwha Phasor executive revealed that the firm has "already found many different ways how to save power consumption and how to improve power consumption for a future product. So now we're already working on it."
From a supply chain standpoint, Hanwha Phasor is "totally fine", he said. Last year, the company contracted American product designer Plexus Corp to provide product development support and design for manufacture, test development and supply chain optimization services in the run-up to product launch. Noted Shin:
It's a US-based multinational manufacturing company. So, we are actively talking about future plans right now. So, the location is very important where to produce the product to save the cost, save the money, save the manufacturing costs. So, Plexus is — I'm not [an] operation person but I hear so many strengths of Plexus.
Hanwha Phasor showcased an antenna at the Satellite 2022 exhibition (pictured above). RGN asked if the mockup was roughly the size of what we should expect for narrowbody and widebody aircraft?
"Yeah, so there is like almost [a] real size module and mockup outside… One of [the] benefits of our device is we are a module-based product. So that means our antenna is scalable so we can scale up or scale down, it depends on like [the] requirement from the customer and end users. One of our ongoing projects is very small size, compact size antenna for small-size jets like business jets… Some regional business jets [are] very small so actually [the] outside antenna is too big. So we're gonna make a scale down size [of] the antenna," he noted, stressing the solution's flexibility.
Can Hanwha Phasor come in at a price point that makes sense for aviation? "[P]rice point is a very interesting topic. Yeah, I think for aero, yeah, I think we can satisfy their price range," said Shin. "
He sees more challenges in bringing phased array antennas to maritime than aero due to the pitching and rolling problem in the former.
"So I know when one company already launched their product. Anyway, if you look at their advertisement, they always saying we need four antenna panels as one system for maritime. Yeah, that means a single panel cannot cover everything in maritime. There's the reality… but definitely there is market opportunity for flat panel in maritime but I mean it's like many … barriers we need to get over."
Related Articles: