Gilat Satellite Networks is targeting narrowbodies, regional jets and business jets for initial type certifications and deployments of its flat panel electronically steerable antenna (ESA).
"I think we could bring it to market in 24 months or so. And that's depending on the type of antenna that is required, but more or less it's a two-year program to go to a [RTCA] DO-160. Probably another six months for an STC program. So, you can get it to the market in less than three years," vice president, mobility and global accounts Amir Yafe told RGN at the Satellite 2022 conference and exhibition.
"I think our technology is more suitable to the narrowbody aircraft, and RJs, business jets. This is the type of market that's more suitable for an active ESA," he said, when asked about where the hardware is likely to debut.
"On a twin-aisle aircraft, from our perspective performance is — I don't think we are there yet. But the wider market is really the single-aisle [in] commercial aviation and the business market."
That said, Yafe reckons that the technology will advance over time and the company will ultimately have "a good solution" for widebodies.
Due to the time it takes to obtain linefit offerability at airframers, retrofits on RJs and business general aviation (BGA) aircraft will probably be first. But if an operator has an existing mechanically steered antenna installed — with the ARINC 791 footprint, for example — and wants to use Gilat's hardware, it doesn't necessarily have to bring the aircraft back to spec beforehand.
"We will try to fit. We've done a couple of exercises, fitting an ESA antenna under existing radomes. So, the main focus is really to enable the upgrades, you know, to be as fast as possible," said Yafe. "The main goal is to lift up the radome, take off the existing mechanical antenna and put [in] the new ESA unit and then close the radome and basically be done, with an overnight kind of upgrade activity."
Indeed, when Gilat's ESA was installed and flight-tested in North America aboard Honeywell's Boeing 757 test aircraft before the Covid pandemic, the installation took advantage of the existing fittings, penetration holes and installation scheme using a modified adapter plate, custom made by the Honeywell team.
Gilat's ESA also recently underwent testing by Airbus Defence and Space, which flight-tested the antenna — operating with Gilat's SkyEdge II-c platform and Taurus aero MODMAN — onboard its C295 Flight Test Bed 2 demonstrator.
The C295 is a tactical airlifter in the light and medium segment. And Airbus' C295-based demonstrator has been used as part of the European Clean Sky 2 research and innovation program which aims to deliver more environmentally friendly aircraft. Gilat's ESA was conformally integrated within the wing-to-fuselage fairing of the airplane.
Yafe explained:
[W]e started about five years ago with Airbus. Since we have an ESA technology in-house, we basically won the contract with them to provide an ESA antenna for their Clean Sky program.

So, through those five years, it was actually before Covid — [which later] kind of made some delays — we went through the development cycle, qualifying the antenna for them, testing it prior, we did some tests with Honeywell a year prior [showcasing its multi-orbit capabilities]. And then we completed the antenna program, DO-160 certification, and then all the way through STC with Airbus.

So, basically, we brought the linefit ESA antenna to the market. It is on their test aircraft. But basically, the same technology can be used on any type of aircraft on either linefit or retrofit. We actually right now are pursuing a couple of programs for ESAs right, everybody's doing that. And for that program we developed a final product per service provider requirements.
In terms of differentiating its ESA from other antennas, Yafe pointed to Gilat's in-house engineering merits — as highlighted by the successful C295 test program — as a strong suit. So too is Gilat's ability to "manufacture in large-scale an antenna system", he said. Airbus, for example, is now free to offer Gilat's ESA for the C295 if it so chooses.
One of the big concerns that operators have about ESAs is power consumption. Gilat is addressing the issue in a number of ways. "So, our technology is based on active array, and we need the cooling system, so we're working through the design to have passive elements. We also have power management on the arrays, so not necessarily all of them need to be active at any given time, so there's an algorithm software that basically manages power on the antenna. So, through that, we can better manage the power consumption," explained the Gilat executive.
Asked if Gilat would do the work in-house or partner with the likes of CarlisleIT for the cooling system, he said: "We will do some of that in-house because that's the algorithms of the array. And some through, yes, Carlisle; and other system integrators will take the full antenna to the market. We always use system integrators."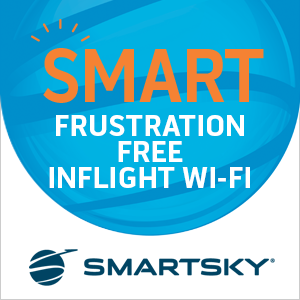 Another concern in aviation is the cost of ESAs. "[U]nit costs is a key factor to any requirements that we get. We're looking at production costs, in a large-scale program. So, part of the programs that we want to engage is not to have 10 units out, but hundreds and thousands of units, in terms of the production," said Yafe. "So, any program we will be engaged with will include manufacturing, building the manufacturing line in parallel to the unit development."
The way to reduce costs, he added, is to have "efficient manufacturing processes and volumes as much as possible".
Gilat showcased an ESA at the show. Yafe said the system on display is simply one option for aero. "The design, the size of the antenna is really driven from the constellation from, you know, the satellite operator, the throughput requirements, and the aircraft type." He noted that the same design can be scaled down or scaled up based on customer requirements.
Capable of supporting hybrid networks, as evidenced by the Honeywell trial which saw the ESA perform instantaneous Ka-band switchovers between – and operating on – Telesat's Phase 1 LEO satellite and its Anik F3 GEO satellite, the Gilat ESA will have a dual beam and be able "to either switch between the LEOs or MEOs or GEOs to LEO switchover".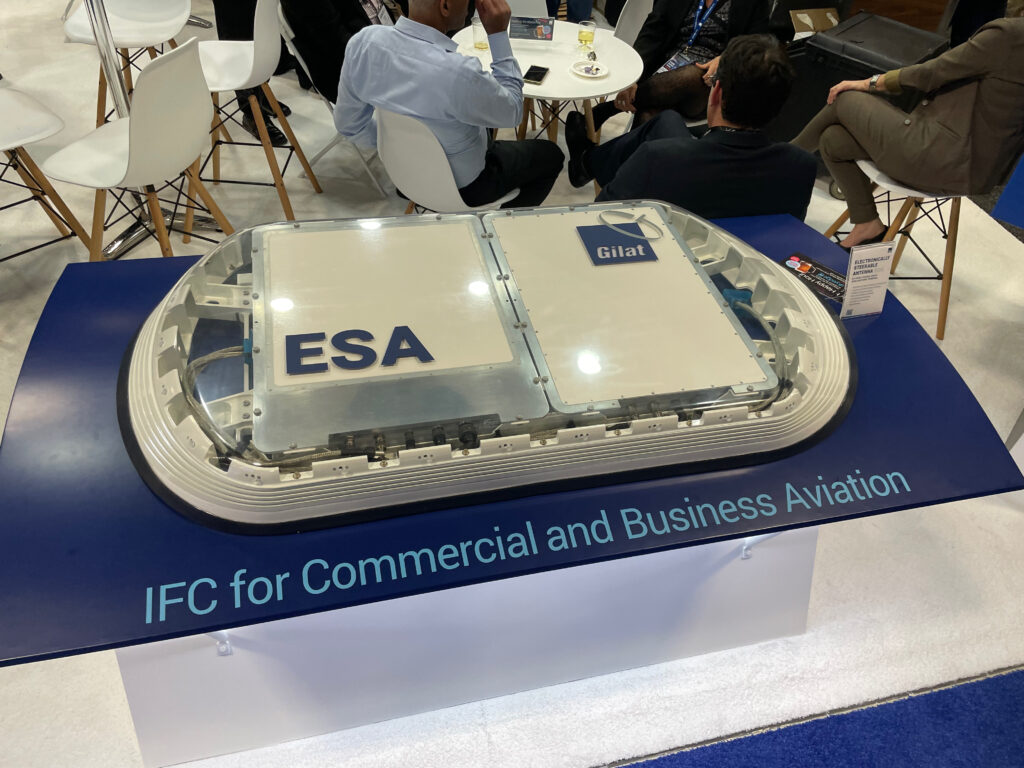 But Gilat's work is certainly not relegated to aero antennas. The Israeli firm has been innovating in the satellite industry for over three decades. Its new SkyEdge IV, a next generation satellite communication ground system, supports multi-orbit satellite constellations. SES, for example, will be using SkyEdge IV simultaneously for both SES-17 and its upcoming second generation NGSO constellation, O3b mPOWER. And Intelsat recently placed a significant initial order for SkyEdge IV, which will be used for its latest high throughput satellite, Intelsat IS-40e.
Gilat's latest generation, high-performance SkyEdge IV Taurus modems, meanwhile, recently secured Intelsat as a customer to support inflight Internet and IPTV for passengers. Taurus is backward compatible, "thus preserving past investments with the proven SkyEdge II-c platform", according to Gilat.
For satellite operators and service providers, Yafe told RGN, SkyEdge IV Taurus gives "better advantages when they step into the multi-orbit, multi-beam HTS, VHTS kind of environment, given the cost efficiencies that they need".
In the future, he believes we'll see "more interoperability" between multiple operators. "So you can envision an Intelsat and SES networks or other operators combining to have roaming similar to your cellular phone. So the same modem will operate on multiple operators."
The company sells its antennas separately from the modem, as they are separate activities and do not need to be synchronized.
"We obviously would like to have the modem part of the antenna, but you know it's separate and we will work with any type of modem," said Yafe. "And the industry is moving to software defined modems and having kind of standard interfaces. So obviously … looking a couple of years further, it could be that a single modem that works with multiple waveforms from service providers."
In the meantime, he tells us to keep an eye out for more SkyEdge customer announcements. As industry looks to accelerate out of the Covid crisis, "Gilat is coming back big time of course for the aero but also tapping into the maritime mobility market as well."
Related Articles: