Satcom Direct, the business aviation solutions provider, announces today at EBACE 2022, a new three-way partnership agreement with OneWeb, the global communications company powered from space, and QEST, Quantenelektronische Systeme GmbH, a worldwide market leader in innovative aeronautical antennas. 
The collaboration is to progress development of an Electronic Phased Array antenna to support OneWeb's advancing mobility services. The agreement also covers a long-term distribution partner agreement where SD will market and sell OneWeb's high-speed, low latency inflight broadband services.  Development has already begun on the flat-panel antenna with initial demonstrator technology scheduled to validate over-the-air performance, in small form factor across the OneWeb satellite constellation in Q4 2022.
Designed for smaller aircraft the lightweight, low profile, modular antenna will deliver high-speed, broadband connectivity to this aircraft category for the first time. Together SD, OneWeb and QEST will enable passengers and operators to be more productive and enjoy more leisure time during flight via global broadband connectivity.  Market introduction of the flat panel, fuselage mounted, electronic phased array antenna is anticipated for availability in 2024, with OneWeb aviation services set to launch in 2023.  
Neil Masterson, CEO at OneWeb said: "We pride ourselves on partnering with industry leaders and specialists to ensure we can bring connectivity to the right audiences as effectively as possible. We are delighted to partner with connectivity market leader Satcom Direct, and innovative hardware manufacturer QEST, because together we look forward to transforming the connectivity landscape for our customers. SD brings a stellar reputation as a distribution partner for OneWeb, with its maturity in the market and solid heritage around the world.  SD supports the largest number of business aviation platforms globally and regularly ranks top in customer service industry surveys. This makes it an obvious partner for OneWeb as we set out to deliver robust, high-speed, low latency reliable and global connectivity for all aircraft," Masterson added
"Connectivity supports much more than just communications and we are investing in antenna development through our Plane Simple™ program, to deliver secure, flexible, reliable solutions to a wider segment of the business and government aviation communities than ever before. This is a truly ground-breaking collaboration which is setting out to bring OneWeb's powerful connectivity to a much-underserved sector of our business aviation community. We are proud to be part of such an innovative, and dynamic group of companies, that will change the way in which small jets, and general aviation operators connect with the world," said Jim Jensen, CEO Satcom Direct. 
Through the SD ecosystem of hardware, software and infrastructure owners will be supported by a single resource for connectivity acquisition and support, as well as third party software integration capabilities via the SD Pro operating system to enhance flight operations and safety.
"Having worked closely with SD to develop the first of the Plane Simple antennas we recognize that there is a large sector of the market that still needs powerful connectivity that guarantees excellent performance and optimal use of the satellite services," says Dr Jörg Oppenländer, CEO of QEST Antenna Technology GmbH. The impressive SD global customer service offering, combined with the strength of the OneWeb constellation, and our experience of developing reliable, highly advanced, antenna systems, will provide customers with ultimate connectivity efficiencies," adds Oppenländer. 
QEST is already partnering with SD in developing the Plane Simple tail-mount antenna series and was integral in delivering the first Plane Simple variant on schedule.  The electronic phased array antenna represents the third antenna in the SD Plane Simple antenna series.  
Satcom Direct is attending EBACE 2022– booth X101.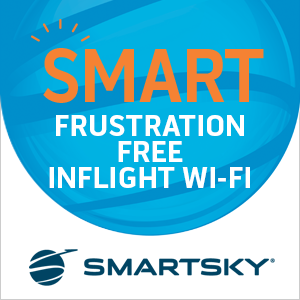 About Satcom Direct
Satcom Direct (SD) is founded on a core belief of understanding the value of time and the importance of maximizing it. The company mobilizes the most cutting-edge technologies to enable connection, wherever you might be. SD's proprietary technologies span business aviation, marine, government and telecommunications sectors, with the singular goal of leading connectivity industry standards. 
Harnessing a powerful combination of tools, SD delivers consistent, reliable connectivity across the globe. Proprietary software, hardware, terrestrial infrastructure, cybersecurity solutions and award-winning customer services create tailored data services for each individual customer mission. The aim is to enhance the passenger and ownership experience, improve efficiencies and give back precious time by providing connectivity beyond all expectations. 
SD World Headquarters is located at the heart of the Space Coast in Melbourne, Florida, with 14 additional locations in 11 countries including UK, UAE, Switzerland, Singapore, Australia, and Brazil plus a hardware development and manufacturing base in Ottawa, Canada.
Featured image credited to SD