Roughly a year after implementing a complete rebranding exercise, Anuvu, which provides connectivity and entertainment to mobility markets, has precisely zero regrets about its decision to prioritize research and development during the Covid crisis, and target the key verticals of air and sea for future growth.
Indeed, the company formerly known as Global Eagle not only has a 'new view', but a fresh spring in its step as it builds a hybrid satellite network to power nextgen communications for its airline and cruise line customers; streamlines content delivery via the cloud; and secures licensing deals for big-name films for these markets.
"When we divested our non-mobility business during our restructuring, we saw an opportunity to focus on mobility and focus on innovation at the intersection of connectivity and entertainment," Anuvu CEO and director Josh Marks explains to Runway Girl Network.
"[O]nce we managed our way through Covid, we really started to see the benefits of those multi-year research and development programs that we started pre-Covid and accelerated during the downturn."
Marks reckons that Anuvu's brand promise – to bring an innovative and modern perspective to the markets it serves – and its open architecture approach to inflight connectivity (IFC) will resonate with airlines. And there is already some evidence that he's correct.
Anuvu customer Southwest Airlines has outfitted 40 of its Boeing 737s with upgraded connectivity hardware and is temporarily testing a free Wi-Fi model, reports CNBC, citing a memo sent to employees. The carrier currently charges $8 for onboard Internet.
News about the hardware upgrade and free Wi-Fi trial hit one day before Southwest and Anuvu were named as finalists in the 2022 Crystal Cabin Awards for their joint submission, Dedicated Space, a solution that promises a five-fold increase in available personal bandwidth for passengers and a dramatic reduction in latency.
Dedicated Space represents "a change in how the modem technology works, how the software stack is put together", explains Marks to RGN.
In the past, modems across mobility verticals have often been designed for cooperation with residential fixed site applications. But Anuvu and Southwest identified the need to focus bandwidth on an aircraft and do so in a more intelligent way.
Though Southwest offers Anuvu's Ku-band IFC system, the new modem technology is "not about the band, it can be Ku or Ka", says Marks, "but the future aircraft need bandwidth based on their requirements without having to share capacity with residential or other fixed [applications]."
Along with faster download and upload speeds, Southwest passengers should expect more stable inflight connectivity with the new system.
Anuvu, meanwhile, is not new to the experience of supporting free Wi-Fi. After all, it has long powered the free web browsing model on Norwegian in Europe. As it looks at North America, it is still figuring out what tomorrow's use cases will be. But the ability to focus the bandwidth available in a more dynamic way will be "a key enabler" to offering a consistent free Wi-Fi business model, says Marks.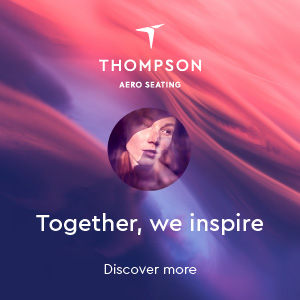 The rollout of Dedicated Space is part of a broader modernization program at Southwest which will also see the carrier's cabin wireless system brought "up to the latest standards", reveals the Anuvu CEO. It comes as domestic traffic in North America is in recovery mode, which in turn means higher take rates for inflight entertainment and connectivity.
"The recovery happened very quickly and in aviation, for shorter haul routes, we're definitely seeing traffic flow back to pre-Covid levels," says Marks, noting, however, that the way in which passengers use connectivity post-pandemic is changing.
Cloud collaboration and Office 365 have altered how people want to work on aircraft. But even leisure activities have changed, with Marks pointing to a generational shift that sees a major uptick in video-based social media including TikTok.
Pre-covid, the firm saw bursts of upload and download activity, whereas now it's much steadier with a "baseline of capacity demand that really drives an urgency around being able to allocate bandwidth dynamically. So, a lot of what we're seeing around traffic recovery is not just how [Internet] traffic is coming back but the changing way that passengers use it post-pandemic, and how it needs to function," says Marks.
Beyond hardware, the actual connectivity service is also poised for improvement, as Anuvu is creating a hybrid network that will see it augment its current GEO satellite capacity with an Anuvu Constellation of microGeo satellites, and ultimately the low-latency Telesat Lightspeed LEO satellite network to further deliver high-quality bandwidth to planes and ships.
This year, the company is planning a sequence of announcements around the Anuvu Constellation as it goes through the design and other selection decisions around the satellites.
But improved connectivity is also expected to play a role in the broader evolution of embedded IFE, as it provides the ability to push content to connected aircraft in real-time and facilitate more targeted advertising.
Anuvu, which is a major content service provider for airlines around the world, anticipates that seatback IFE "will fundamentally change based on improvements in connectivity", says Marks. To that end, the firm has built out its backend architecture to enable "this kind of dynamic content upload — on-demand to any endpoint, to the OEMs for integration in the seatback, to the aircraft that is connected", says Marks.
"Since our rebrand, we have shaped a new view of connectivity and entertainment for the cruise and airline sectors," adds the firm in a statement. "Our job now is to continue delivering for our clients and their customers and ensure our services are fit for purpose as demand changes and increases."
Related Articles: