Anuvu's recent decision to contract Telesat for approximately ten gigabits of Ka-band satellite capacity — on the Telesat 19V Vantage GEO satellite, specifically — begs a number of questions, including when we should expect to see airlines test or adopt the firm's Ka inflight connectivity solution. But while Anuvu continues to put the pieces in place to support Ka IFC, the maritime market is expected to exploit this capacity first.
In past years, Anuvu (formerly Global Eagle) has purchased capacity in the Ku, Ka and C-band for its maritime customers. And it already supports Ka connectivity installations on some vessels. The capacity secured by Anuvu on Telesat's 19V Vantage high throughput satellite, which will be delivered starting next month, is largely oriented for the Caribbean (as well as the southeastern US, the Gulf of Mexico and Central America) making this new capacity deal with Telesat more of a maritime play, at least in the near-term.
But as Anuvu states, this GEO capacity arrangement is part of a "bridge to LEO", which will help ensure an upgrade path to Telesat's Lightspeed LEO network, including for Anuvu's aero customers.
That bridge will include the forthcoming Anuvu Constellation of microGEO satellites (comprising a mixture of Ku- and Ka-band satellites). But it could also include additional Ka GEO capacity deals forged in other regions of the world, Anuvu EVP connectivity Mike Pigott confirms when asked by RGN if we should expect similar Ka GEO deals elsewhere.
A larger Ka GEO footprint would obviously better position Anuvu to attract airline customers for its Ka inflight connectivity solution (or indeed support current Ku-band IFC customers' pivot to Ka, should they so choose). Anuvu counts Norwegian, Southwest and Turkish Airlines as customers for Ku-band inflight connectivity.
In terms of airline first movers or trials of Ka IFC, Anuvu demurs, but as readers are fully aware, Anuvu has been readying for this paradigm. Its Qest-made Ka aero terminal is entering the prototype phase and Anuvu "expect to have that ready this year", says Pigott.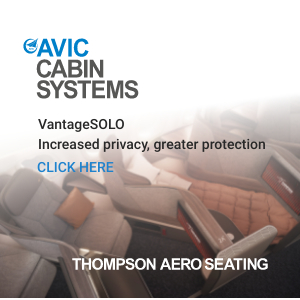 Did the delay to Telesat's Lightspeed schedule impact Anuvu's decision to tap this 19V satellite capacity? No, it hasn't, according to Pigott, stressing again that it is part of the bridge to LEO, and beyond that to Anuvu's future hybrid GEO/microGEO/LEO network for concentrated areas.
Interestingly, the Anuvu executive confirms that the firm is "open to" a hybrid of another kind — that of a hybrid Ku/Ka-band frequency antenna system in aero.
In terms of hardware, whilst Anuvu is nearly ready to support Ka IFC with the Qest-made mechanically steered Ka-band antenna — and this can also operate over LEO — it is keeping a close eye on the electronically steerable antenna market. Management has not yet seen the holy grail of price, performance and productivity achieved with modern ESAs, but Pigott reckons the ESAs are coming "pretty close".
Also of note, Anuvu's satellite capacity relationship with Intelsat is still very much in play, though the two now compete for IFC contracts following Intelsat's acquisition of Gogo's commercial unit. Intelsat is "still a key partner" and Anuvu still has "a good amount of capacity on their network, across maritime and aviation", confirms Pigott.
Related Articles:
Featured image credited to Telesat