NEW YORK: Passengers flying budget operator Norwegian in Europe might be growing accustomed to accessing free Internet on board, but the carrier's decision to bring connectivity to its Boeing 737 fleet extends well beyond the passenger experience (#PaxEx) and into the realm of aircraft operations.
Speaking today at Global Eagle Entertainment's first ever investor and analyst day in New York, Norwegian head of business development, station and inflight solutions Boris Bubresko proclaimed that the airline is a "true believer in connectivity", having already equipped 96% of its 737 fleet with Global Eagle's Ku connectivity system.
On the #PaxEx front, Norwegian on average sees "about 35-40%" take rates, and predictably higher usage on longer flights. The quality of this free service "depends on what passengers are doing on board. If everyone is doing emails; everybody is fine. If everybody is trying to download a movie; they all suffer," admits Bubresko.
Norwegian is rumored to have only contracted for half a transponder's worth of Ku capacity [read: not a lot] to cover its connectivity needs, leading to mixed results for passengers. But Bubresko insists that the conversation should not be about bandwidth. Rather, he says, it's about "are passengers able to do what they would like to do?" Tasked with managing this effort is Global Eagle, whose connectivity system operates over broad beam Ku satellites, and will also eventually transmit via High Throughput Satellites (HTS) when these are launched by its partner SES.
The difference in performance in today's wide beam satellites versus tomorrow's HTS will be stark, assures SES VP, Commercial Infrastructure Solutions Asi Tricha, as the former "typically deliver between 2 and 4 Gbps of data", while HTS can deliver "anywhere from 20 to 200 Gbps of data" and wide beam service is "something like one-and-a-half to two-and-a-half times the cost" of HTS.
As service improves and prices decrease, Norwegian will be primed to more fully drive efficiencies from its connected aircraft by moving operational data over the broadband pipes. Bubresko says this facet of the company's plan is currently under development, though Norwegian faces unique challenges because "in Europe you fly over multiple countries so each have their own regulations".
He notes, "We are launch customer of the Boeing 737 MAX in Europe, which will come with an onboard server directly from Boeing so [there is a] huge opportunity to connect that to connectivity as well. Instead of waiting for data to be sent out, [we] can get it immediately."
As previously reported by RGN, Boeing has been actively working with Ku- and Ka-band connectivity providers to securely interface their broadband systems with the airframer's onboard network system. This will enable airlines like Norwegian to take advantage of Boeing's Airplane Health Management (AHM) service, which uses real-time airplane data to provide enhanced fault forwarding, troubleshooting, and historical maintenance information.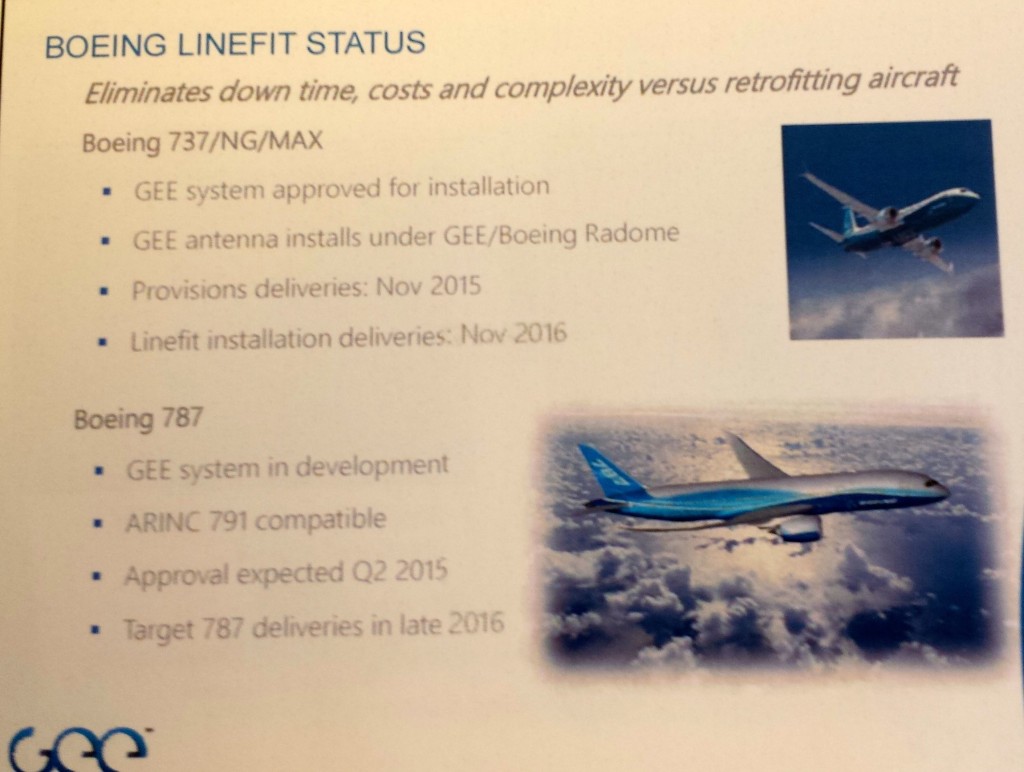 Boeing boasts that airlines using AHM can make maintenance decisions in a fraction of the time that would otherwise be needed, so they can be ready for any action required as soon as the airplane lands. But using ACARS to support AHM – as is done today for the Boeing 787 – is not cost efficient.
Norwegian welcomes the day when its 737NGs and ultimately its 737 MAXs are delivered with Global Eagle's Ku system already fully installed at the factory (see Global Eagle's estimated timeframe for obtaining linefit offerability at right).
Having the system linefit will be "a huge benefit", says Bubresko, noting that the post-delivery retrofit modification of Ku connectivity to its aircraft "is quite an extensive install" that involves drilling "2,000 holes in the fuselage". Uninstalling the system to return aircraft to lessors is even more laborious. "The leasing companies always demand you deliver aircraft back to them in the state you got it."
Related articles:
Photo courtesy of Jason Rabinowitz, aka @AirlineFlyer on Twitter.