Now a public company, Canada's Telesat Corporation says its dual-listing on NASDAQ and the Toronto Stock Exchange will enhance its ability to execute on investment opportunities, including the forthcoming Lightspeed LEO network. The timeline for launching commercial service on Lightspeed has moved to the right, however, as global supply chain constraints are expected to delay construction of the Ka-band satellites by Thales Alenia Space.
"So, we're working with Thales to get a better sense of the impact of the delay and how to mitigate those delays — and, if delayed, what possible further optimization we can do on the network design, taking advantage of that," Telesat regional sales VP Philippe Schleret told Runway Girl Network in a recent interview.
To be clear, the supply chain issues impacting the Lightspeed program relate to commercial off-the-shelf networking components, not the advanced, space-hardened technologies like Telesat's optical inter-satellite links (OISLs). "We are working with Thales Alenia Space to identify alternate component providers and other steps to mitigate delays," said a Telesat spokeswoman in relation to the COTS components.
Telesat previously planned to begin commercial service via Lightspeed in late 2023, and support inflight connectivity in 2024. So, what does the schedule look like at present?
Lightspeed service in the higher latitudes is expected to be available in the first half of 2024, covering Alaska, Canada, North Atlantic routes, northern European routes and the poles. Full global service, via the 298-satellite Lightspeed network, is slated to follow in the first half of 2025, said Schleret.
Notably, availability of Lightspeed-powered inflight connectivity is now expected to "mirror the schedule of the constellation", said Schleret, with IFC service being made available as soon as Lightspeed service is commercially available. As such, if all goes to plan, IFC service will launch as previously anticipated in 2024, though in the aforementioned northern geographical footprint.
The Telesat executive cautioned at the time that Thales was still in the middle of its analysis of the supply chain issue.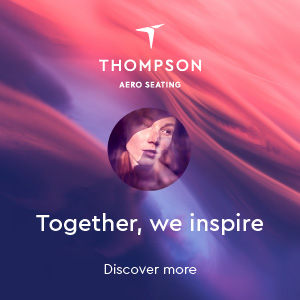 In aero, Telesat currently supports inflight connectivity with broadbeam and HTS GEO capacity, and counts Panasonic Avionics, Gogo (now Intelsat) and Anuvu as longtime customers. But the satellite operator's relationship with Anuvu, especially, is particularly close. Years ago, Anuvu tested its Ka-band antenna on Telesat LEO, and a second-generation version of that antenna is now well under development.
"Partnerships with industry leaders like Anuvu are really critical to deliver our LEO services," said Schleret. But, he said, it's "a bit too early" to opine as to which aero ISP will be the first to offer Telesat-powered IFC to airlines.
Anuvu — which is continuing to roll out its Ku IFC solution at Air France and Turkish Airlines — is separately also grappling with some supply chain constraints of its own in the provisioning of raw materials like screws and nuts, said Mike Pigott, the firm's executive vice president connectivity. "From a chip standpoint and LRU standpoint, we're actually doing okay. It's more the 'everything else' stuff; the stuff that was kind of assumed. Can we get the right screw, the right fastener, the right length of wire, connectors…"
Related Articles:
Featured image credited to Telesat