Anuvu, which provides connectivity and entertainment to the mobility markets of aviation and maritime, is on track with its plan to launch a high-performance microGEO satellite constellation, and in turn expand on its layered capacity model.
At present, Anuvu uses Ku-band GEO capacity from multiple satellite operators to support the connectivity needs of its airline clients, and ergo their passengers. But in the summer of 2021, the Santa Ana, California-headquartered company tapped Silicon Valley-based Astranis to build up to eight microGEO satellites for an "Anuvu Constellation", with the first two satellites – operating in the Ku-band – expected to launch in early 2023. Months later, it announced it had secured a commitment for a total of $50 million of growth capital to support constellation work and other growth initiatives.
In an update about its 2021 growth milestones and 2022 expansion plans, Anuvu this month reiterated its "early 2023" target for launching the first two microGEO satellites, saying they will deliver dedicated bandwidth to aviation and maritime customers. Now, executive vice president connectivity Mike Pigott tells Runway Girl Network:
Our Anuvu Constellation program is tracking right along with our internal expectations. The hard work of the Anuvu and Astranis teams on our microGEO satellites is a testament to what a great partnership can deliver even during continued difficult times for the travel industry.

There is a lot happening this year and we are planning a series of announcements regarding major milestones in the program and the path to entry into service of this new and exciting technology, and all the enhanced services it will offer Anuvu's customers.
MicroGEOs are small, powerful satellites that can be developed at a fraction of the cost of GEO satellites. A launch vehicle partner, and an exact launch date of the first two MicroGEOs for Anuvu are among the announcements expected to follow.
Anuvu counts Norwegian, Southwest Airlines and Turkish Airlines as customers of its Airconnect-branded Ku-band connectivity solution. But the company is not wedded to the Ku-band frequency. Indeed, the remaining six satellites for its microGEO satellite constellation "will be a mix of Ku and Ka", company CEO Josh Marks previously told RGN. Additionally, Anuvu has long expressed its intent to utilize Telesat's forthcoming Lightspeed Ka-band Low Earth Orbit (LEO) constellation, which will support regional inflight connectivity starting in 2024. Therefore, in time, Anuvu's global hybrid network is expected to include GEO, LEO, and microGEO capacity.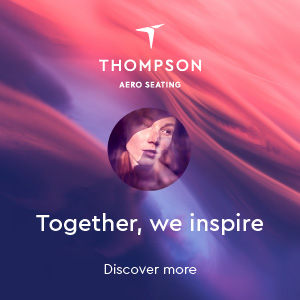 Outside of its IFC work, Anuvu – formally known as Global Eagle – is a major content service provider to airlines, counting Asiana Airlines, Air Belgium, Breeze Airways, Corsair, Cathay Pacific, Gulf Air, and Royal Brunei Airlines among its many airline clients. It can provide content to a wide variety of inflight entertainment systems (be they wireless and/or in-seat systems). Anuvu also boasts that it is "at the leading edge of high-definition inflight entertainment delivery", as its cloud-based digital technology platform Open has enabled Cathay Pacific to offer ultra-high resolution "4K" entertainment.
An online, customer facing portal called Explore gives airline clients access to Anuvu's vast content library, enabling them to view, search and sort available titles for their media cycle. Explore pairs with Anuvu's subscription service Iris, which offers airlines a tailored and pre-curated variety of content. "Together, Explore and Iris modernize inflight entertainment in a way that eases the selection burden for airlines, builds content based on an airline's specific needs, maximizes return-on investment, and delivers to passengers a memorable inflight entertainment experience," says the firm in a statement.
In aviation, Anuvu has also expanded its non-traditional video content through a partnership with Complex Networks, one of the largest youth culture brands. And a new partnership with multinational entertainment company Entertainment One (eOne) has bolstered the inflight gaming options available to Anuvu's airline customers. Indeed, Anuvu added four new titles to its games offering in 2021 as part of its partnership with eOne.
"We have seen a great response to these titles from our airline customers and should see well-beloved characters like Peppa Pig and PJ Masks delighting young flyers in the near future," Anuvu VP, entertainment software development Dina Dumenko now tells RGN.
In maritime, Anuvu says that, in 2021, it saw consistent customer growth and demand across all verticals including in yacht, energy, government, ferry and cruise. "Specifically, in maritime entertainment, Anuvu built upon the success of its MTN-TV product, which provides cruise lines with live global television and movie content, currently servicing over 200 ships worldwide. The team renewed its longstanding agreement with Royal Caribbean Group to provide their Royal Caribbean, Celebrity and Silversea ships with premium content."
Related Articles: