One day after the new sequel to "Sex and the City" arrived on WarnerMedia's direct-to-consumer HBO Max streaming platform, every LATAM passenger onboard flight LA8180 from São Paulo to New York was surprised to find the first episode premiering exclusively on their inflight entertainment system. "And Just Like That" the future of IFE content licensing and distribution came into focus.
In years past, the process of bringing brand new movies and television shows to passengers was rather time-consuming, taking upwards of a month or more to process. Long lead times were usually required to encode titles in various formats, deliver them to the IFE hardware companies for integration and quality control, and then load them onto aircraft. By innovating with a new cloud platform, LATAM's content service provider, Touch, had already distilled the process down to 15 days amid the COVID-19 crisis. But Touch wanted to go further.
"Here's where LATAM and HBO Max come in. We combined our efforts, pushed in the same direction, and closed that gap to only 24 hours," revealed the firm in a statement about delivering "And Just Like That" to LATAM passengers just one day after its premier on HBO Max. Runway Girl Network reached out to Touch director of business development André Valera to learn more details about the collaboration, and why the content service provider (CSP) is now convinced that this sort of 'hybrid cached-streaming' solution will be coming to an airline near you.
Having the right technology in place was crucial to the LATAM/HBO Max promotion. Valera explained that the ABOVE-branded cloud platform brought to market by Touch and its joint venture partner castLabs, has the ability to encode titles on the spot "because we have pre-loaded on our machines an entire library of IFE system profiles so when we receive an asset that needs to be on a specific aircraft with a specific IFE system, it's about pushing a button and having the file ready to be delivered to that spec." But there were other crucial components to the program's execution.
Because "And Just Like That" was to premiere on LATAM ahead of its usual onboard exhibition window, nobody had permission to watch the show in advance due to security considerations. "We had a secure workflow on ABOVE to get the asset from WarnerMedia. Nobody was going to watch it. It was encrypted. We didn't know what aircraft would use that particular flight; there were two aircraft standing by for that, and we loaded it on both for all seats at the same time, overriding the IFE so it was a simultaneous experience for everyone," said Valera, explaining that they utilized the same broadcast system that overrides other IFE content when airlines want to run their safety videos.
Touch's technical team in São Paulo coordinated with the airline's engineering team and even the scheduling team. "We have boots on the ground to do that; we tested before the flight that the file would play, and then at 10pm Brazil time on that specific day and specific flight, the purser pushed the button and everyone on the flight was watching it at the same time," said Valera. Touch also closely coordinated with the Brazilian airline's embedded IFE provider, Panasonic Avionics.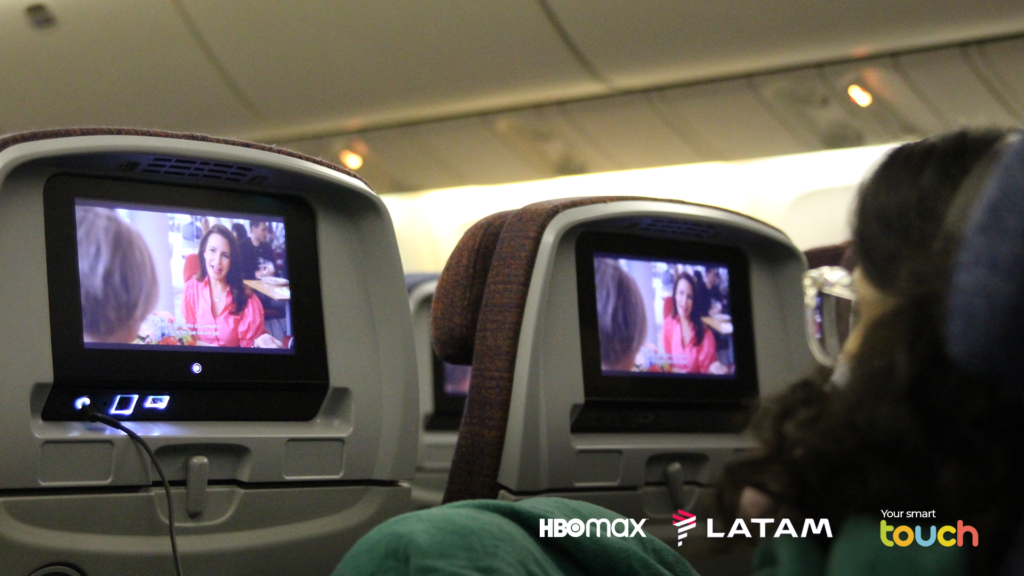 LATAM, meanwhile, handled the promotional aspect of the project, rolling out a branded campaign and amenities for passengers, including themed cupcakes. "So, the goal was actually to remind people that we're flying to New York, flying to the city where the show [is based], and having a Carrie Bradshaw experience," said Valera.
The purser explained the initiative to LATAM's passengers, and also used the opportunity to note that the airline now offers a dedicated HBO Max channel on its IFE system.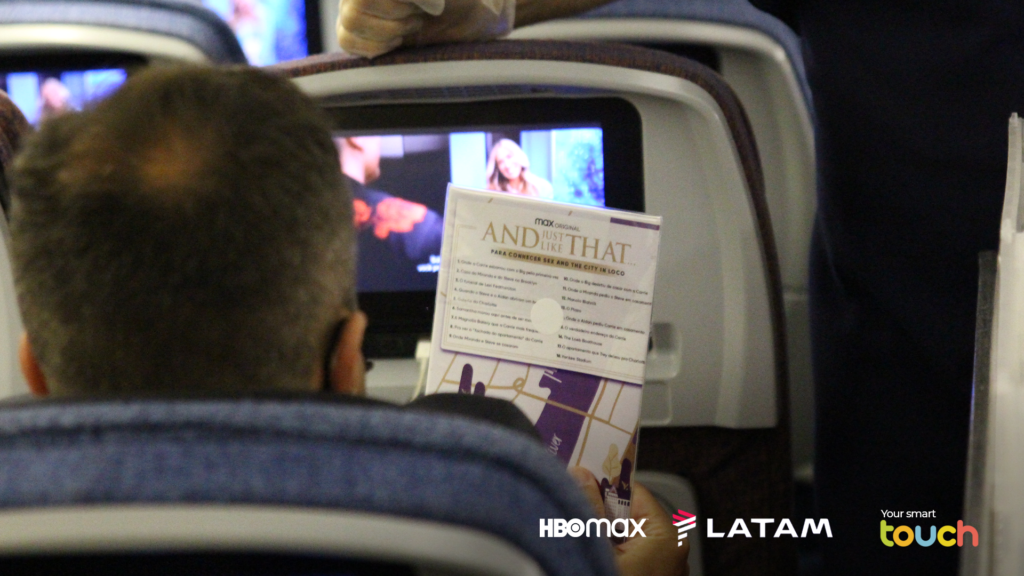 The premiere was a great success and indeed Touch sees this so-called 'hybrid cached-streaming' model as a testbed for future initiatives. "If you have a specific release of a major show on the 15th," said Valera, "you shouldn't wait 15 or 30 days for media turnaround; you should do it on the spot."
Touch could be considered particularly well-positioned to support rapid turnaround of WarnerMedia content, specifically. The studio has selected ABOVE to supply technical services for its entire television library — including from HBO and HBO Max — for the airline market (another content service provider, West Entertainment, meanwhile has been tapped to handle WarnerMedia's Hollywood features for the airline segment).
"Warner split the business", confirmed Valera, noting: "It's a big thing for us."
It's also a timely arrangement given that a number of Hollywood studios, including WarnerMedia, have employed a day-and-date release model for new releases during the pandemic, meaning that if the right licensing relationships are forged (to showcase content outside the onboard exhibition window), airlines should be able to access new content faster. Noted Valera:
If we have in-house the entire catalogue of WarnerMedia and have the ability [with ABOVE] to have that already in the specific format that all IFE systems require, and at the same time not only have the content and technology but the ability to distribute the assets with an automated pipeline, that is of course something for the future of handling massive media loads.
He revealed that ABOVE is also engaged in the vetting process with other major studios to support this type of approach. And Touch can help other CSPs utilize the same for their airline customers.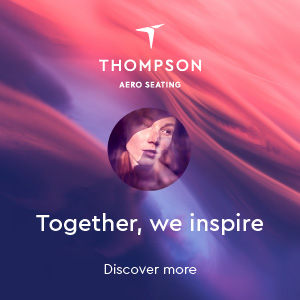 Even in scenarios where an airline offers broadband Internet to passengers — and enables them to access their personal streaming subscriptions over the onboard connection — Valera reckons it still makes sense to offer passengers brand new, but cached streaming content from a server rather than consume costly bandwidth. Onboard connectivity can and will play a role, however, both in terms of engagement and subscriber acquisition, he said.
For instance, an airline could showcase a new episode of a show and tease passengers to subscribe to the streaming service via inflight connectivity, perhaps in exchange for a free connected session. Programmatic advertising could also be loaded with the media asset for further monetization. For the LATAM program, flyers received physical brochures promoting the content and urging them to subscribe.
"At the end of the day revenue for content owners will be driven by subscriptions; they need platforms to advertise that," said Valera, noting that these platforms could be embedded IFE systems, wireless IFE that streams content to passengers' own devices and/or IFC portals. Touch describes the approach as a "more flexible, automated, personalized, and subscription-based business model that benefits all, from content creators to airlines to passengers".
On the partnership front, Touch has already forged an interesting arrangement with AERQ, whose new modular and open IT platform, AERENA aims to empower airlines to gain complete control over their digital cabin experience, including the content piped to in-seat screens. Under the pact, said Valera, Touch provides services "as a media pipeline provider, but also helping them structure how media will be on their side. Our [ABOVE] platform will go a step beyond when delivering media seamlessly with them."
Summing up Touch's master strategy for IFE, he told RGN: "[W]hat is tangible today is fast turnaround and seamless media ready at a fraction of the cost. So we can introduce immediate savings and do it fast, and facilitate last minute changes. We're doing it today."
Related Articles:
All images of HBO Max content on LATAM's IFE screens credited to Touch