Global Eagle is rebranding as Anuvu, saying that the new name reflects its focus on next-generation passenger and guest connected experiences in the air and at sea. 
To understand the drivers behind this move, it is important to talk about Global Eagle's history. Several years ago, Global Eagle led consolidation in the airline content service provisioning space by snatching up AIA, Post Modern Group and IFE Services in relatively short order, which gave it a majority share of the CSP market.
At the same time, Global Eagle was growing its inflight connectivity business, having secured Norwegian and Southwest Airlines as, effectively, anchor clients for its Ku-band IFC solution. It later diversified into maritime, enterprise and government connectivity, including through the July 2016 acquisition of Emerging Markets Communications.
By the end of 2016, Global Eagle's portfolio was certainly varied and complex. In ensuing years, the then publicly-traded company grappled with a number of niggling challenges that exasperated shareholders, including delayed filings to the SEC, and a share price that dipped below $1.
The grounding of the Boeing 737 MAX in March 2019 hit Global Eagle's business, as both Norwegian and Southwest are MAX customers. In July 2020, roughly three months after COVID-19 was named a global pandemic, Global Eagle entered Chapter 11 bankruptcy protection to facilitate a sale of the business.
Through the bankruptcy process, Global Eagle was able to clean up some of the aspects of its operation that had previously diluted its focus. It completed the sale of its legacy non-governmental and African fixed-site land businesses to Marlink AS, giving it space to completely target the mobility markets of air and sea.
As a more attractive organization, the company was sold to new owners — an investor group that owned 90% of its senior secured first-lien term loans — and emerged from chapter 11 with a wholly restructured operation in March of this year. It also delisted from the stock exchange.
"Our recent sale to new owners and their investment in our business provides a unique opportunity to align our brand with our vision," said CEO Josh Marks in a statement yesterday.
"Since we formed as a SPAC [special purpose acquisition company] over a decade ago, we have operated under the Global Eagle brand as we acquired companies serving airlines and maritime markets. Now, as one company aligned around passenger entertainment and connectivity, we introduce you to Anuvu, our take on 'a new view'."
That's why Global Eagle is rebranding as Anuvu.
Marks added:
Our new brand honors our extensive history but keeps the future in focus.

This is more than a name change; our new brand and fresh visual identity highlight the innovative perspective we deliver to the mobility markets we serve.

We continue to invest in technology that meets our customers' performance and value requirements today, while providing a future roadmap with curated content, cloud-based content operations, and multi-platform broadband satellite networks.

Now more than ever, our clients seek a partner that will support them as passenger and guest expectations accelerate post-pandemic.
With a view on ensuring it can meet the passenger experience expectations of its airline and maritime clients now and in the future — and in the face of a hotly competitive market that sees Anuvu competing in IFC with Viasat, Intelsat-owned Gogo, Panasonic Avionics, Inmarsat and its VARs, Thales, and others — the company this month signed a multi-year contract with Eutelsat for the entire North American coverage of its inclined-orbit EUTELSAT 7A satellite, which has been renamed 139WA. The satellite will provide large amounts of capacity for its aviation customers.
"There are many new satellites and other IFC technologies coming online in the next two years. This satellite is part of a multi-satellite expansion of our global network (of currently 54 satellites), which will give our customers and their passengers the headroom we predict will be needed for the global return of passengers as the impact of the pandemic thankfully wanes," explained a company spokeswoman.
"It is one of nine satellites that we use for our North American network. We don't usually share specifics about leases and would need permissions from our partners to do so, but in general, it adds a couple of gigabits worth of capacity," she told Runway Girl Network. "The satellite provides full contiguous US coverage, however, we bias the satellite and focus the satellite's full power and capacity where it is most needed, which is in the south and west."
Also this month, the firm expanded its multi-year, multi-transponder agreements with satellite operator ABS, securing existing ABS capacity on ABS-6 C-band, ABS-3A C-band and ABS-2 Ku-band beams, and expanding its services on ABS-2 to ensure comprehensive coverage across continents and oceans, from the Americas, across to Western Europe, the Middle East, North East Asia and into the Pacific Ocean.
Its three-year collaboration with Canadian satellite operator Telesat also advanced, with the two parties reporting that they cleared "a critical milestone" in the verification phase for Global Eagle – now Anuvu's – Ka-band IFC terminal to be used with the Telesat Lightspeed low-earth orbit (LEO) network. Engineers at the two firms carried out network simulations to determine the efficiency of the antenna at flight speed and to mimic the real-world experience of use cases requiring fiber-like latency and high-speed throughput from the aircraft.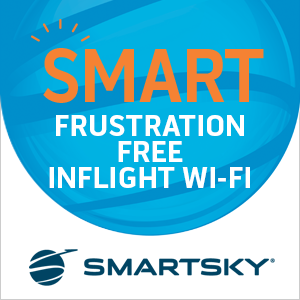 As Anuvu, the company has a new board of directors, as well as a new executive leadership team including industry veteran Nancy Walker, a prominent executive in IFC. Former Global Eagle president Per Noren has since joined broadband telecommunications service company Ovzon as its new CEO. Noren will not be replaced at Global Eagle.
"We are not going to have a President role going forward as we have instead restructured the business by promoting Mike Pigott to EVP Connectivity spanning aviation, maritime, energy and government and bringing on Nancy Walker joined as SVP Commercial, IFC and promoting Estabaliz Asiain to SVP Commercial, IFE. We wish Per all the best in his new CEO role," said a Global Eagle spokeswoman.
For Marks, Anuvu represents "the evolution in our business and showcases our innovation and future-proof solutions for customers, as our worldwide team meets their content and connectivity needs with inventiveness and flexibility."
Readers can avail of our entire Global Eagle archive, which documents the history of the company, HERE.
Featured image credited to Anuvu