After years of frustrating Zoom, Teams, RingCentral, Webex and other virtual meetings, I was thrilled to finally have a chance to travel for work for the first time since 2019. With plenty of options on the table to get from New York City to Nice, France, I opted for Delta Air Lines and its Delta One suite product on the Airbus A330-900neo to Paris in a bid to understand if anything material had changed in the two-plus years since I had tried it.
Right off the bat it was clear that Delta's digital game was strong, but not without some weak points. A few days before departure I received an email providing the option to pre-order my meal. The menu featured a few interesting selections that were specifically tailored for the high-value New York-Paris route — a nice touch! Later, I observed that the pre-order option was used by most of the passengers around me, so Delta is clearly doing a good job of communicating this option before the date of departure.
On the other hand, the recently relaunched FlyReady platform that Delta uses for COVID-19 document verification was a letdown. I was able to upload my proof of vaccination for entry into France, but after quickly verifying the information the platform reverted back to pending status. The system also prompted me to fill out a passenger locator form but brought me to a French website that did not contain that form and provided no way to upload proof that I had filled out the form. Every time I told the system that I had completed the form it reverted back to saying it was incomplete. Thankfully, whatever information I managed to provide was enough as I was able to receive my boarding passes in the Delta app without issue.
I popped into the SkyClub at JFK T4 for a few minutes before boarding, finding that the lounge was overcrowded. I did manage to find a space to sit but it simply wasn't a relaxing spot.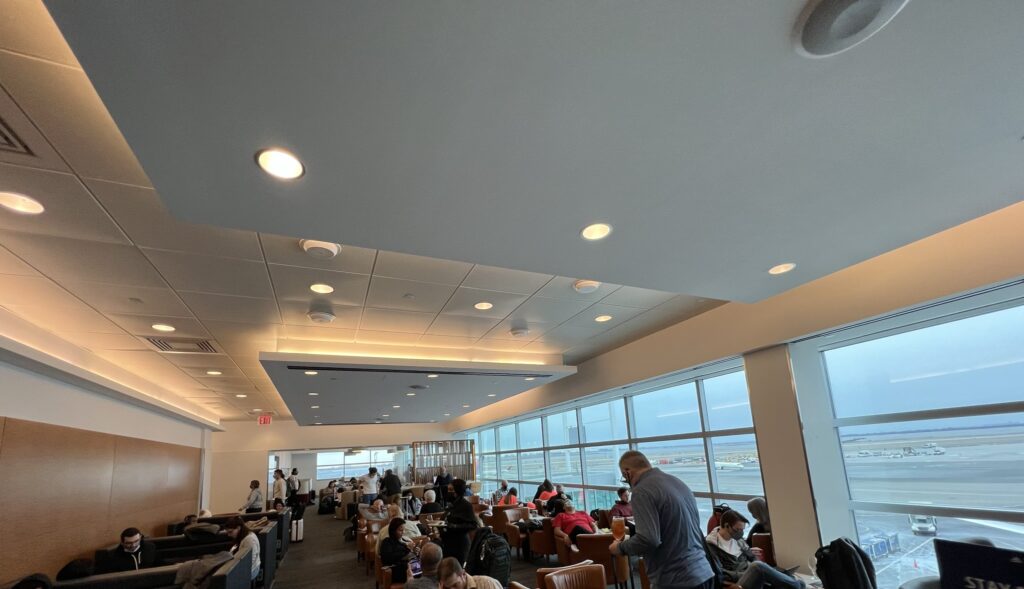 A few hot food options were enjoyable as a pre-departure snack, and the bar was well stocked.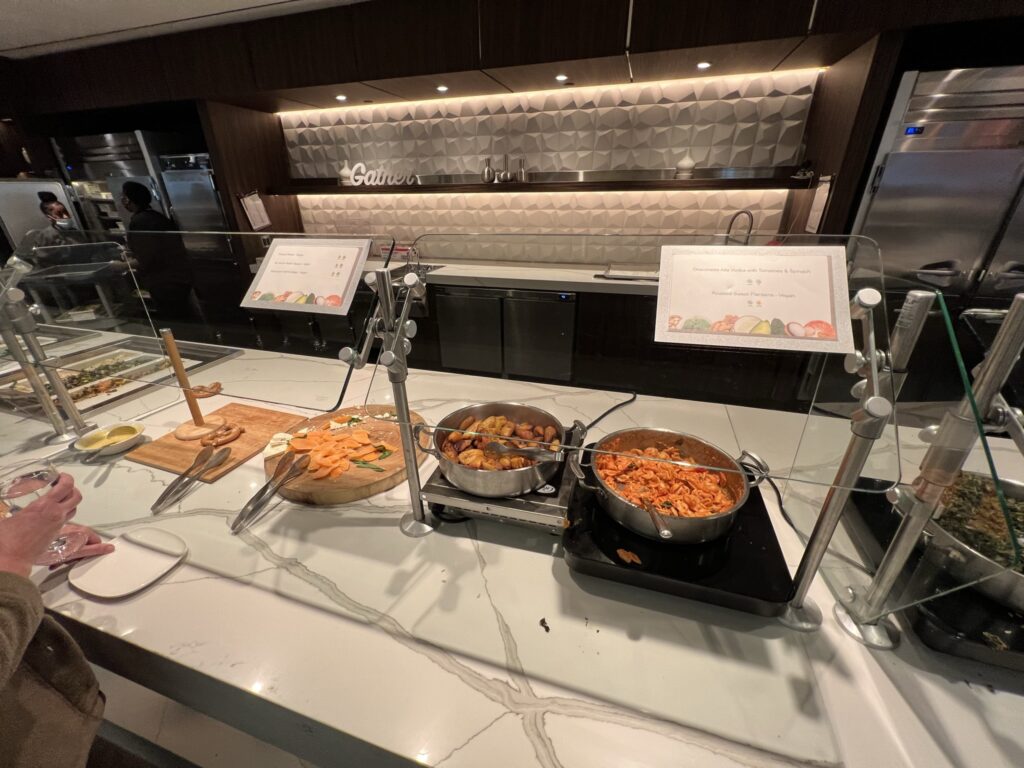 I was disappointed that the Sky Deck — an outdoor terrace overlooking the ramp — was closed, but understand why that would be the case on a chilly day.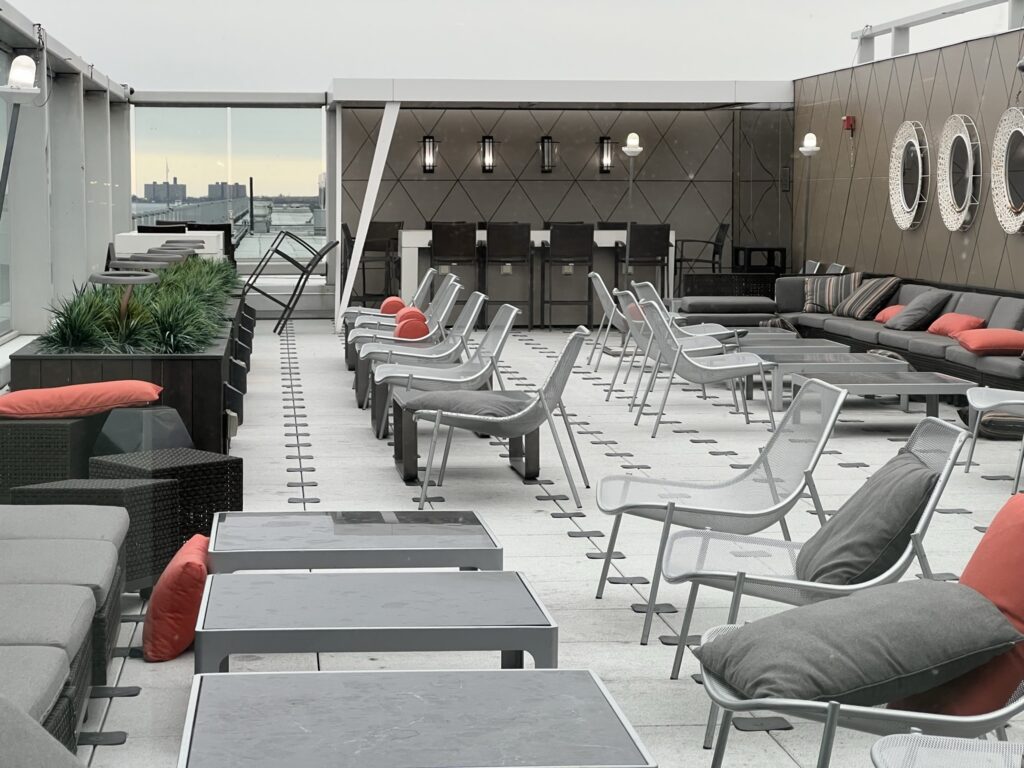 After boarding I settled into seat 2A and took a look at some of the changes made since I last flew this product in 2019. An amenity kit and menu were waiting for me at the seat. I observed that both of these items are now being served up in a more eco-friendly manner. The amenity kit claims to be made from natural and recycled materials, while the menu was a single page listing only the main meal options.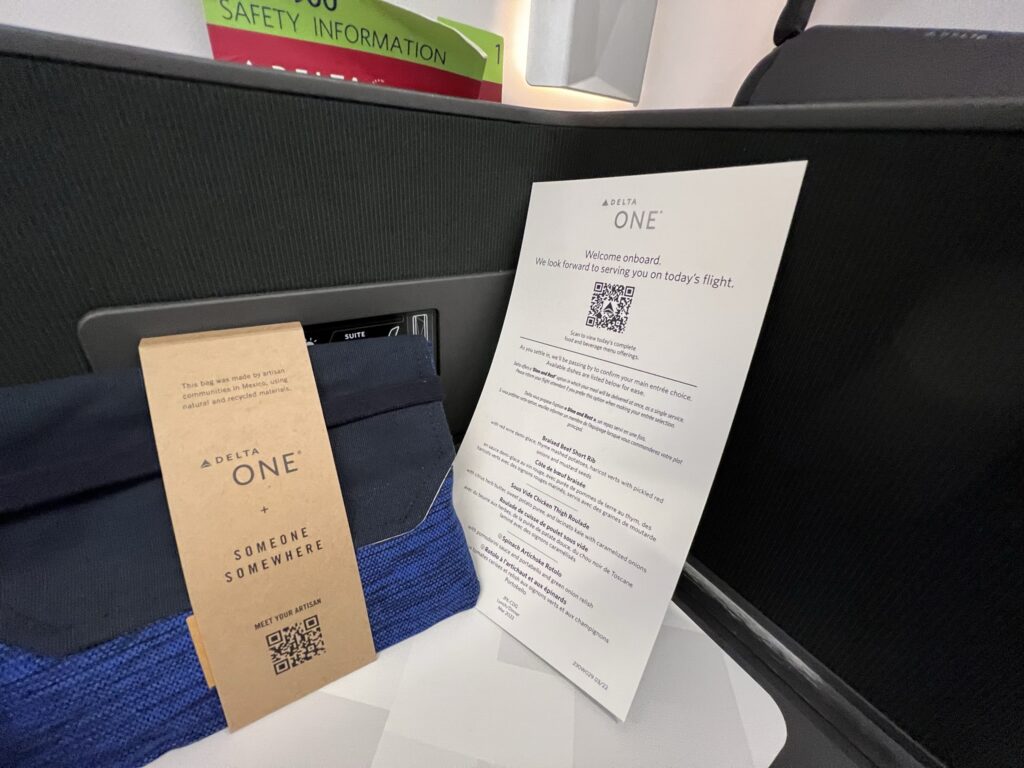 A QR code was provided on the menu linking to a page with the full menu of snacks and drinks. I like this hybrid approach as it lets me see the important details of the meal options, but doesn't waste paper on telling me what beverages are available. Short of simply providing this information on the entertainment screen, this is a clever idea.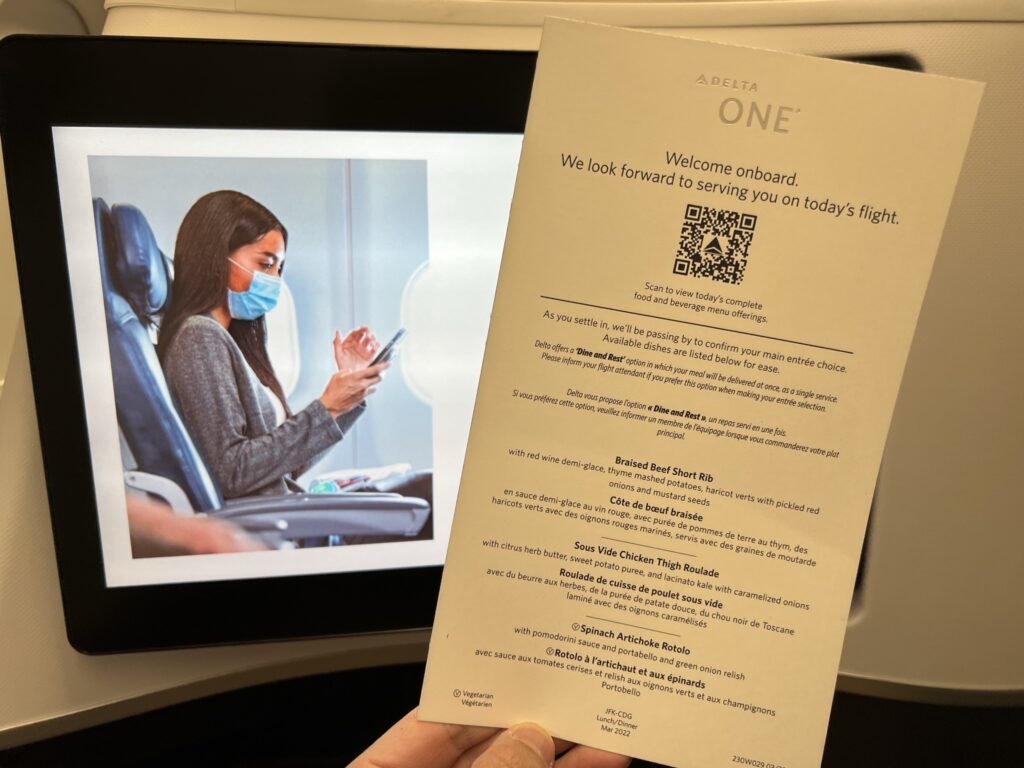 Following a lengthy delay due to de-icing after a sudden but quick burst of snow, we were on our way and the flight attendants kicked into high gear to serve the main meal. My pre-ordered meal was delivered all on one tray, consisting of a salad, soup, bread, main course, and ice cream. Ordinarily I would object to this method of serving a meal but on a redeye flight I prefer speed and efficiency over presentation. I opted for one of the two special meals, a beef short rib pasta dish with a delicious tomato-based soup.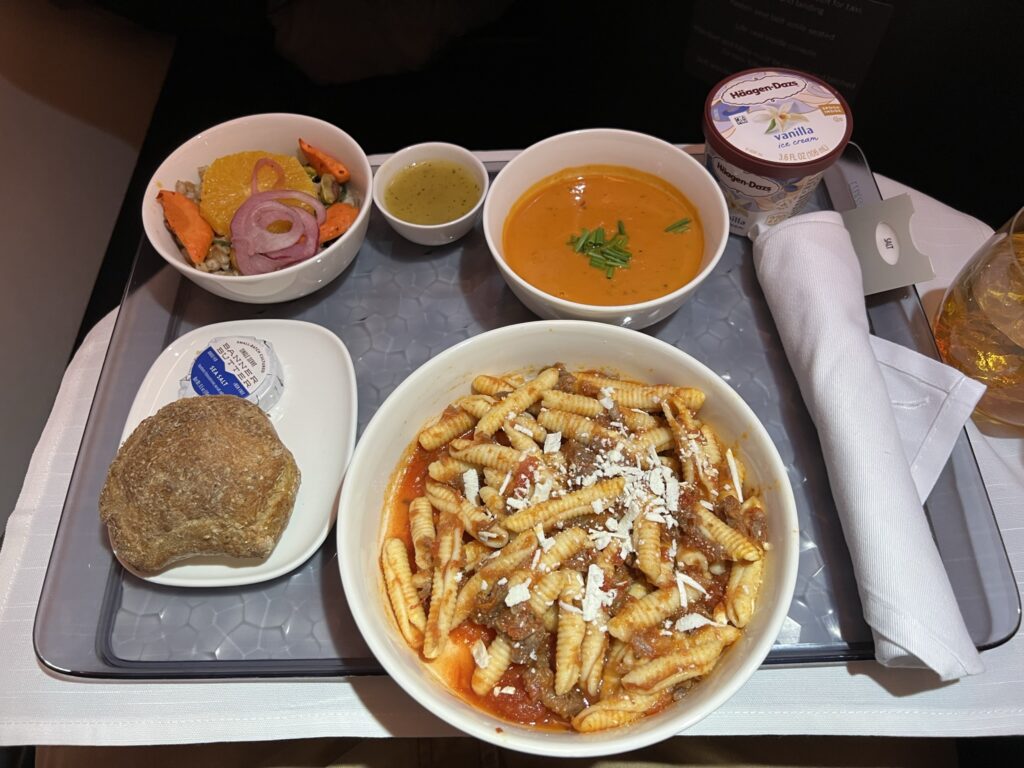 I noted with interest that the Delta Flight Products entertainment system onboard the A330-900neo offered quite a bit more content than the other Panasonic Avionics IFE-fitted Delta aircraft I had flown in prior weeks on domestic flights.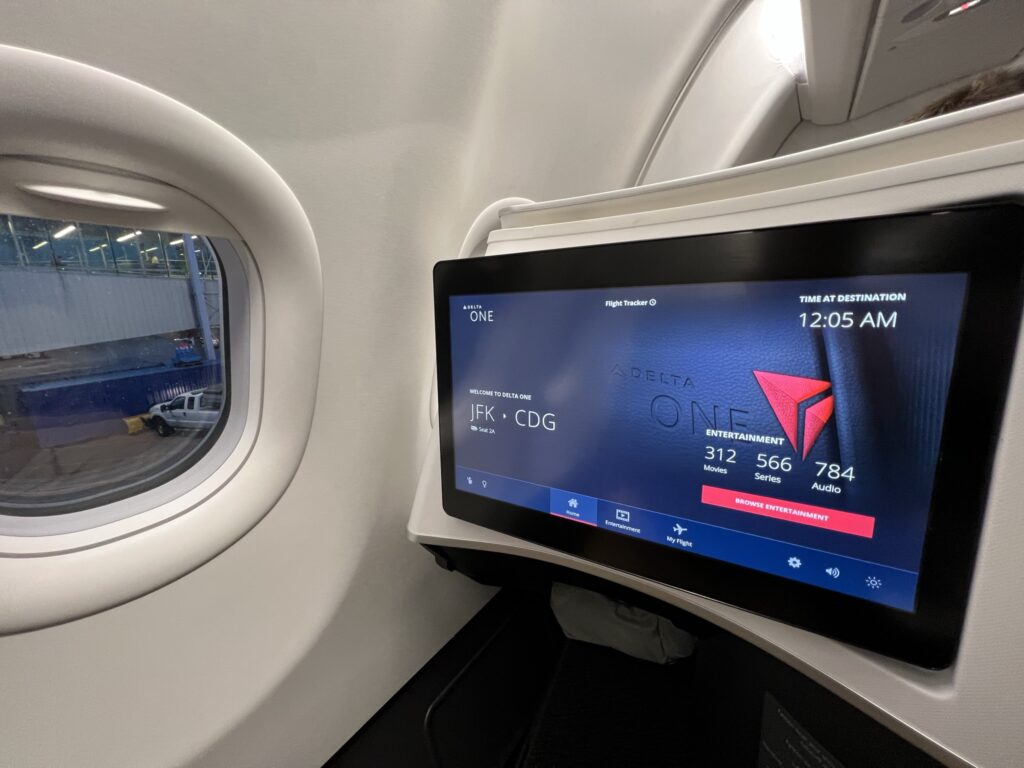 The home screen boasted that 312 movies, 566 television show episodes, and 784 audio titles were available. This is down a bit from a 2019 flight on the A330neo, but overall it was still a better selection than on other Delta aircraft recently. Moreover, the system interface flowed nicely.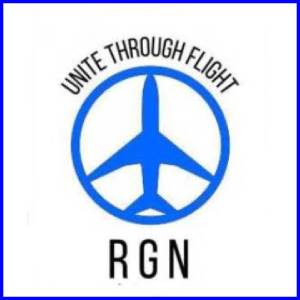 The A330neo also features upgraded satellite Wi-Fi compared to the rest of Delta's widebody fleet — i.e. it is the Gogo-branded, Intelsat 2Ku-powered solution rather than the original, more traditional Ku-band system, but I didn't partake in connectivity on this overnight flight.
I tried to get as much sleep as I could, but I never found myself comfortable enough to do so. The footwell is still a bit too small for my personal taste, and while the sliding door is nice, I questioned the privacy benefit since I wasn't able to see any other passengers with the door open.
Overall, though, this was a very pleasant experience, despite the minor inconveniences that presented themselves along the way.  The Delta One suite on the A330neo isn't perfect nor is it my favorite seat, but it is leaps and bounds better than what preceded it at Delta. I wouldn't hesitate to choose it again.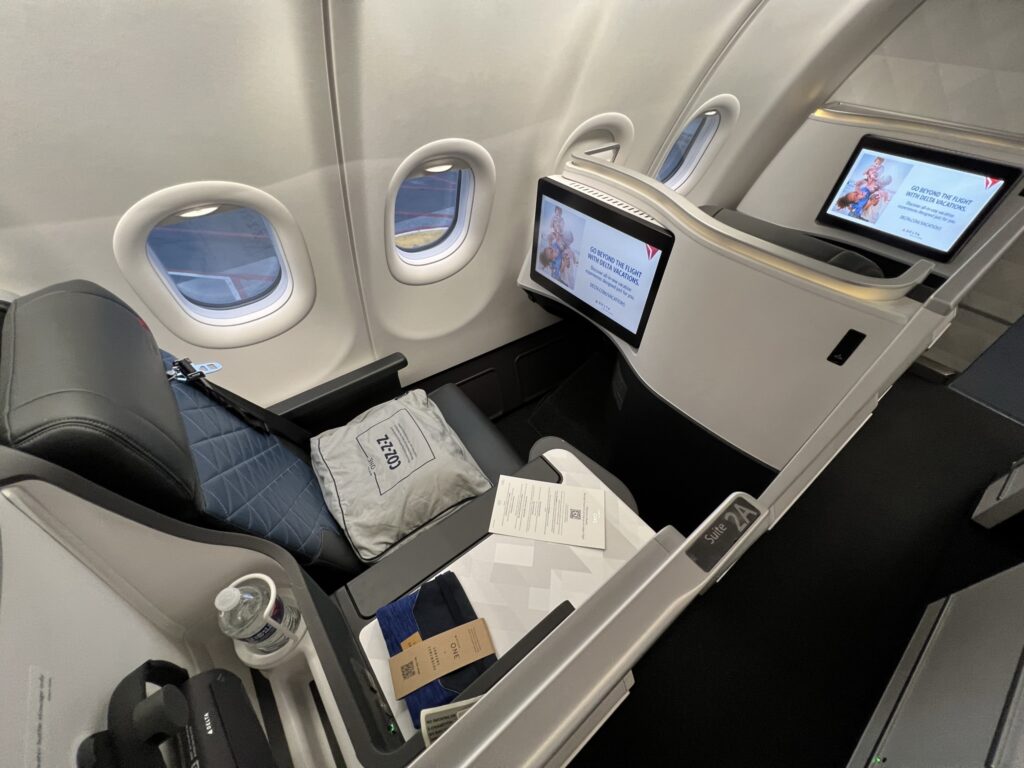 Related Articles
All images credited to the author, Jason Rabinowitz