In what Finnair chief executive Topi Manner calls a "rebirth of Finnair", the airline is introducing a new type of business class seat — the Collins AirLounge — and launching HAECO's Vector Premium as it introduces premium economy. Both will roll out across the airline's longhaul Airbus A350 and A330 fleets.
AirLounge, which Finnair says was developed "in partnership" with Collins Aerospace, is a new kind of contoured fixed-shell business class seat, arranged in a 1-2-1 configuration across both aircraft and with a substantially curved shell and interior. Passengers themselves transition between sitting, relaxing and sleeping on the seat structure, without the need for a recline mechanism.
Finnair calls AirLounge a "nest", allowing passengers to take many different positions during the flight. It replaces the Safran Cirrus on the A350 and Thompson Vantage on the A330.
Notably, while the curving shell looks very private, the airline has decided to avoid doors, which might have been a possibility on the wider A350 fuselage, but which would make an A330 seat relatively tight.
The idea, explains David Kondo, head of cabin interior development, is to "maximise your personal space and freedom to move", enabling passengers to curl up and stretch out in a wider variety of positions than in traditional business class seats.
"The seat, which we developed together with Collins Aerospace, is not a traditional aircraft seat," Kondo says. "It is furniture." The furniture also includes AC, USB-A, USB-C and wireless charging, plus an 18" inflight entertainment monitor.
"The contoured fixed shell design gives plenty of personal space, and the features of the seat allow you to make it all yours," he notes. "The flexible infill mechanism allows for a variety of different positions — and you can rest your legs on the ottoman or deploy the infill to create one large surface and have a comfortable sleep."
Interestingly, the glossy PR imagery shows that the bed surface stretches all the way to the sidewalls of the aircraft, taking full advantage of the space offered.
All seats face away from the aisles, making it something of an evolution of the outward-facing herringbone configuration. Centre seats are separated by the light wood-effect side table and a large, high retractable divider.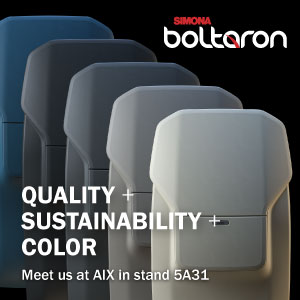 AirLounge feels like an updated version of the original Singapore Airlines fully flat seat from Koito, in that the design is focussed on passengers being able to make themselves comfortable in a variety of positions, while also facing forward rather than at an angle when seated. It's also reminiscent of one of the British Airways Club World proposals that leaked out via patents in the mid-2010s, the sofa-style seat from Priestmangoode. Finnair confirmed that AirLounge is not an exclusive product, noting that other carriers will also be able to select the seat.
The airline mentioned that it has been working on these concepts for four years, although RGN participated in a closed business class design workshop that included frequent flyers and branding specialists in August 2017, analysing the seats then on the market.
The aircraft's main entrance at doors 2 is also seeing a major facelift, with a low light wood-effect credenza to the front of the aircraft and a higher monument to cover inserts to the rear.
Finnair is also offering premium economy for the first time, and is indeed the launch customer for the HAECO Vector Premium seat, which will be offered in a 2-4-2 configuration on the A350 and 2-3-2 on the A330. Apart from what Eerika Enne, head of inflight customer experience, calls a "waterfall" legrest, and a relatively generous 38" pitch, the seats are fairly standard premium economy fare, but a welcome addition to the Finnair longhaul product range.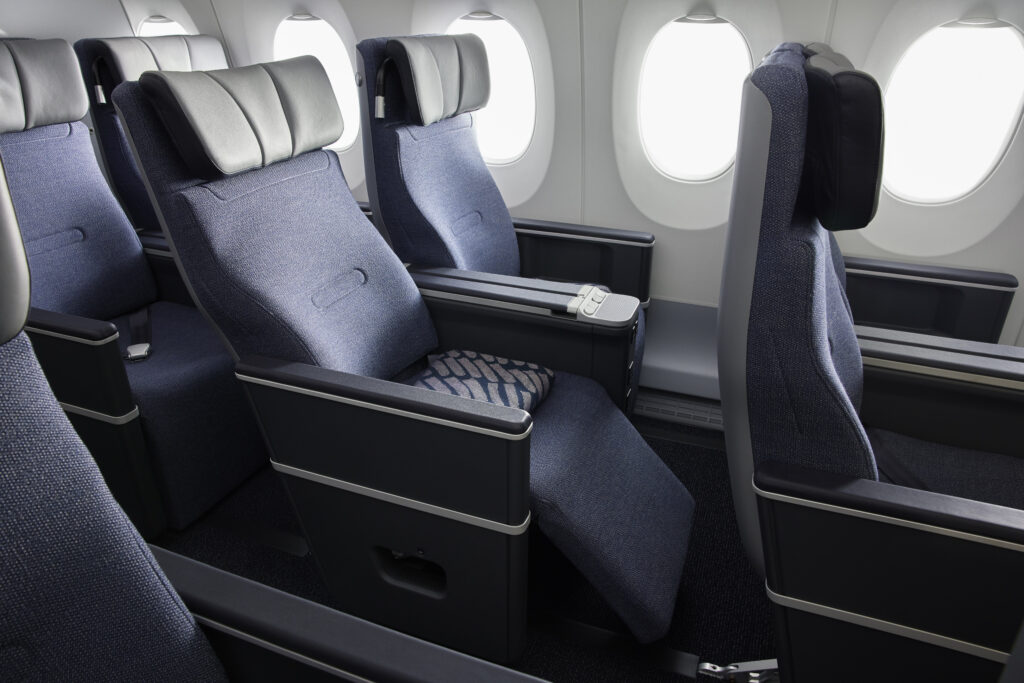 Economy seats are also the HAECO Vector platform.

Lastly, while the iconic Ultima Thule glasses from Finnish glassmaker Iittala — introduced by Finnair when it started New York services over fifty years ago — will be retained for Champagne, they'll be joined by a new Iittala tableware range called Kuulas. Designed by Harri Koskinen, Kuulas (meaning 'bright' or 'transparent' in Finnish) includes light blue glasses, contemporary silverware and a set of modern white crockery. Finnair says that it is up to 20% lighter than the previous set. Updated Marimekko bedding and a custom mattress pad are also being introduced.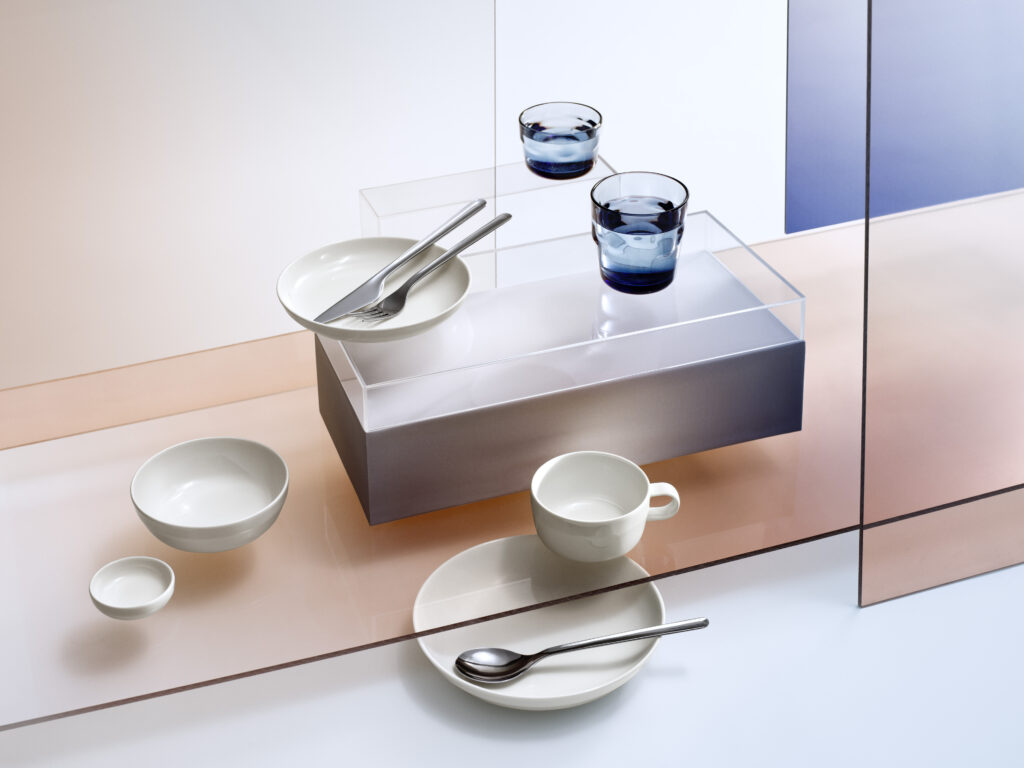 Related Articles:
Featured image credited to Finnair