There's a new seatmaker in town, focussing on herringbone business class seats as airlines look to update their onboard product and industry accelerates out of the COVID-19 crisis. It's called Unum, it's achieving impressive density on both widebody and narrowbody applications, and it's from some of the key team behind game-changing seatmaker Acro before its 2017 acquisition by Chinese investors Zhejiang. Runway Girl Network spoke with executive chairman and chief executive officer Chris Brady to learn more.
As something of a shot across the bows of the interiors industry and its issues delivering seats to the agreed quality at the agreed pace, UK-based Unum rather pointedly says that its intention is to "upgrade business class seating design and delivery".
The Unum product is an outward-facing herringbone, which Brady tells RGN is achieving — due to the angle — a pitch of 34" on the Airbus A321 narrowbody fuselage, while still providing what he calls "good egress". The bed of course will be much longer, like any herringbone, and can go full flat.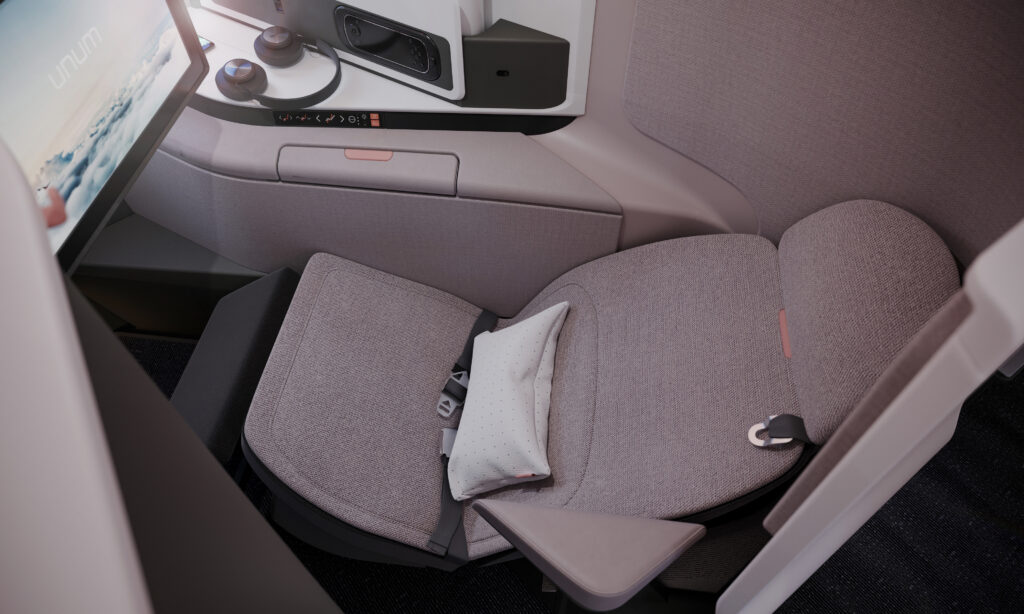 The seat provides an option for doors to create mini-suites on all aircraft, and this consistency is one of its key foundational principles. It also offers a "unique mechanism" for the reclined, Z-bed zero-g relaxing position that has been missing in a number of recent products.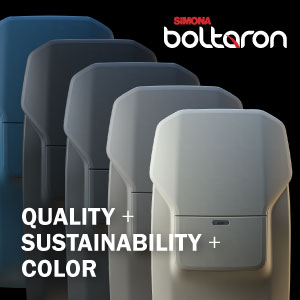 The seat comes in two flavours, Brady explains. First comes Unum One, with "extraordinary PaxEx at competitive density — bigger bed, wider seat and side furniture than Optima at the same density."
The second is Unum OneHD, which in complement offers "competitive PaxEx at extraordinary density — same bed/seat width, bigger side furniture and better density (one more row) than Optima," he says.
"Unum is launching to solve airlines' longstanding dissatisfaction with business class seating supply," Brady says in Unum's release. "Our vision is to become the credible alternative for both narrowbody and widebody aircraft, offering on-time delivery and providing customer-centric designs. We will achieve this by delivering on the needs of every airline stakeholder, from passengers and customer experience teams to procurement and engineering, aircraft lessors and cabin design agencies."
Brady continues: "Because late, inflexible delivery is unacceptable, we have worked hard to design a seat and supply chain that both mitigates risks and prioritises local suppliers and additive manufacturing. Thanks to our modular design, parts can quickly be replaced or maintained. In addition, our lightweight approach will contribute to airlines' emissions goals by reducing fuel burn per flight."
Fundamentally, says Brady, Unum is starting up to meet a key gap in airline customer needs.
"We recognise that airlines need to succeed in business class to rebuild their finances post-Covid-19. Whether an airline's strategy is for high-density business class or a super-premium spacious environment, Unum's seating solutions offer a consistent and superior passenger experience across both single and twin aisle aircraft."
Indeed, he notes as a Virgin Atlantic alum, "in the 1990s, Virgin started its own seat supplier because it couldn't find what it wanted in the marketplace. Acro prospered because it brought something that was missing to the market and I hope to do the same with Unum. With this in mind, we're building Unum from the ground up with a culture, ethos and business system focussed on delivering comfort — of course — on-time delivery and customer-centric designs, for both narrowbody and widebody aircraft".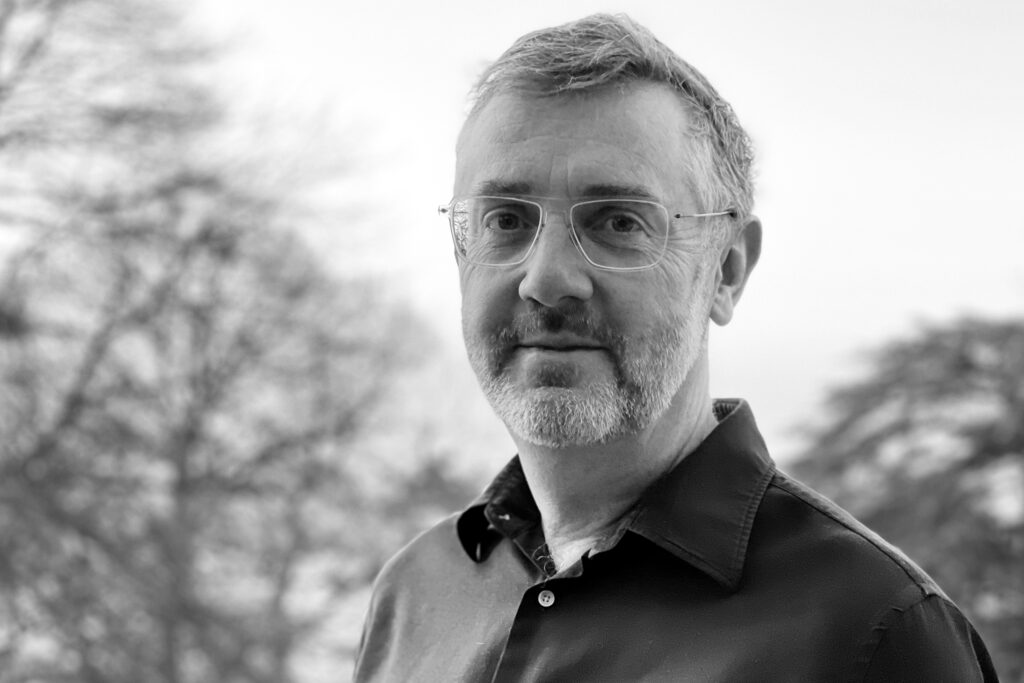 Unum is taking a people-focussed approach to the business, and is hoping that the resulting culture "sets us apart from other suppliers in the seating market and other employers more generally," Brady says. "I want Unum to allow all of us who work here to be fulfilled, have the ability to grow and to delight passengers with comfortable, human seats – indeed we want everyone we come into contact with to enjoy the experience. Unum is by people, for people."
"This softer goal is also founded on hard-headed economics," Brady notes: "we understand and will meet the needs of every stakeholder from passenger, customer experience, procurement and engineering teams — as well as aircraft lessors and design agencies."
Indeed, design house Acumen is already on board with the project, while it also seems that the pre-acquisition Acro gang is getting back together: joining Brady is Alan McInnes as vice president of business development, Beata Paliwoda as quality director, and chief project engineer Ana Fernandez Espinosa.
Related Articles:
All images credited to Unum